My husband certainly has a way with his vegetable garden. Each year there's one or another crop that becomes, to put it politely, overabundant. The first year, it was tomatoes. The phrase, "too many tomatoes" was particularly resonant for me, as my overindulgence triggered an allergy (fortunately, temporary) resulting in itchy hives. The following year, the culprit was Swiss chard. Though mildly annoying at the time, my bewilderment over what to do with this profusion of greens led to my writing a book (my latest, Wild About Greens) on leafy greens of all sorts.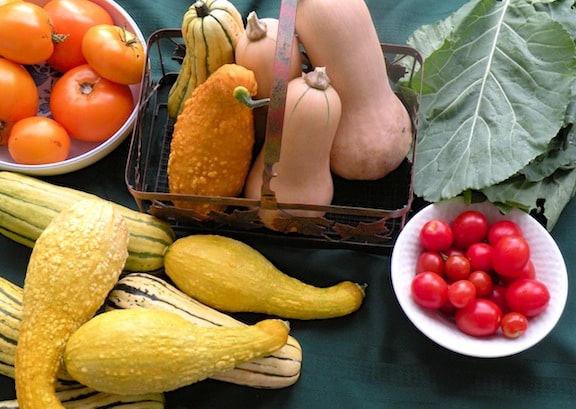 Squashes vary in terms of how large a hollow they offer for stuffing, so no worries if you have more of the rice pilaf than what they'll comfortably hold — you can simply use any that remains as a yummy side dish. Use any kind of brown rice, though I highly recommend using an exotic rice blend for more flavor. Exotic doesn't mean hard to find — you'll find rice blends in the supermarket, as well as natural foods stores.The Royal Blend® with Quinoa used here contains not only light brown rice but red quinoa and freekeh (a form of whole-grain wheat). It's so flavorful in and of itself that I kept the pilaf stuffing simple.
Serves: 4 as a main dish; 8 as a side dish
4 medium delicata  squashes (or other semi-hard squashes,
such as acorn, golden acorn, very small butternut, or any that
have a symmetrical oblong shape)
1 ¼ cups brown rice or exotic whole-grain rice blend
2 ½ cups low-sodium vegetable stock or water
1 tablespoon extra-virgin olive oil
1 medium red onion (or ½ large), finely chopped
3 to 4 cloves garlic, minced
½ medium red bell pepper, finely diced
¼ cup dry white wine or water
½ cup loosely packed chopped fresh parsley or cilantro
2 tablespoons minced fresh dill, plus more for garnish
2 teaspoons mixed seasoning blend (like Frontier or Mrs. Dash)
Salt and freshly ground pepper to taste
Small squashes are easy to prepare by microwaving. Simply allow 3 to 4 minutes on High per squash, or until it is easily pierced with a sharp knife, but not mushy. You can also use the easy directions for baking in the oven in this post on How to Tame Winter Squashes. You can do this step ahead of time.
Combine the rice and vegetable broth in a large saucepan and bring to a slow boil. Lower the heat, cover, and cook for 20 minutes, or until the broth is absorbed. If you prefer a more tender grain, add ½ cup additional broth or water, and cook until absorbed.
Meanwhile, heat the oil in a large skillet. Add the onion and sauté over medium heat until translucent. Add the garlic and bell pepper and continue to sauté until all are soft and golden. Once the rice is done, add it to the skillet along with the remaining ingredients.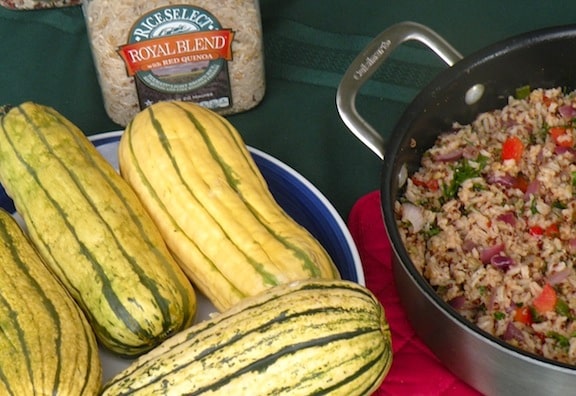 Stir together and cook for 5 minutes over medium-low heat, or until nicely heated through. When the squashes are cool enough to handle, cut them in half through the stem ends. Remove and discard the seeds and fibers.
Hollow them out, leaving a sturdy shell, about ¼ inch thick. Some squashes have more flesh to remove than others, once the seeds are gone. Whatever squash flesh you have, chop it finely and stir into the rice mixture. Stuff the cavities in the squashes with the rice mixture generously, without overstuffing. Sprinkle extra minced dill over the tops for garnish. If both the squashes and rice mixture are still warm, you can serve as is, but if need be, you can arrange in a roasting pan or on a baking sheet, cover with foil, and warm in a 350º F. oven until piping hot, just before serving. Serve two halves per person as a main dish; or one half per person as a side dish.