This soup can be enjoyed warm or cold, depending on the time of the year. The flavors mingle the longer they hang out together, so cook it well ahead of time if possible. Feel free to adjust the amount of ginger for a milder or stronger flavor. Cancer-fighting miso helps strengthen the good bacteria in the gut, and adds a little saltiness. Recipe reprinted with permission from Kicking Cancer in the Kitchen* by Annette Ramke & Kendall Scott (© 2012 Running Press, a member of the Perseus Books Group).
Makes: 5 cups
2 tablespoons olive oil
1 large sweet onion, chopped
1 leek, well rinsed and sliced in rings
Sea salt
2-inch piece fresh ginger, finely grated
½ teaspoon ground cinnamon
1 pound carrots, scrubbed with ends removed, and chopped
Juice of one orange
2 to 3 cups vegetable stock
1 tablespoon miso
Freshly ground black pepper
In a stockpot, heat the oil over medium heat. Add the onion, leek and a pinch of sea salt and sauté until the onion is soft, about five minutes. Add the ginger and cinnamon and sauté another 5 minutes, stirring constantly.
Add the carrots, orange juice and enough stock to cover the carrots. Bring to a boil; reduce heat then simmer, covered, until carrots are tender enough to pierce with a fork, about twenty minutes.
Turn off the heat, and purée with an immersion blender. Remove a small amount of the soup (about ½ cup) and mix it with the miso in a small bowl. Add miso mixture to the soup and warm on low heat for several minutes. Check a spoonful for seasoning, adding pepper as needed.
Annette's Tasty Tip: This is a wonderful soup to pack in a thermos on treatment days when you want to eat something soothing and easy on the stomach.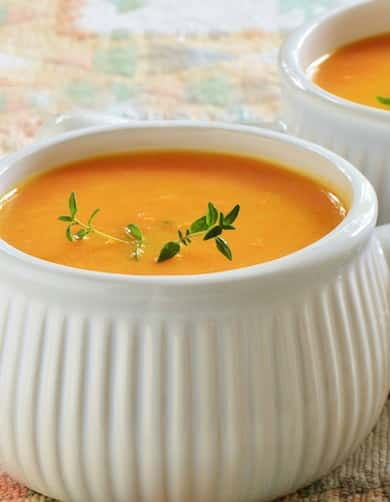 *This post contains affiliate links. If the product is purchased by linking through this review, VegKitchen receives a modest commission, which helps maintain our site and helps it to continue growing!