I came across a classic Thai dish that combines white rice with white potatoes, and though it sounds too starchy, the seasonings and embellishments sounded appealing. So I took the general idea of this recipe and revved it up to include the two main ingredients' more nourishing counterparts—brown rice and sweet potatoes. This may sound like an offbeat combination, but really, it works! It's like sunshine on the dinner plate. You can also substitute quinoa or any other favorite grain for the rice. Serve with a simple tofu, tempeh, or bean dish and a salad. Adapted from Vegan Express.

Serves: 6 or more
1 ½ cups raw long-grain brown rice, rinsed




(try an exotic rice blend or brown basmati for a nice touch!)

2 medium sweet potatoes

2 tablespoons olive oil

6 scallions, white and green parts

3 to 4 cloves garlic, minced

2 teaspoons minced fresh ginger, or more, to taste

1 to 2 teaspoons good-quality curry powder, to taste

½ teaspoon turmeric

1 cup frozen green peas, thawed

¼ cup minced fresh cilantro, or more, to taste

Salt to taste

Chopped peanuts or cashews for topping, optional
Combine the rice with 3 ½ cups water in a small saucepan. Bring to a rapid simmer, then lower the heat. Cover and simmer gently until the water is absorbed, 30 to 35 minutes.
Meanwhile, peel and dice the sweet potatoes and place in a large skillet or steep-sided stir-fry pan. Cover and steam, using just enough water to keep the bottom of the pan moist, stirring often, until done but still firm, then remove to a plate or bowl until needed. Or see note below for how to microwave.
Heat the oil in the same pan. Add the white parts of the scallions and the garlic, and sauté over medium-low heat until just turning golden. Add the green parts of the scallion and the cooked sweet potato dice; turn the heat up to medium-high and stir-fry for a minute or so.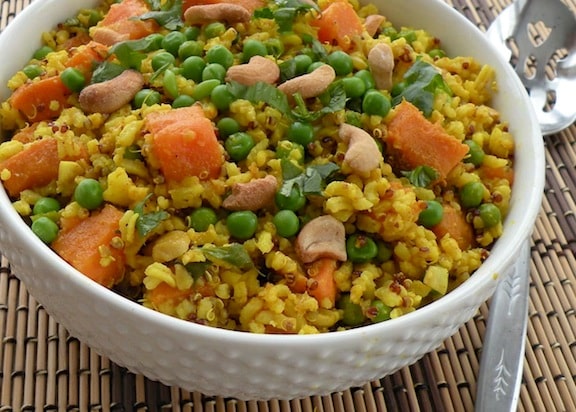 Stir in the ginger, curry, and turmeric, then add the rice. Turn the heat up to medium-high and cook, stirring, until the ingredients are well blended. Add the peas and cook, stirring frequently, for 3 to 4 minutes.
Season with salt, stir in the cilantro, and serve. Top each serving with some chopped peanuts or cashews if desired.
Note: You can also microwave the sweet potatoes whole and in their skins instead. Start with 4 minutes total, then test. A knife should go through, with some resistance — you want them to be done, but not mushy. If needed, microwave for another minute at a time. Once done, plunge the sweet potatoes into a bowl of cold water. Once they can be handled, peel and dice.
Nutritional Information:
Per serving (without optional peanuts or cashews): 166.2 calories; 5.3g fat; 37.8mg sodium; 204.8mg potassium; 26.6g carbs; 3.8g fiber; 1.7g sugar; 3.6g protein