This bright green dip of sweet peas, parsley, and luscious pistachios is great served with brightly colored vegetables—baby carrots, sliced red bell peppers, rounds of yellow squash, and thin wedges of raw sweet potato. You can also add fresh or crisp breads or stone-ground tortilla chips to the mix. This might well become your go-to as a tasty snack or appetizer. Photos by Hannah Kaminsky of Bittersweet.
Makes about 1 ½ cups
1 cup frozen green peas
1 cup firmly packed parsley leaves
2 tablespoons chopped fresh dill, or ½ teaspoon dried
⅔ cup shelled pistachios (see Note), raw or toasted, as you prefer
Juice of ½ to 1 lemon or lime, to taste
Salt and freshly ground pepper to taste
¼ water
Cook the peas in a steamer basket or in a small saucepan with just enough water to keep moist, until bright green and just tender-crisp.
In a food processor, combine the peas with the parsley, dill, pistachios, juice of ½ lemon or lime, salt, and water. Process until the mixture is an even, coarse puree, stopping occasionally to scrape down the sides.
Taste, and if you'd like a more tangy flavor, squeeze the remaining half of the lemon or lime into the mix. Season to taste with salt and pepper, and pulse the food processor on and off a few times to mix once again.
Note: It's not too difficult to shell ⅔ cup's worth of pistachios, but if you prefer, shelled pistachios are pretty easy to come by. Try well-stocked supermarkets or naturals food stores.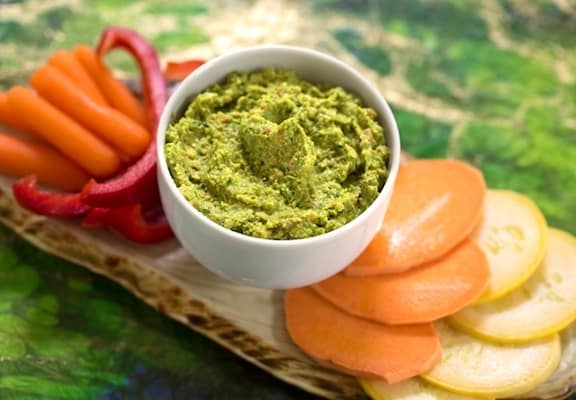 Explore VegKitchen's selection of flavorful

 

snacks and dips.

Here are more recipes for Lentils and Peas.