I think of this salad dressing as the culinary equivalent of my little black dress—a staple that gets pulled out, works for most occasions, and never goes out of style. I love the peppery notes in this dressing, but any blend of herbs and greens can yield spectacular results. This lean green dressing machine will transform even the most tragic mound of lettuce from drab to fab. People swoon when they taste it. Many a friend has exclaimed in the midst of a euphoric bite, "Oh, I could just gobble this up with a spoon!" I have done that, and also licked it out of the blender carriage before it even had the chance to get dressed up. Reprinted with permission from The Blender Girl* by Tess Masters, copyright © 2014. Published by Ten Speed Press, an imprint of Random House LLC. Photography © 2014 by Anson Smart.
Serves: 6 as a main dish; or 8 as a starter
For the dressing:
¾ cup cold-pressed extra-virgin olive oil
¼ cup freshly squeezed lemon juice, plus more to taste
1 bunch flat-leaf parsley leaves, chopped
1 bunch cilantro, chopped
½ bunch chopped chives
⅓ cup blanched raw almonds or ¼ cup raw sunflower seeds, soaked
½ avocado, pitted and peeled
1 clove garlic, minced, plus more to taste
1 teaspoon apple cider vinegar
½ teaspoon natural salt, plus more to taste
½ cup water, plus more as needed
For the salad:
2 zucchini
8 cups mixed leafy greens, like baby spinach, arugula, or micro greens
¼ head purple cabbage, cored and shredded
2 cups julienned broccoli stalks or commercial broccoli slaw,
or 2 cups peeled, seeded, and diced or julienned cucumber
2 avocados, pitted, peeled, and sliced
1 bunch green onions (white and green parts), finely chopped
1 cup roughly chopped raw almonds
¼ cup hemp, sunflower, or pumpkin seeds
Natural salt and freshly ground black pepper
To make the dressing, put all of the ingredients into your blender and puree on high for about 1 minute, until smooth and creamy. Tweak flavors to taste (you might want more lemon juice, garlic, or salt). This dressing should have the consistency of thin mayo, but add a little more water to thin it out if you prefer. It can be stored in an airtight container in the fridge for up to 5 days.
To assemble the salad, shave the zucchini lengthwise into strips with a vegetable peeler, discarding the seedy core. In a large serving bowl, toss together the zucchini strips, greens, cabbage, broccoli, avocados, green onions, almonds, and seeds. Add the dressing to your preference and toss well. Season with salt and pepper and pass any remaining dressing at the table.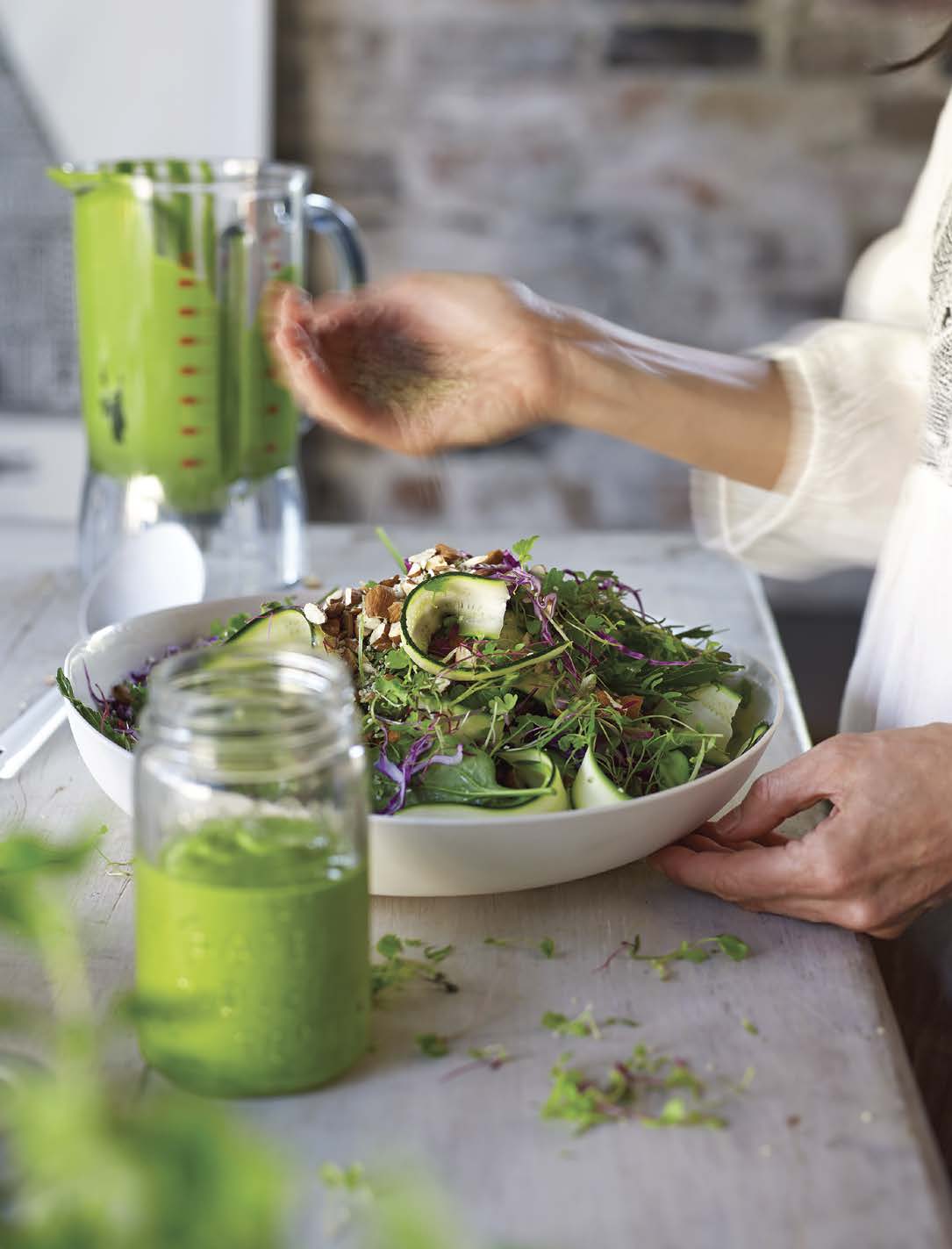 *This post contains affiliate links. If the product is purchased by linking through this review, VegKitchen receives a modest commission, which helps maintain our site and helps it to continue growing!