If you find yourself in the midst of Key West's prime tourist area — Duval Street and areas adjacent — it's plain to see that tourists are looking more for seafood and booze than salads and smoothies. But for health-oriented visitors, this Florida Key with a somewhat naughty reputation is far from a lost cause. Here's the small and select list of healthy hotspots in Key West. These will also keep you happy and satisfied if you're looking for vegan options during your visit.
Though healthy hotspots on Key West are few and far between, the selective handful are more figuratively than literally off the beaten path. Not far from the center of all the action, you just need to know where to look. And these natural eateries, groceries, and juice bars are so good that you'll want to return again and again, whether you're staying for just a few days or escaping the northern winter for a month or two.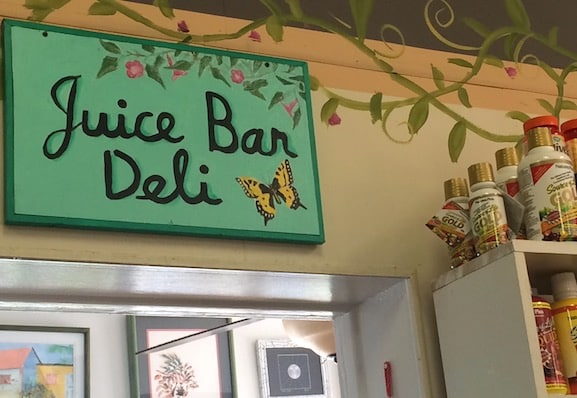 Sugar Apple Juice Bar and Veggie Deli
917 Simonton Street, Key West / 305-292-0043
Monday - Saturday, 10am to 4pm
Sugar Apple is a compact natural foods store is a good place to pick up a few supplies, though their emphasis is more on herbs, remedies, body care, vitamins, teas, and spices. What really sets this place apart is its tiny, tucked-away take-out deli with a 100% vegan menu. The food is made on premises in a kitchen completely free of animal products.
They offer juices, smoothies and salads, but the heart of their menu are the sandwich entrées, many of the hearty, "meaty" variety. Tempeh Reuben, Vegetarian Italian Sub, Tofurky Sub, and Veggie hot dogs with all the fixings are just a few to choose from. All sandwiches can be made on gluten-free breads on request.
Panini Schamani

1075 Duval Street, Key West / (305) 296-2002
Daily for breakfast, lunch, and dinner, 9am -8pm
You might initially be put off by a largely non-veg menu, but Panini Schamani offers one of the best fresh juice and smoothies menu in Key West. "Clean and Green" juice will truly make you feel cleansed; and the Mango, Papaya, and Pineapple Smoothie is a tropical treat. Panini Schamani's juice menu is shown at the top of this post.
If you do want something plant-based to go with your liquid refreshment, there are a handful of choices, including Grilled Vegetable Panini and Mediterranean Wrap or Salad (hold the feta if you're dairy-free) as well as vegan cookies. The soup of the day is usually vegan, and more plant-based options will be added to the menu soon. For a small extra charge, paninis can be made with gluten-free bread.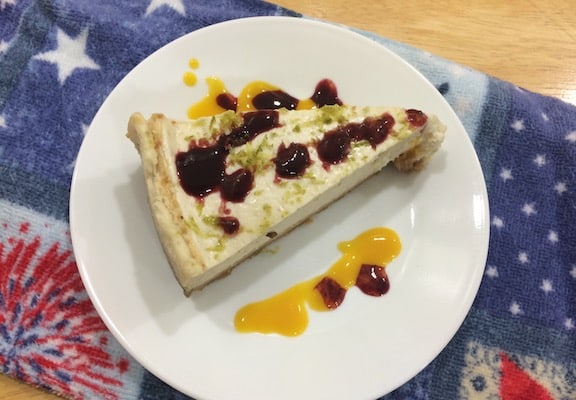 The Café
509 Southard Street, Key West / 305-296-5515
Monday - Friday 10am - 10 pm / Weekend brunch 9am - 4pm / Weekend dinner 5pm - 10 pm
The Café is an established eatery just a block or so from the throbbing center of Duval Street. They bill themselves as "a mostly vegetarian place" — a few fish dishes and dairy offerings are on the menu. But there are 100% vegan choices a-plenty, so many, in fact, that it's one of those places where you'll have to allow some extra time for mind-changing as you scan the menu. Or, just go back several times, or with a crowd so you can share.
Enjoy your meal in the colorfully painted and decorated large dining room or the cozy "little back room." Local art graces the walls. Choose from an array of filling main-dish salads (my favorite is the Grilled Tofu, which also features edamame, cashews, and avocado perched on a bed of greens and tomatoes, all topped with a miso-ginger dressing, yum!), burritos, tofu and seitan dishes, grilled pizzas (that can be made with vegan cheese), and an array of big sandwiches. Gluten-free options are available as well.
The crowning glory is the Key Lime Cheesecake  — the only key lime pie you'll find anywhere in the Keys.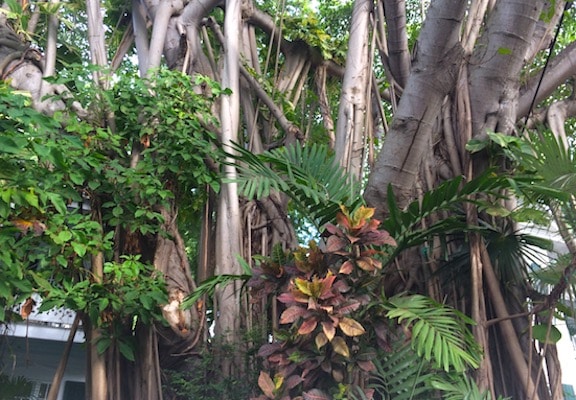 Date and Thyme
809 Fleming Street, Key West / (305) 296-7766
Store and juice bar: 8am - 6pm, café: 8am - 4pm
Date and Thyme (formerly Help Yourself Foods) combines a small natural foods grocery (this one is more about food than ancillary natural products offered by Sugar Apple, above) with an outdoor café and juice bar. With Key West's temperatures hovering in the low 80s almost year-round, there's rarely a time when you can't sit under the canopy and enjoy an outdoor meal.
Both times when I visited and enjoyed a bountiful wrap (big enough to split with my companion) and juice, a hen and her chicks were sauntering around the tables, quietly waiting for (but not demanding) crumbs. Visitors to Key West quickly learn that roosters, hens, and their broods are a ubiquitous sight on the streets, begging the question, "why did the chicken cross the road?"
But back to Date and Thyme — the mostly plant-based menu includes the aforementioned wraps as well as big salads, breakfast and lunch bowls (I didn't sample these, but they sound delicious and filling), special coffees and teas, and an array of smoothies and juices from classic to offbeat.
And more …
Key West Greenmarket
Bayview Park, Eisenhower Drive at Truman Avenue / (561) 929-0237
Every other Thursday, 9am - 2pm
If you like to do as the locals do, you'll enjoy the Key West Greenmarket. Unless you're aware of it, it could be easily overlooked by visitors. Key West residents seem to love it for the wide array of fresh produce and friendly vendors. Check their Facebook page for the latest news and updates.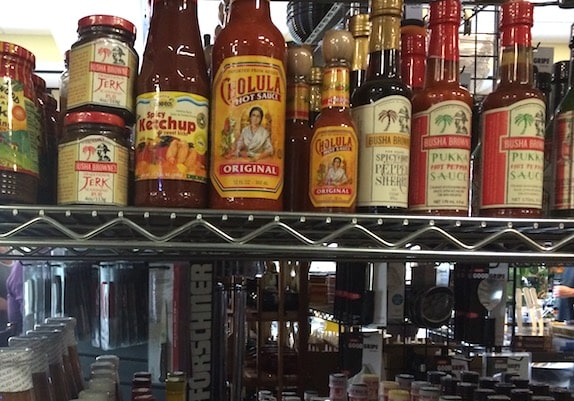 Key West Chef
1111 Eaton St., Key West / (305) 294-7994
Key West Chef, also known as The Restaurant Store, is really the only place listed here that's a bit off the beaten path. With a wide array of cookware and cutlery geared mainly toward the restaurant trade, you might think that there's not much here for the casual visitor. But it's a source for fantastic fresh baked bread and the widest array of hot condiments I've ever seen in one place! Almost literally a "hot spot," if you're looking for a unique gift for someone who loves hot stuff (or for yourself), this is the place.
You might also enjoy: