There are a number of great upscale vegan restaurants in New York City, but the newest one has a mission that goes beyond creating converts to plant-based eating with sophisticated fare. P.S. Kitchen (246 W. 48th Street in Manhattan), which opened in the summer 2017, offers an exciting plant-based menu in a beautiful bi-level space in the Theater District.
Going beyond what's on the menu, P.S. Kitchen was created with social justice in mind— all profits are donated to charity. Their mission is to help break the cycle of poverty by connecting resources to vulnerable communities, providing tools necessary for self-sustainability and building meaningful relationships. 100% of the profits after operating costs are donated to charity, both locally and internationally. Charity Partners include The Doe Fund, CEEDS (Cooperative for Economic Empowerment and Development Services), Share Hope, DEFY Ventures and Yunus Social Business.
Partners Craig Cochran and Jeffrey LaPadula are also co-owners of Terri, NYC's first plant-based fast casual restaurant group.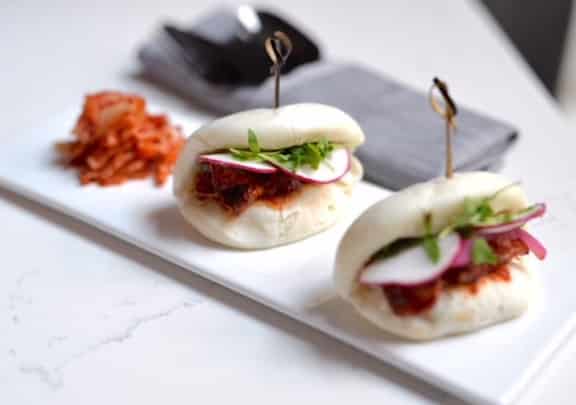 Co-chefs Tim DeAsis (Avant Garden) and Taylor Pope (Champs Diner) bring modern cooking techniques, elegant plating and comfort food inspiration to the 100% plant-based dishes. Refined and modern vegetable takes on comfort food classics take center stage on the menu, including: Buffalo Hen of the Wood mushrooms (in the style of buffalo wings) with German purple sweet potato salad and house (dairy free) blue cheese; Ginger Rice Congee, a vegan version of a Filipino rice pudding dish called Lugaw with sautéed shiitake and pink oyster mushrooms, spinach and jasmine rice; Orzo Alfredo inspired by fettucine alfredo with broccoli purée and sun-dried tomato-chili paste; Fennel Tartine, caramelized fennel, cashew crème and orange supreme on Sullivan Street Pullman bread; and the P.S. Burger, a Beyond Meat patty on Sullivan Street pane di patate (potato roll) accompanied by house made queso and thousand island dressing.
Cocktails are just as creative as the food, highlighting small batch and organic spirits along with fresh fruit and vegetable juices. The X.O. is built with fresh beet juice, smoked single malt whisky, orange juice, muddled raspberries and maple syrup. Solace of Ayva marries two French rums, HSE Blanc Rhum and HSE Noir Rhum, with homemade rosemary-orange blossom syrup and quince vodka. The Great Escape takes its name from the origins of ingredient tepache, a pineapple spirit which is often made in Mexican prisons. The cocktail brings together Meyer's blended French Whiskey, tepache, tarragon, tamarind and rose.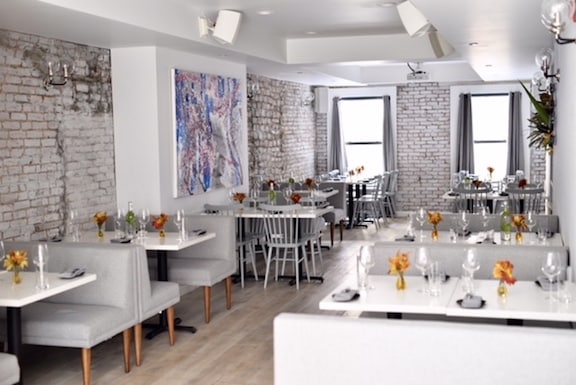 Occupying a rebuilt hundred year old townhouse, the two-story restaurant offers a respite from the busy Theater District and Times Square neighborhoods with a chic modern room featuring washed brick walls, marble tabletops and antique mirrors. Guests step off the street into an inviting 9-seat white marble bar accented with aged bronze beer taps and beer towers. A pink neon "Ready or Not" sign adds a playful element to the space as it transitions from the bar to the dining room. Upstairs, another dining room is airy with white-washed walls and original artwork.
P.S. Kitchen is located at 246 W. 48th Street, New York, NY. The restaurant serves dinner nightly from 5pm – 11pm, lunch Monday – Friday 11am – 3pm and weekend brunch from 11am – 3pm. Reservations can be made by calling 212-651-7247.
All photos courtesy of P.S. Kitchen
You might also like: