In this recipe, marinara sauce, melted vegan cheese, and simple steamed vegetables on a baked potato add up to an irresistible pizza-flavored vegetable dish. Potatoes make for a healthy "crust" that's low in fat and naturally gluten-free. The kids will love this! Vary the vegetable toppings as you'd like. Try peppers, onions, artichokes, and other favorite pizza veggies. Photo by Rachael Braun.
Healthy Vegetarian Pizza Potatoes
Serves: 4 or more
Ingredients
4 large baking potatoes
2 cups broccoli, spinach, or mushrooms, finely chopped and lightly steamed
1 cup marinara sauce, or more as needed
1–1 ½ cups mozzarella-style nondairy cheese, grated
dried oregano or basil
Instructions
Bake or microwave the potatoes until done. When cool enough to handle, cut each in half lengthwise. Fluff the inside of each potato half with a fork.
Meanwhile, steam the mushrooms and broccoli in small skillet with a small amount of water until just tender, then drain.
Spread about 2 tablespoons of pizza sauce on each potato half, followed by 2 to 3 tablespoons grated cheese. Top evenly with the steamed broccoli and mushrooms.
Bake in a preheated 400°F oven for 10 minutes, or until the cheese is bubbly. Serve at once.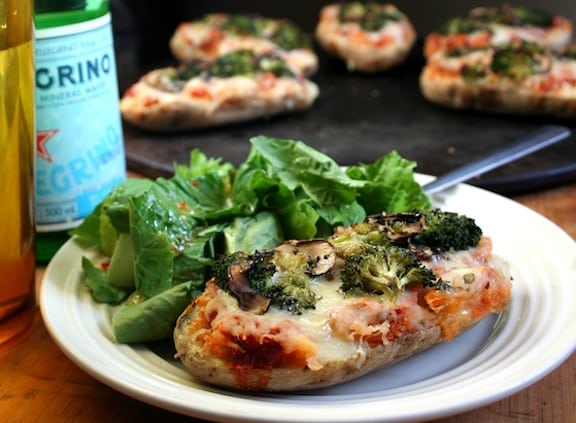 Nutritional Information:
Per Serving: 408.2 calories; 21.4g fat; 277mg sodium; 794.3mg potassium; 45g carbs; 7.7g fiber; 1.2g sugar; 8.9g protein