Whether you need to cozy up with a book and a blanket, or you are having a family get together for the holidays, this list of vegan hot beverages for cold weather has everything you need.
Jump to:
When the days start getting shorter, and the temperatures start to drop, it's nice to have a nice warm mug in your hands. Hot beverages are a large part of that cozy feeling in cold weather.
Many popular coffee house drinks aren't vegan, but you should not have to miss out on these treats when the chill hits the air. That is why I've collected this list of vegan hot beverages for cold weather.
Vegan Hot Chocolate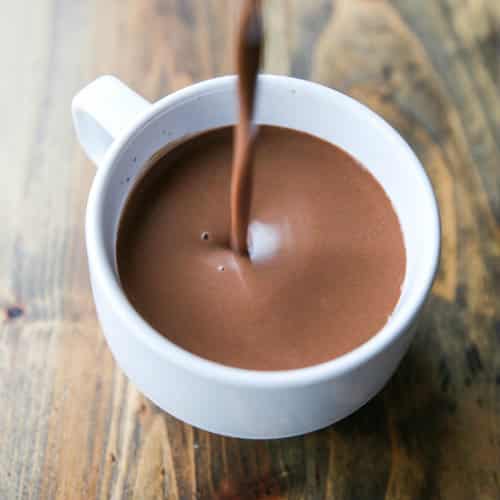 There is no better place to start a list of hot beverages than hot chocolate. This Vegan Hot Chocolate is extra rich and creamy because of the addition of arrow root. Give this one a try!
Chai Tea Latte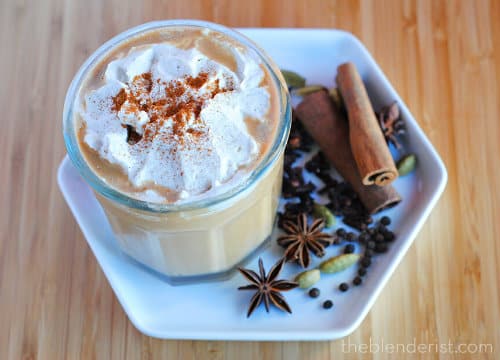 Sometimes chai just hits the spot. The spices that are used for chai are perfect for the fall and holiday season. This recipe tells you how to make a chai concentrate so that you can keep in the refrigerator and have this delicious Chai Tea Latte whenever you want.
Pumpkin Spice Latte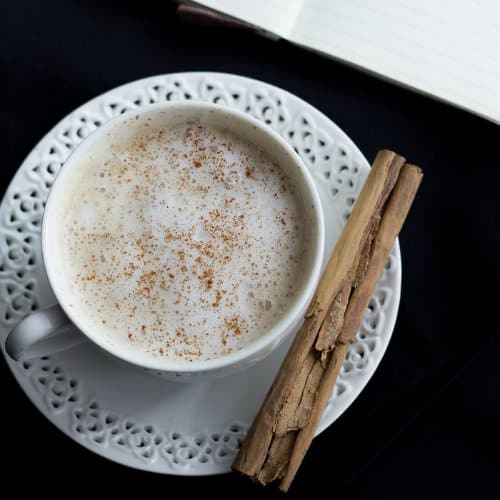 Every autumn, people lose their minds over pumpkin spice everything. For the pumpkin spice-loving vegan, here is a great recipe for a Pumpkin Spice Latte that is karma friendly. For some people, it is not fall until they have their pumpkin spice latte, so welcome to autumn!
Slow Cooker Spiced Cider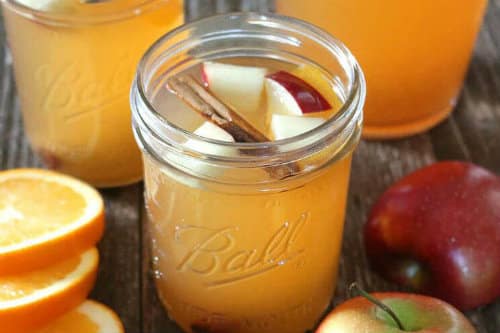 No list of hot beverages is complete without a spiced apple cider recipe. This recipe is great because you make it in a slow cooker. That means that this Slow Cooker Spiced Cider is not only easy to make, but it also makes your house smell great while it is cooking.
Peanut Butter Hot Chocolate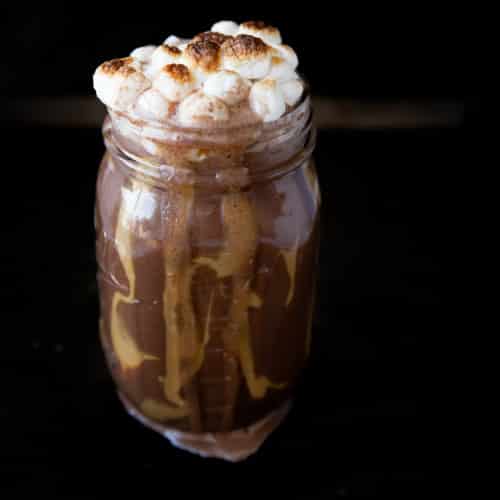 Nothing goes together quite as well as chocolate and peanut butter. This warm drinkable hot chocolate with peanut butter in it is decadent and delicious. Peanut Butter Hot Chocolate is a rich beverage, so go easy!
London Fog Latte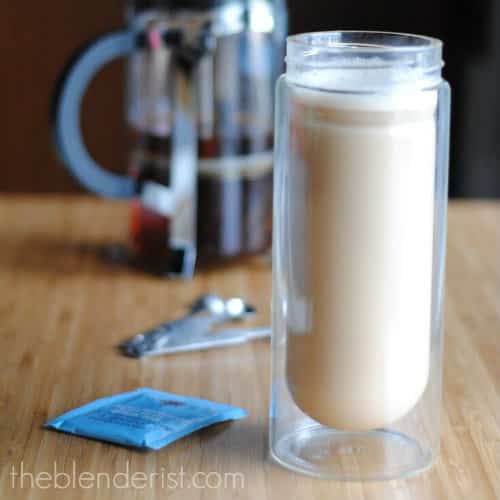 The distinct taste of bergamot is what makes Earl Grey tea so great. This London Fog Latte is essentially an Earl Grey vanilla latte. It's a great drink for when it's cold outside and you want to curl up with a good book.
Caramel Macchiato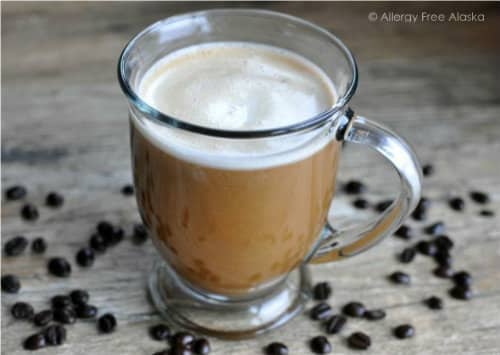 Caramel Macchiatos is like a dessert in a cup. The vegan caramel sauce is great. With this vegan version, you don't have to miss out on your favorite coffee drink ever again.
Cranberry Mulled Cider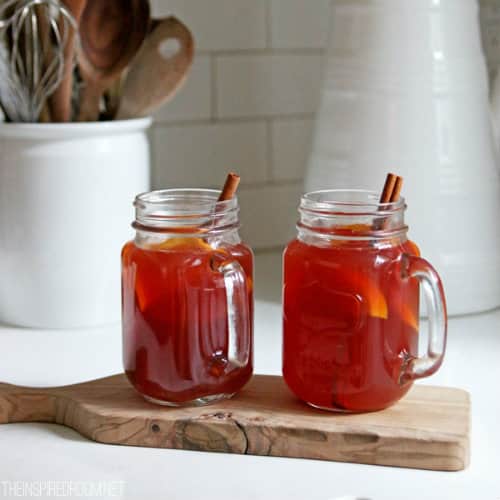 This Cranberry Mulled Cider is a variation on the traditional spiced cider. The addition of cranberry juice makes this a tart little taste of fall. This would be a great beverage for a party or a family get together. You can make it in a slow cooker, which makes it even easier to serve hot.
Peppermint Hot Chocolate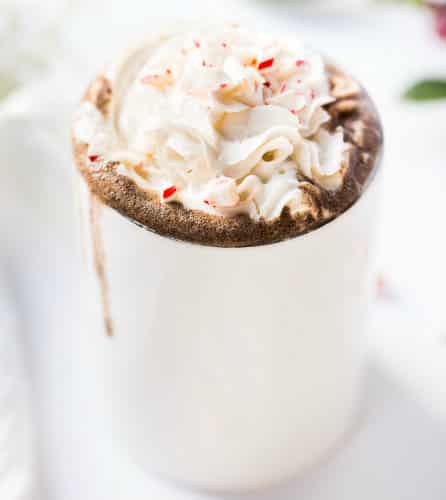 Peppermint is the official taste of the Christmas season. There is nothing better than clutching a hot cup of Peppermint Hot Chocolate when it is snowing outside. Here is a great vegan version that we hope will warm your heart this holiday season.
Peppermint Chocolatte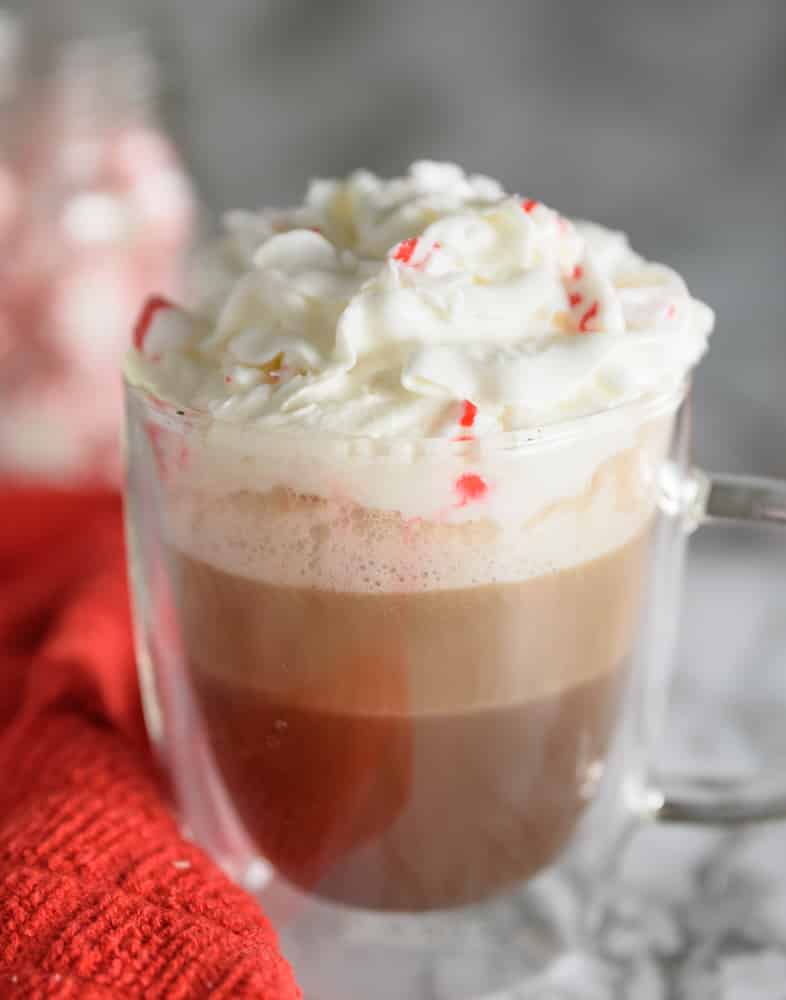 This Peppermint Chocolatte is the perfect coffee to get you in the holiday spirit. It's a festive blend of rich coffee, hot chocolate, and peppermint syrup—all topped off with whipped cream and crushed peppermints. It's easy, fun, and pretty enough for a party. Plus, it's 100% vegan and dairy-free!
Peppermint Mocha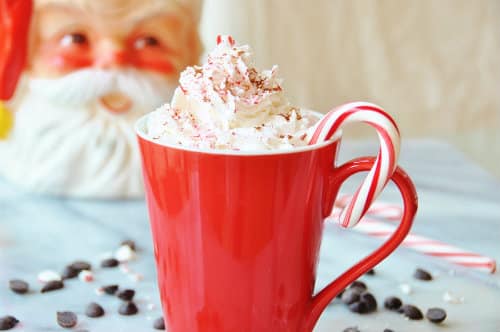 This Peppermint Mocha is the flavor of the holiday season with the caffeine kick of coffee. Now, when you crave this holiday classic, you can have it in the comfort of your own home. We hope that you enjoy this seasonal favorite!
Apple Cider Vinegar Cinnamon Tea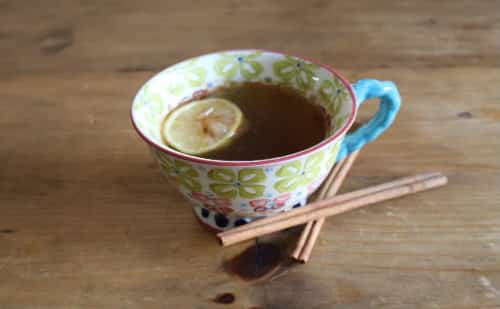 This Apple Cider Vinegar Cinnamon Tea is great for detoxification or when you are sick. This is like a cinnamon hot toddy, but you trade the alcohol for apple cider vinegar. When the colder months get you under the weather, this is the drink that you need.
Vegan Hot White Chocolate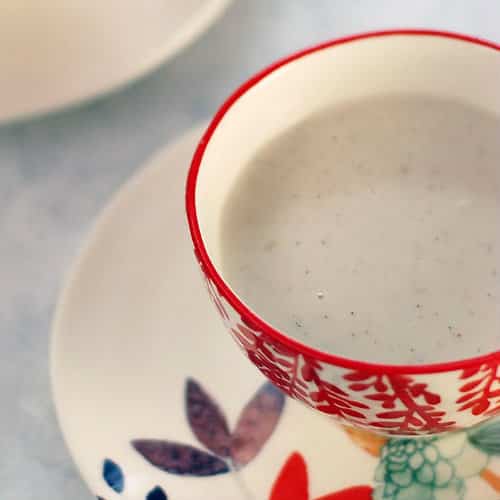 This is an ingenious way to make Vegan Hot White Chocolate. The recipe uses cocoa butter and a special blend of almonds, cashews, and oats to make the milk. These ingredients absorb the cocoa butter and give the drink its thick and rich body. We hope you enjoy it!
Maple Cinnamon Chamomile Tea Latte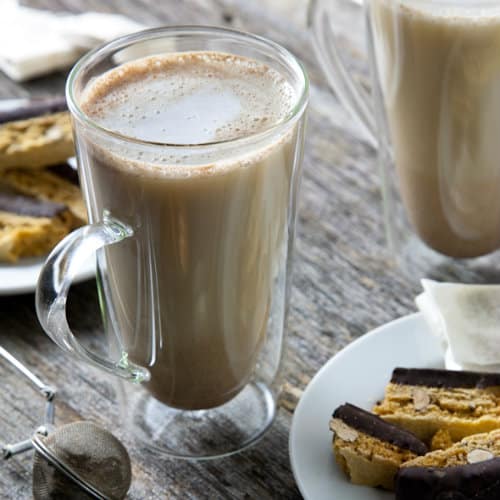 This Maple Cinnamon Chamomile Tea Latte is a delicate tea latte that uses chamomile, maple, and cinnamon for a nice light flavor. It's great for dunking cookies too.
Vegan "Bulletproof" Coffee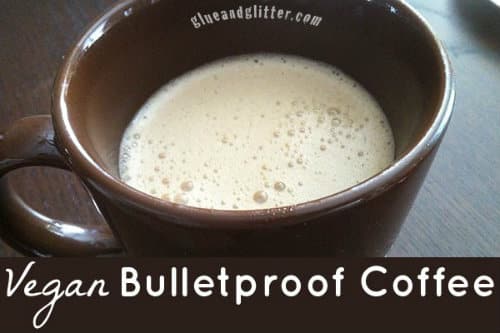 For those who are vegan and want to try the ketogenic diet, this Vegan "Bulletproof" Coffee is a perfect breakfast. The recipe calls for sugar (which is decidedly not keto), but you could use another sugar substitute instead. The recipe only includes coffee and coconut oil, but for those that like cream in their coffee try coconut milk. When you combine this coffee drink in the blender, it will have a nice frothy top like a latte!
Tomato Tea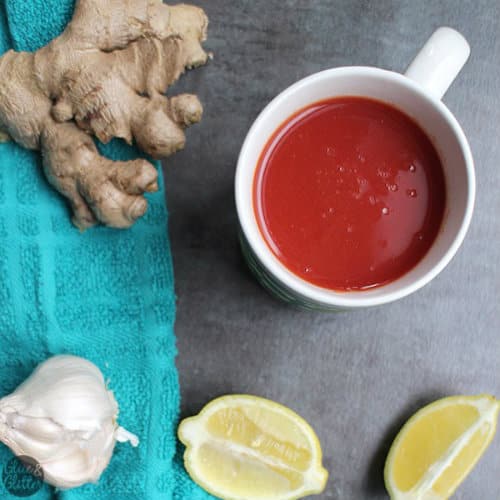 This Tomato Tea is somewhere between a tomato soup and a warm bloody mary. It is intended to help fight colds, but it would be a great beverage on a cold day as well.
Gingerbread Hot Chocolate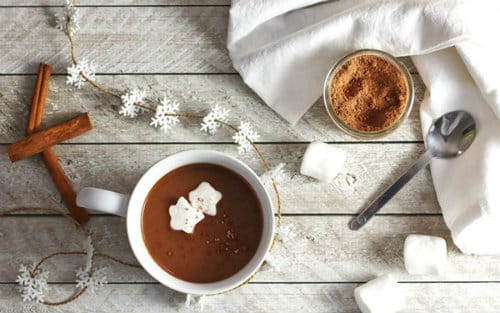 This is a hot chocolate recipe with the spices of gingerbread. Gingerbread Hot Chocolate is a rich beverage that's perfect for those chilly nights during the holidays. This would be a perfect accompaniment for vegan ginger cookies.
Matcha Latte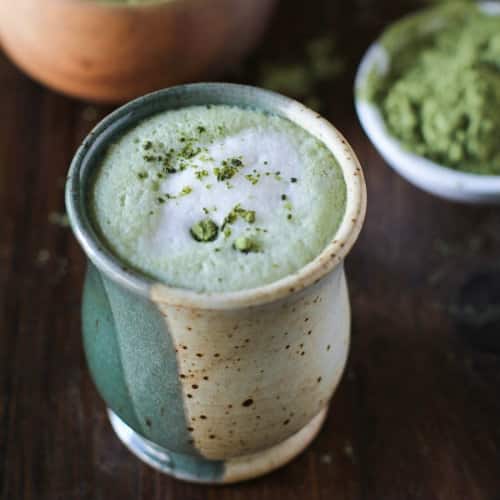 This is a simple green tea Matcha Latte. You can blend it in a blender with a little coconut oil to get a nice frothy top. This latte is a great way to warm up, and it's also loaded with antioxidants.
Ginger Turmeric Tea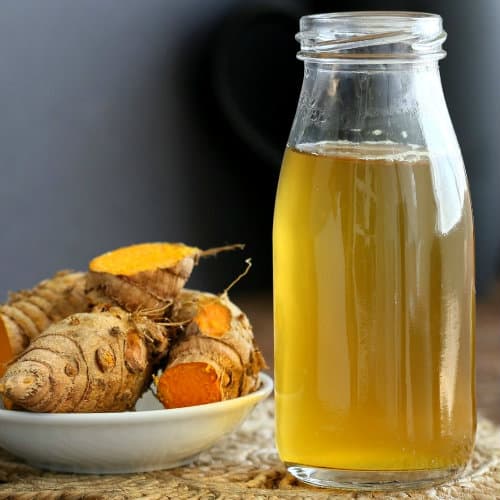 This is a great and simple tea for those who associate pain with the onset of colder weather. This Ginger Turmeric Tea is loaded with good stuff that will help reduce inflammation. We hope that this tea soothes your pain and your soul this fall.
Vegan Chia Horchata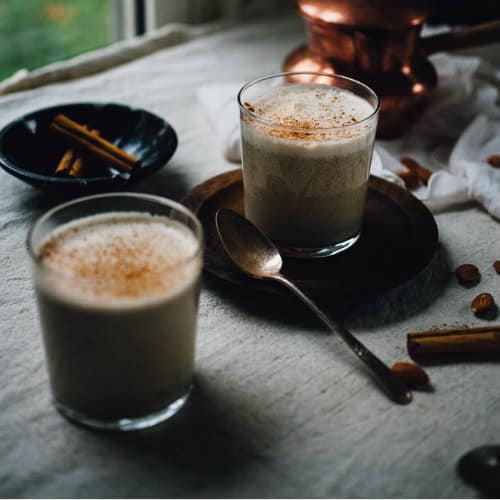 Horchata is the seasoned drink of Latin origin. The traditional recipe uses nuts or rice in the drink, so it is an easy beverage to make vegan. This recipe is basically warm seasoned vanilla almond milk with chia seeds instead of rice. This Vegan Chia Horchata is a very comforting and filling drink.
Golden Milk Latte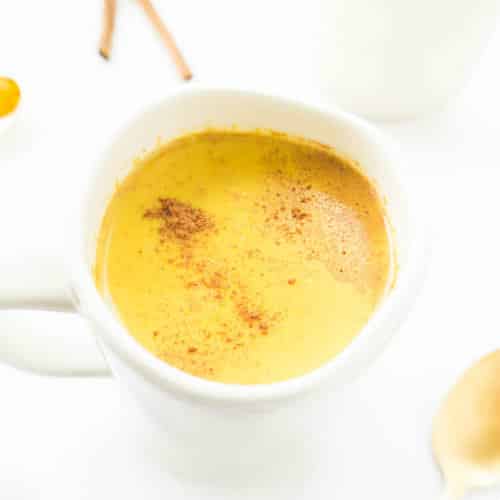 Golden Milk Latte is another great warm drink for the person that has pain due to cold weather. This is vanilla almond milk infused with Turmeric, ginger, cinnamon, and just a pinch of black pepper (to help the body use the curcumin in the turmeric better). This is a delicious and healthy drink that will really warm you up this fall and winter!
For even more delicious winter beverage options go check out these belly-warming fall coffee drinks.