This hummus and quinoa wrap, embellished with fresh and dried tomatoes and leafy greens is chock-full of flavor and protein. Once you have your quinoa cooked (actually, this is a good use for leftover quinoa), this comes together in minutes for an easy dinner or to take along to school or work for lunch. Serve with any sort of soup, a potato dish, salsa and chips, fresh corn — wraps go with most anything!
Makes 2 wraps; doubles easily
Two good-quality 10-inch wraps
½ to ¾ cup hummus, homemade or store-bought, or as needed
2 tablespoons hemp seeds, optional
1 medium tomato, thinly sliced
½ cup or so cooked quinoa
¼ cup or so moist but not oil-cured sun-dried tomato strips
Mixed baby greens, shredded lettuce, baby arugula, baby spinach, or a combination
Place a wrap on a plate. Spread with about ¼ cup hummus, and sprinkle with hemp seeds, if you'd like.
Arrange half of the quinoa down the center of the wrap. Put a big handful of leafy greens next to it on one side, and sliced tomato on the other. Sprinkle strips of the dried tomatoes here and there.
Fold two sides the wrap over the ends of the row of quinoa, keeping them tucked in as you roll the wrap snugly to enclose all the ingredients. Cut in half with a sharp knife and serve at once, or pack up to take to school or work in a container that will protect it from getting smooshed.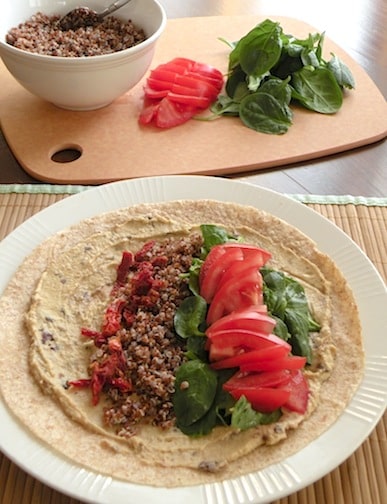 Here are more of VegKitchen's: