Like many penniless, voracious college students, instant ramen saw me through many late night study sessions back in the day. When the fridge was empty and the pantry otherwise bare, I could always count on a packet or two of freeze-dried noodles to see me through the lean times. They still hold a special place in my heart, the mere thought of those chewy wheat strands swimming in a salty sea of vegetable broth sends my head spinning with hunger, but I'd like to think that my palate has evolved quite a bit since then. Now my approach is a good deal spicier, fresher, and undoubtedly healthier.
No longer shackled to those quick-cooking fried noodle bricks, I've found that buckwheat soba noodles takes only a minute or two longer to reach al dente perfection while adding depth and a pleasant earthiness to the entire bowl. Kimchi is the star of the show here, so even if you don't have all the vegetables suggested below, you can easily make up the difference by just piling on the peppery pickled cabbage instead. Read labels carefully to avoid fishy additions, or make your own if you have extra time to plan ahead. Recipe and photos from Instant Kimchi Noodle Soup are reprinted with permission from Real Food, Really Fast by Hannah Kaminsky © 2018.
Serves: 4 to 6
4 ounces dry soba noodles

2 cups drained vegan kimchi, plus ½ cup brine (or see Note)

4 scallions, sliced

2 tablespoons soy sauce

1 tablespoon instant wakame flakes

½ cup sliced cremini or button mushrooms

1 small zucchini, halved and thinly sliced

¾ pound firm tofu, diced

6 cups mushroom or vegetable broth
Bring a large saucepan of water to a boil over high heat. Add the soba noodles and cook until just tender, about 3 to 4 minutes. Drain and immediately rinse with cold water to prevent them from getting mushy. Set aside.
Meanwhile, pile the kimchi, all the vegetables, and tofu into a large pot along with the broth. Cover and set over high heat on the stove. Bring to a boil, reduce heat to keep the liquid at a lively simmer, and cook just until the vegetables are tender and the tofu has absorbed the flavorful stock.
Divide the noodles evenly between 4 or 6 bowls, depending on how many mouths you have to feed (or how hungry you are.) Ladle the soup on top and serve right away. The soup itself can be made in advance and kept in the fridge for up to three days as long as the noodles are kept separate. Buckwheat isn't as resilient as plain wheat and will quickly become gummy as it sits in the broth. 
Note
Kimchi is traditionally fermented over the course of several days, if not weeks, but you can whip up a satisfying quick-fix imitation with a bit of ingenuity and a few basic kitchen staples. Roughly chop a head of Napa cabbage and plunge it into boiling water for 5 to 6 minutes, until tender, then quickly rinse under cold water.
Toss it into a large bowl with 2 tablespoons chile paste or sriracha, 2 tablespoons rice vinegar, 1 tablespoon soy sauce, 3 or 4 chopped scallions, and 1 teaspoon each garlic powder and ginger powder. Mix it all aggressively with your hands to further break down and soften the cabbage. Feel free to add in extra vegetables like sliced radishes, carrots, or cucumbers to liven up the mix, too. Since this is not an actual pickle, it will only keep in the fridge for 1 to 2 weeks in an air-tight container.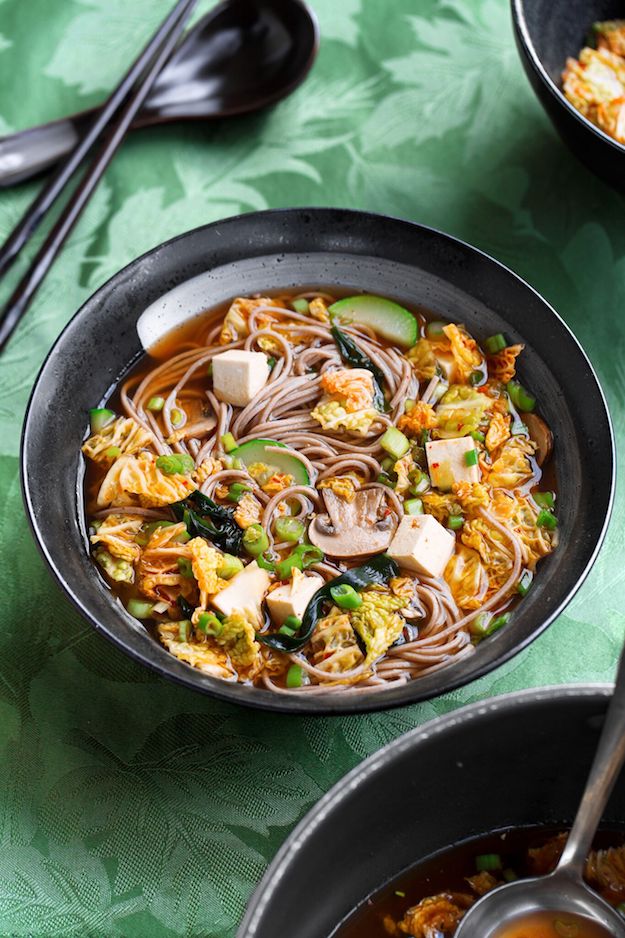 *This post contains affiliate links. If the product is purchased by linking through, VegKitchen receives a modest commission, which helps maintain our site and helps it to continue growing!