When it's cold and damp outside, or when you're sick with cold or flu, there's nothing like a piping hot bowl of Asian vegetable noodle soup. Perhaps you're tempted to send your significant other to pick up some soup from the local Chinese eatery, as we used to do on such occasions. It was usually something called Bean Curd Vegetable Soup. The veggies were never very vivid or interesting, but still, it provided instant comfort.
This fresh homemade version is ready literally in the time it takes to heat up. Not only do the ingredients take almost no time to cook, they're best if not overcooked.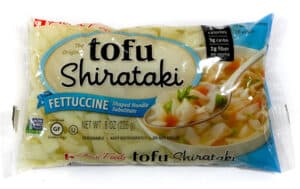 The most clever hack here is using shirataki noodles, which are actually made of tofu, and need no cooking. I highly recommend rinsing them, though — the liquid they're packed in isn't always the most appealing, aroma-wise (though there's nothing wrong with it).

You can't beat a substantial and warming homemade soup that goes from prep to bowl in 20 minutes. That can be even faster than ordering take-out and then going to pick it up. This also yields more servings than the quart you'd get from your local Chinese place, and it's a lot prettier, too!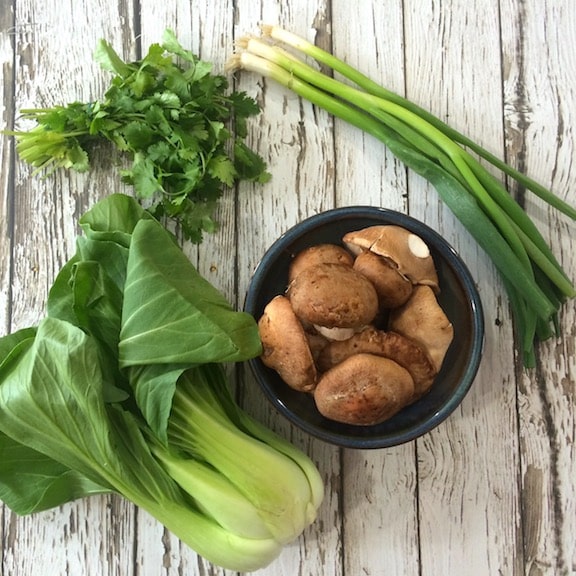 What you'll need
32-ounce container low-sodium vegetable broth

1 package shirataki noodles
Next, choose 3 to 5 veggies from the list below, which you can vary each time you make this soup. When I made this last I had what's shown above on hand — baby boy choy, shiitake mushrooms, scallions — plus, I added all of the optional ingredients as well.
Romaine lettuce, thinly shredded

Green cabbage, thinly shredded (or use coleslaw cabbage)

Bok choy or baby boy choy, thinly sliced

Snow peas, trimmed

Frozen green peas

Carrots, grated (or use pre-grated)

Scallions (a must-have, in my opinion), thinly sliced

Red or orange bell pepper, thinly sliced

Mushrooms, cleaned and thinly sliced
Optional
Firm or soft tofu, cut into large dice

Cilantro

Fresh or squeezable ginger

Sriracha or other hot seasoning
What to do
1  Once you've chosen your 4 or 5 vegetables, prep any that need prepping.
2  Combine the prepped vegetables with the broth in a small soup pot. If using cilantro, wait to add it at the end. You may need to add 1 to 2 cups water — the vegetables should have room to swim in, but not drown, and they should at least be immersed in the liquid. Over high heat, bring it all to a steady boil.
3  Stir in the drained and rinsed shirataki noodles.
4  If you're using tofu, add it as well and bring back to a slow boil. If using cilantro, add it now.
5  Remove from the heat and see what kind of seasoning you'd like — just salt (or soy sauce) and pepper; some ginger and/or sriracha (both are highly recommended!) for some heat. Serve at once, while nice and hot!