Enjoy the benefits of miso's healthy enzymes and a nice fiber and protein boost in this delectable salad that can serve as a main dish or a side salad. Contributed by Julia B. Greer, MD, MPH, adapted from The Anti-Breast Cancer Cookbook.* Photos by Evan Atlas.
Serves: 4 as a main dish (or 8 as a side dish)
Nonstick cooking spray, olive-oil style
1 cup shallots, thinly sliced
2 pinches fine sea salt, divided
Dressing:
2 tablespoons plus 1 teaspoon mellow white miso
1 teaspoon brown mustard
2 tablespoons brown sugar
¼ cup rice vinegar
¼ cup high-quality extra-virgin olive oil
1 tablespoon toasted sesame oil
-
3 cups green cabbage, finely shredded (about ½ small cabbage)
3 cups red cabbage, finely shredded (about ½ small cabbage)
½ cup cashew pieces (preferably from raw cashews)
½ cup red onion, very thinly sliced
2 green onions, sliced
8 to 10 ounces extra-firm or baked tofu, diced
Spray a large skillet with nonstick cooking spray and place over medium heat. Add shallots and a dash of salt; cook, stirring every few minutes, for 12 to 15 minutes, until shallots have caramelized. Transfer shallots to a plate and let cool.
To prepare dressing, whisk together miso, mustard, and brown sugar until combined. Gradually whisk in rice vinegar, followed by olive oil and sesame oil. Season with remaining dash of salt.
Place green cabbage, red cabbage, cashews, red onion, and green onion in a large bowl. Add shallots. Pour about half the dressing over the top and toss until dressing is evenly distributed. Add tofu and remaining dressing and toss again. Serve at room temperature.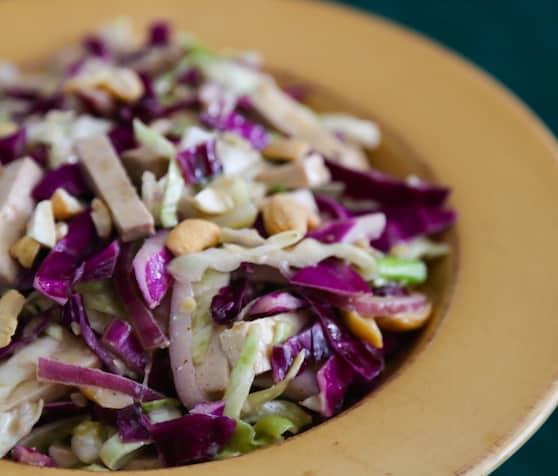 *This post contains affiliate links. If the product is purchased by linking through this review, VegKitchen receives a modest commission, which helps maintain our site and helps it to continue growing!