If you love lentil soup, you're sure to enjoy this one, in which flavorful lentils contrast with tiny shell pasta. Tomatoes, spices, and wine add to the flavor of this hearty meal in a bowl. Serve with a crusty bread and a big green salad. Photos by Hannah Kaminsky.
Serves: 8
1 tablespoon extra-virgin olive oil
1 large onion, chopped
2 cloves garlic, minced
2 medium carrots, thinly sliced
2 large celery stalks, diced
¾ cup raw brown or green lentils, sorted and rinsed
2 bay leaves
1 teaspoon paprika
½ teaspoon each: dried oregano, basil, and thyme
6 cups water
28-ounce can pureed tomatoes
¼ cup dry red wine, optional
1 cup conchiglietti (tiny shells; see note)
Salt and freshly ground black pepper
Heat the oil in a soup pot. Add the onion and garlic and sauté over medium-low heat until the onion is golden.
Add the carrots, celery, lentils, bay leaves, seasonings, and water. Bring to a simmer, then cover and simmer gently for 40 minutes, or until the lentils and vegetables are tender.
Add the pureed tomatoes and optional wine and simmer over very low heat for 15 minutes more.
Meanwhile, cook the conchiglietti separately in a large saucepan with plenty of rapidly simmering water until al dente, then drain. Stir into the soup. Adjust the consistency with a bit more water if it is too thick, then season to taste with salt and pepper.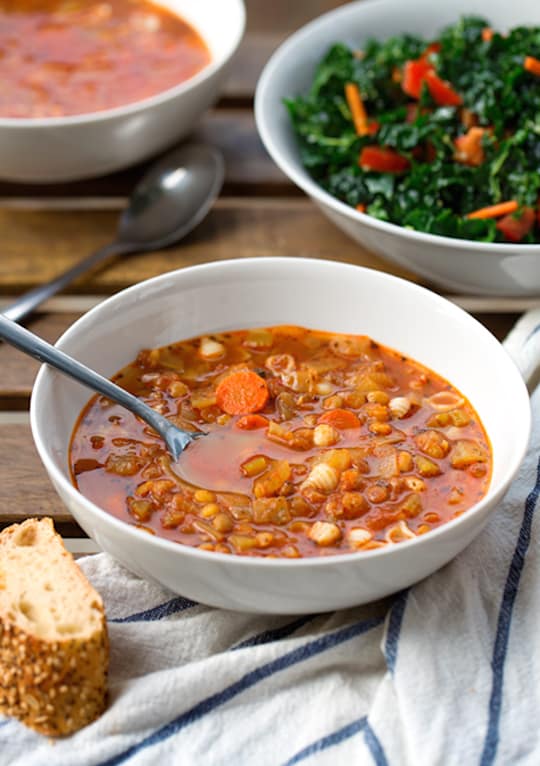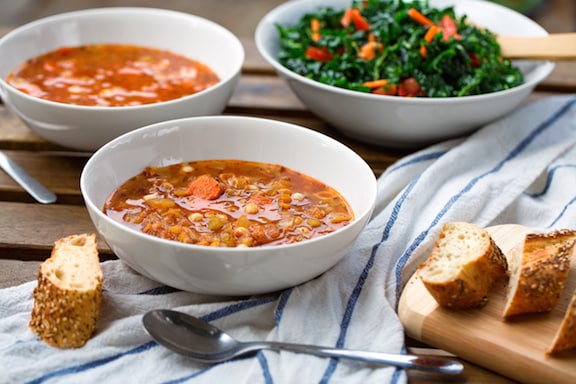 Note: if you can't find conchiglietti, substitute ditalini or another very small pasta shape.