This simple pasta salad makes a nice change of pace from sandwich fare. Featuring kid-friendly veggies, you can dress it in a way you think would be most appealing. Vary the vegetables according to your child's preference. You can make this for dinner, then use leftovers for the lunch box (moisten with additional dressing as needed), or just make it for lunch-packing from the get go, for which it yields a generous number of servings. If you're looking for more lunch ideas, you might enjoy our post, Healthy School Lunch Recipes and Tips.
Makes: 6 lunch box-size servings
 1 ½ to 2 cups uncooked small pasta shapes
(preferably whole grain,or use gluten-free if need be); see Note
1 medium crown broccoli, cut into small florets (about 2 heaping cups)
½  to ¾ cup frozen corn kernels
1 large or 2 medium carrots, peeled and sliced
½ cup pitted black olives or green pimiento olives, halved
⅓ to ½ cup natural dressing of your choice, as needed (see Note)
Salt and freshly ground pepper to taste
Cook the pasta in plenty of rapidly simmering water. Just as the pasta becomes al dente, add the broccoli, carrot, and corn to the simmering water and allow to cook for another minute or two, just until the broccoli turns bright green.
Drain and rinse under cold running water until the mixture cools. Drain well and combine in a mixing bowl with the olives and dressing. Season to taste with salt and pepper.
If you make this the night before, taste and add more dressing if needed before packing into containers to make sure it stays moist.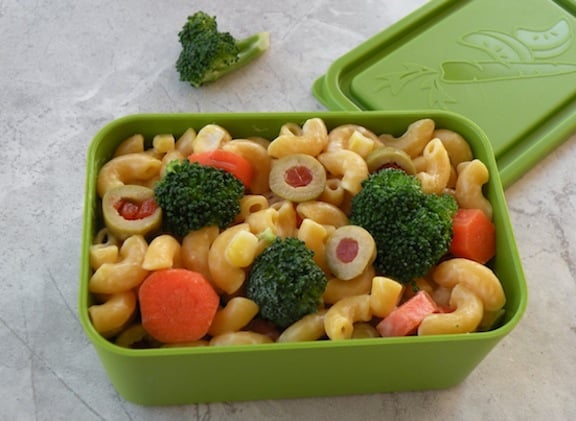 Notes:
Any sort of simple vinaigrette is good with this, as is the Easy Tartar Sauce or the Vegan Ranch Dressing. Use whatever kind of dressing (homemade or store-bought) your child enjoys most, as that's what's going to make it go down easy, and you can vary it each time.
Use 1 ½ cups for really tiny shapes like mini shells, elbows, or ditalini; 2 cups for slightly larger shapes like rotelle (wagon wheels), regular elbows or medium shells.
Variations: 
To jazz this up for adults, use a bolder dressing; add fresh herbs and/or sun-dried tomatoes.
And of course, you can always use other veggies as suggested in the headnote. Others that would be good in this are green peas, bell pepper, and cauliflower.