Once you've got cooked or baked potatoes ready and mashed, these tasty burritos come together quickly. Serve with a simple bean dish if you'd like extra protein, and a salad. Pictured here is Southwestern-Flavored Kale Salad. Photos by Rachael Braun. 
Makes: 4 burritos
2 large or 3 medium potatoes, peeled and diced
(or see note)
¼ cup rice milk, or as needed
1 to 2 small fresh chili peppers, such as jalapeño,
seeded and minced, to taste  (or see variations)
Salt to taste
4 burrito-size (about 10 inch) flour tortillas
Your favorite salsa (tomato or tomatillo), as needed,
or homemade Fresh Tomato Salsa
1 cup grated vegan cheddar or vegan nacho cheese
Cover the potatoes with water in a medium saucepan. Bring to a simmer, cover, and simmer gently until tender, about 15 minutes. Combine the drained potatoes and rice milk in a mixing bowl and mash well. Season with salt.
Wrap the entire batch of tortillas in foil and warm in a preheated 350º F. oven or toaster oven.
Divide the mashed potatoes among the tortillas, spreading some down the center of each. Spread a little bit of salsa over the potatoes, and sprinkle with the vegan cheese. Roll up snugly. Heat the burritos briefly in a 350º F oven, toaster oven or in the microwave, just until the cheese melts and they're piping hot. Eat out of hand.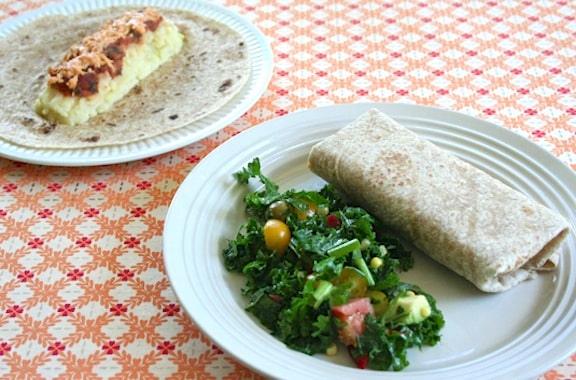 Note: You can also bake or microwave the potatoes ahead of time, then just peel and mash them. They won't be as fluffy as freshly mashed potatoes, but it hardly matters in this case; it's a great way to use up leftover potatoes.
Variation: For a milder effect, use a poblano pepper, seeded and minced, or a 4- to 8-ounce can chopped mild green chilies.
Nutritional Information
Per Serving: 345 calories, 53g carbs; 12g fat; 7g protein; 678mg sodium; 5g sugar