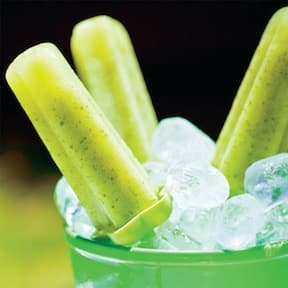 These enticing honeydew ice pops are low in fat and high in water content, so they're the perfect pleasure on a hot sunny
day! Recipe and photo from Ice Pop Joy* by Anni Daulter (Sellers Publishing, © 2012), reprinted by permission.
Makes 6 (4-ounce) pops
½ honeydew melon,
scooped from shell and cut into chunks
1 tablespoon chopped fresh mint
½ tablespoon chopped fresh cilantro
3 tablespoons raw agave nectar
Juice of 1 lime (approximately 2 tablespoons juice)
1 cup purified water
1 cup ice
Put the melon, mint, and cilantro in a blender, and puree until smooth.
Add the agave nectar, lime juice, lemon juice, water, and ice, and blend all ingredients together into a smooth texture.
Pour mixture into chosen pop molds and put sticks into place. Freeze pops until solid.
*This post contains affiliate links. If the product is purchased by linking through this review, VegKitchen receives a modest commission, which helps maintain our site and helps it to continue growing!