I could eat a different corn salad every night (corn is the perfect hearty addition to summertime salads), but my obsession started here: a deluxe vegan esquites, the queen of creamy roasted corn salads. Unlike most corn salads, this is best eaten when the corn is still warm from roasting, so prep all of the veggies (and the dressing, but you knew that already!) first, so all that's required is toasted hot corn for a mouthwatering treat. From Salad Samurai: 100 Cutting-Edge, Ultra-Hearty, Easy-to-Make Salads You Don't Have to Be Vegan to Love* by Terry Hope Romero. Reprinted courtesy of Da Capo Lifelong Books, ©2014. Photos by Vanessa K. Rees.
Serves: 3 to 4
Creamy Lime Dressing
1⁄2 cup unroasted cashews
1⁄2 cup hot water

2 tablespoons freshly squeezed lime juice

1 teaspoon olive oil or coconut oil

1 clove garlic, peeled

2 teaspoons white (shiro) miso
Corn Salad

4 ears of corn, husks and corn silk removed

Olive oil

1⁄2 cup lightly packed, chopped fresh cilantro

2 scallions, green part only, thinly sliced

1 green or red jalapeño pepper, roasted or fresh, seeded and minced

1 ripe avocado, diced

1 big red ripe tomato, cored and diced

2 teaspoons chili powder (preferably Mexican, such as ancho or chipotle)

Lime wedges, for garnish
Make the dressing first Soak the cashews in the hot water for 30 minutes, then pulse the cashews and soaking water in a blender until smooth. Add the remaining dressing ingredients, pulse until silky, then chill until ready to use.
Preheat a cast-iron grill pan over medium-high heat. Rub the ears of corn with olive oil and grill each ear until the kernels are lightly charred, turning the cobs occasionally, about 3 to 4 minutes. Transfer them from the pan to a cutting board and cool just enough to handle. Use a sharp knife with a thin blade to slice the corn kernels from the cob; for best results (and to prevent kernels from taking flight), slice a few rows off an ear, lay it flat on the cutting board, then slice off the remaining corn. Always keep one side of the ear flat on the cutting board.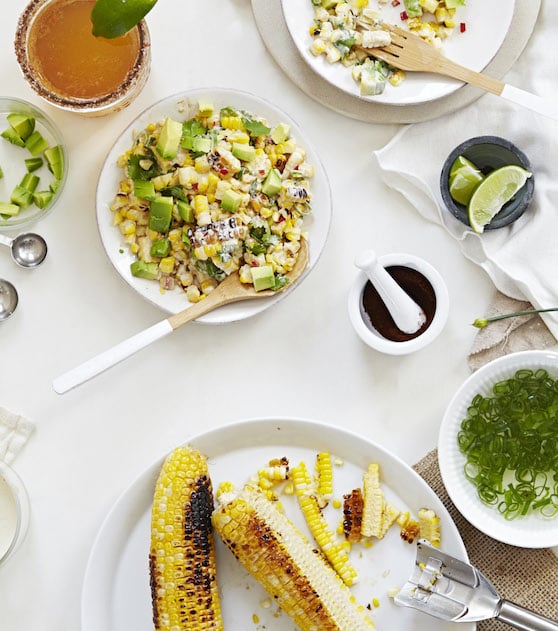 Transfer the corn to a big mixing bowl. Add the cilantro, scallions, and jalapeño. Drizzle on the dressing and toss to combine. Transfer the salad to serving dishes. Top each serving with diced avocado and tomato and sprinkle each serving with chili powder. Serve immediately with lime wedges for squeezing over the salad while the corn is still warm!
*This post contains affiliate links. If the product is purchased by linking through this review, VegKitchen receives a modest commission, which helps maintain our site and helps it to continue growing!