These crispy taco bowls, filled with an unusual salsa of mixed bean sprouts, are a fantastic party finger food, or a great snack for a cozy movie night on the sofa. They're also perfect to please vegans, vegetarians, and those on gluten- dairy-, and nut-free diets. You can keep them simple or give them a spicy drizzle with your favorite sauces. Recipe and photos contributed Andrea Soranidis of The Petite Cook.

Serves: 8
Prep time: 20 minutes / Total time: 35 mins
4 large flour tortillas
Salsa:
1 pack organic mixed bean sprouts
1⁄3 cup corn kernels

1⁄2 red bell pepper, minced

1⁄2 jalapeño pepper, seeded and thinly sliced

1 tablespoon lime juice

1⁄3 red onion, minced

2 tablespoon fresh cilantro, chopped

Salt and freshly ground pepper to taste
--
Your favorite hot sauce or picante sauce, optional
With the help of a large food ring, cut the tortillas into circles. If you don't have a food ring, use
a small bowl or large glass, about 4 inches in diameter, and cut around it with sharp knife.
Heat the tortillas until warm. Turn a muffin tin upside down and spray with cooking spray oil. 
Place the circles on the underside of the muffin tin as shown below. Bake in a preheated oven to 320º F/160ºC until golden and crisp, about 15 minutes.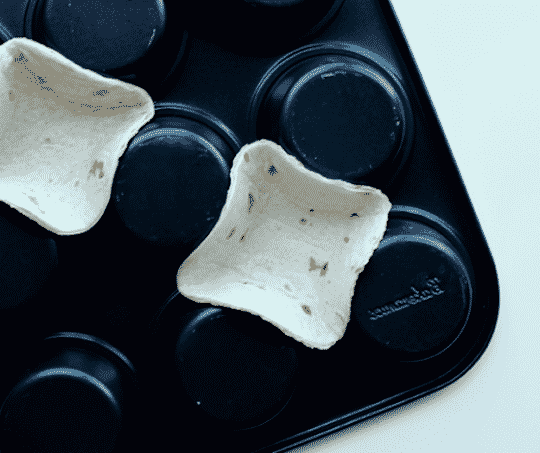 In the meantime, combine all the ingredients in a large bowl to make the salsa. Season well with salt and pepper and refrigerate until ready to serve. 
When ready, remove the taco bowls from the oven and allow to cool down. 
Serve the mixed bean salsa into the taco bowls and either keep it simple, or drizzle with your favorite hot sauce. Serve at once.