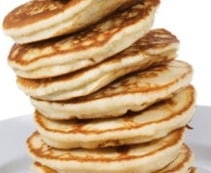 Finding satisfying breakfast choices can be a challenge for gluten-free vegans, as so many standard breakfast foods are based not only on animal products, but also on gluten-containing grains (pancakes, bagels, toast, baked goods in general, hot and cold cereals, and such). Here are some suitable homemade options. 
___
Creamy Tahini Rice Pudding
A good use of leftover cooked brown rice, this makes a great breakfast (and a nice side dish or snack as well).
Yield: 4 servings
¼ cup nut-seed mixture of choice (pumpkin seeds, sunflower seeds,
almonds, raw cashews, walnuts, etc.)
2 cups cooked brown rice
⅓ cup tahini
1¼ cups apple or orange juice
¼ cup chopped dried dates, figs, apricots, or other dried fruit of choice
Toast nuts/seeds in a dry skillet until they just begin to color. Add remaining ingredients and cook, stirring continuously for 2 to 3 minutes, until heated through and creamy.
__
Frijoles Colades (Strained Sweetened Beans)
This recipe for sweetened beans comes from Peru. It's a porridge that more resembles sweet, thick milk then beans.
Yield: 6 servings
4 cups cooked kidney beans
3 cups rice milk
2 tablespoons agave or maple syrup
Toasted sesame seeds
Puree kidney beans using either the fine blade of a food mill, or a food processor or blender. If using a blender, you may need to add a little of the rice milk to obtain a smooth puree.
In a saucepan, combine bean puree, rice milk and sweetener. Simmer gently until thickened. Sprinkle each serving with sesame seeds.
___
Sweet Tofu Cakes
Tiny tender pancakes that are a morning delicacy topped with fruit butter or fruit-juice-sweetened preserves.
Yield: 16 cakes; 4 servings
1 pound tofu (2 cups mashed)
2 tablespoons maple syrup
2 tablespoons unsweetened cashew, sunflower or almond butter
1 teaspoon cinnamon
½ cup brown rice flour or other gluten-free flour
1 teaspoon baking powder
Oil
Apple butter or other fruit butter or fruit-juice-sweetened preserves of choice
Mash tofu with a fork. Stir in maple syrup, nut butter, cinnamon, flour, and baking powder. Mix with your hands until evenly blended.
Heat just enough oil to cover the surface of a skillet or griddle. Using about 2 tablespoons tofu mixture, shape into small plump cakes about 1½ inches round. Place in hot pan and cook about 3 minutes on each side, until nicely browned.
Top each cake with a dollop of fruit butter or preserves and serve.
______
Tempeh Hash
Although this recipe takes some time to prepare, it can be made in advance and easily reheated in a frying pan or moderate oven. Serve plain or with ketchup.
Yield: 2-4 servings, depending on appetites and what else is served with it
1 tablespoon oil
1 small onion, chopped
¼ cup chopped green pepper
2 cups chopped, unpeeled potatoes
4 ounces coarsely chopped tempeh (1 cup)
1 tablespoon wheat-free soy sauce
2 tablespoons water
Heat oil in a skillet and sauté onion and green pepper about 5 minutes, until softened and onion is just beginning to color. Add potatoes and tempeh. Combine soy sauce and water and after hash has been cooking for about 5 minutes, add a spoonful of the liquid.
Continue to cook over medium heat for 20 to 30 minutes, until potatoes are just tender. Stir frequently, lifting with a spatula and loosening any food that sticks to the pan. Add more soy sauce mixture as needed to keep moist.
When potatoes are cooked, add any remaining soy sauce mixture and cook 5 minutes longer, pressing hash down with a spatula to mash lightly.
___
Rice Flour Pancakes
Very tender pancakes that are so flavorful you can even eat them plain. For pancakes with a varied texture, add ¼ cup chopped nuts.
Yield: 8 pancakes; 2 servings
1 cup brown rice flour
2½ teaspoons baking powder
½ teaspoon salt
1 cup water
1 tablespoon agave or maple syrup
2 tablespoons almond butter or other nut butter of choice
1 medium banana, sliced
Mix dry ingredients in a bowl. Add water, sweetener and almond butter, and stir gently until flour is thoroughly moistened and almond butter evenly distributed. Fold in banana.
Pour batter by ¼ cupfuls onto a hot, well-oiled griddle or skillet. Cook until bottom is brown and a spatula slips easily underneath. Turn and brown other side.
____
Soy Milk Cottage Cheese
This is a delicate cheese with a light caramel color. It has a slightly sweet flavor and none of the beany taste of tofu.
Yield: ¾ cup "cheese"
2 cups soy milk
2 tablespoons lemon juice or cider vinegar
Bring milk just to a boil. Add lemon juice or vinegar and cook gently for 5 minutes, until curds separate and liquid portion is clear. Remove from heat and pour through a strainer lined with cheesecloth or a coffee filter. Let drain thoroughly. Use at once or chill.
___
Crispy Rice Cookies
These gluten-free crispy rice cookies keep well in a covered container and make a good breakfast on-the-run.
Yield: 20 cookies
6 tablespoons tahini
6 tablespoons maple or rice syrup
½ teaspoon cinnamon
½ cup coarsely chopped peanuts
1 cup crispy brown rice cereal
Preheat oven to 3500F.
Beat tahini and sweetener together in a mixing bowl until smooth. Stir in remaining ingredients. Using a teaspoonful at a time, shape mixture into balls and place on an oiled baking sheet. Flatten slightly using a fork or your hand.
Bake 12 to 15 minutes, until edges of cookies are golden. Transfer to a wire rack to cool.
____
Gluten-Free Banana Bread
A very tender loaf of gluten-free banana bread with great flavor.
Yield: 1 loaf
1 cup brown rice flour
½ teaspoon baking powder
1 teaspoon baking soda
¼ cup chopped walnuts
2 medium bananas, mashed (1 cup)
½ cup any nondairy milk
2 tablespoons tahini
2 tablespoons oil
Preheat oven to 350 degrees F.
Combine dry ingredients, including nuts, in a mixing bowl. Add banana, nondairy milk, tahini and oil. Stir gently until ingredients are completely moistened and batter is evenly mixed. Pour into an oiled 8-inch loaf pan and bake 45 to 50 minutes, until golden.
You can find hundreds of vegan and vegetarian breakfast ideas, from everyday to fancy in The Good Breakfast Book by Nikki and David Goldbeck (Ceres Press), available at a special price at www.HealthyHighways.com. Also in bookstores or from amazon.com.*
*This post contains affiliate links. If the product is purchased by linking through this review, VegKitchen receives a modest commission, which helps maintain our site and helps it to continue growing!