I know it's easy to run out of pasta ideas or fall into a pasta rut. But just a little produce and a few pantry items can pull you out! Salty olives and perfectly cooked Brussels sprouts, with their delicate layers and caramelized outer leaves, make this a totally satisfying dish that isn't exactly run–of–the–mill. Chopped–up walnuts add some texture and help get the flavors to cling to the pasta. Recipe and photos from Isa Does It: Amazingly Easy, Wildly Delicious Vegan Recipes for Every Day of the Week*  by Isa Chandra Moskowitz. © 2013 All rights reserved. No part of this excerpt may be reproduced or printed without permission in writing from the publisher. Reprinted by arrangement with Little, Brown and Company.
Serves: 4
8 ounces Brussels sprouts, quartered

8 ounces angel hair pasta

½ cup shelled walnuts

1 medium yellow onion, quartered and thinly sliced

2 tablespoons olive oil

½ teaspoon salt, plus a pinch

4 cloves garlic, minced

1 teaspoon dried thyme

½ teaspoon crushed red pepper flakes

Freshly ground black pepper

½ cup kalamata olives, coarsely chopped

½ cup to 1 cup vegetable broth

2 tablespoons white balsamic vinegar or fresh lemon juice
First put on a large pot of salted water to boil. When it's boiling, steam the Brussels sprouts for 3 minutes (see Note) and set aside. Then cook the pasta according to the package directions. Drain and set aside.
In the meantime, preheat a large, heavy-bottomed pan over medium heat. Toast the walnuts for about 5 minutes, tossing occasionally, until fragrant and toasty. Remove from the pan and place on a cutting board. When cool enough to handle, chop the walnuts into pea-size pieces.
Using the same pan, turn the heat up to medium-high and sauté the onion in 1 tablespoon of the olive oil and a pinch of salt just until translucent, about 3 minutes.
Add the steamed Brussels sprouts to the pan, along with the remaining 1 tablespoon olive oil. Try to make sure that the sprouts are touching the bottom of the pan, not resting too much on the onions, so that they sear. Cook for about 5 minutes, stirring occasionally, until seared on at least one side.
Add the garlic, thyme, red pepper flakes, and black pepper, and cook until fragrant, about 30 seconds.
Add the olives, remaining ½ teaspoon salt, ½ cup of the vegetable broth, and vinegar and mix well.
Add the pasta and toss to coat. Add the walnuts and toss again. Make sure to get any crumbs from the walnuts, too. If the dish seems dry, add up to ½ cup additional vegetable broth. Taste for seasoning, and serve.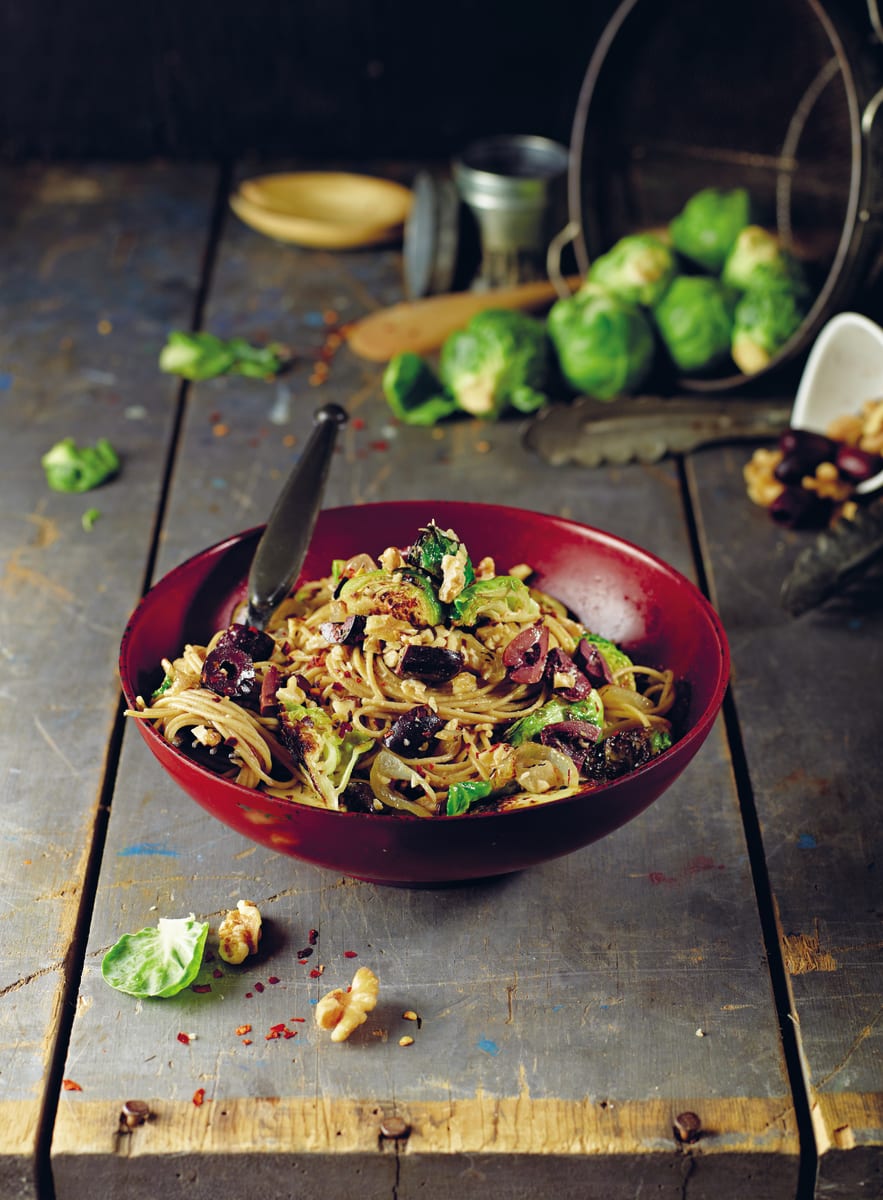 Notes:
Once the water for your pasta is boiling, you're going to use that water to steam the Brussels sprouts before cooking the pasta. You can use this trick if you just need some steamed veggies to throw into your dish, or if your veggies need to be steamed before searing, roasting, or sautéing. Place the vegetables in a colander that can easily rest on the pot edge, above the water. Ideally, it should be small enough to fi t into the pot and still have a lid sit comfortably on top. It should also have a handle, so that it stays in place. You can, of course, also use a steamer basket. Place the veggies over the boiling water, cover, and steam away!

If for some reason you don't want to use my super–special steaming method, just steam however you normally do and proceed with the recipe.
*This post contains affiliate links. If the product is purchased by linking through this review, VegKitchen receives a modest commission, which helps maintain our site and helps it to continue growing!