Here's a quick and easy sandwich idea that can save you in a pinch when you need a quick lunch or dinner. Mashed avocado is mixed with tomato and lemon or lime and topped with a sprinkling of your favorite bean. Keep more of the beans nearby for extra protein. Serve with sweet or regular potato and salad (or a warming soup) for a simple and gratifying meal!
Makes: 4 open-face sandwiches, 2 to 4 servings
Avocado spread:
1 medium ripe avocado, peeled and pitted
½ medium tomato, finely diced
2 to 3 teaspoons lemon or lime juice, to taste
Generous pinch of ground cumin
Salt and freshly ground pepper to taste
1 hot or mild fresh chili pepper, seeded and minced, optional
4 slices lightly toasted fresh bread or mini-pitas
Black beans, pinto beans, or chickpeas, as needed
Sprouts, thinly sliced scallion, and/or minced fresh cilantro, as desired
Mash the avocado on a plate or in a shallow bowl. Combine with the tomato, and season to your taste with the lemon juice, cumin, salt and pepper. Add the minced chili pepper if you'd like a bolder flavor.
Divide the avocado spread between the breads.
Sprinkle the beans of your choice over the surface, and finish with a sprinkling of sprouts, scallion, and/or cilantro. Serve at once.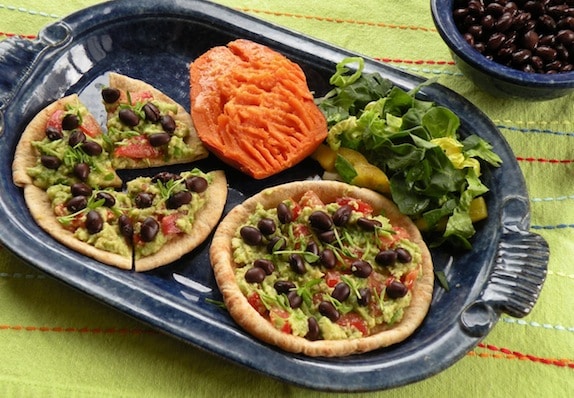 Nutritional Information
Per Serving: 171 calories; 25g carbs; 6g fat; 5g protein; 233mg sodium; 2g sugar