Stuffed bell peppers are a favorite comfort dish, and it's so easy to create vegan variations. Orzo, a tiny, rice-shape pasta, makes a nice filling, as does medium-grain brown rice. With the addition of green peas and fresh herbs, this makes a satisfying main dish. Photos by Rachael Braun.
Serves: 4
2 cups vegetable broth
1 cup orzo (rice-shaped pasta), or ¾ cup brown rice
or exotic rice blend
1 tablespoon extra-virgin olive oil
1 medium onion, finely chopped
2 cloves garlic, minced
1 large celery stalk, finely diced
1 cup fine fresh bread crumbs (see note)
1 cup frozen petit green peas, thawed
¼ cup minced fresh parsley
Several leaves fresh basil, sliced
½ teaspoon dried oregano
½ teaspoon dred thyme
Salt and freshly ground pepper to taste
4 to 5 medium bell peppers,any combination of colors
(depending on their size, you may have enough to stuff 4 or more)
Bring the broth to a rapid simmer in a large saucepan. Stir in the orzo or rice and simmer gently until the water is absorbed (about 12 minutes for the orzo or 20 to 30 minutes for the rice). The orzo should be al dente, but if not tender enough, add another ⅓ cup water and simmer until absorbed.
Meanwhile, heat the oil in a medium skillet. Add the onion, garlic, and celery and sauté over medium heat until the mixture is golden. Stir in half of the bread crumbs, followed by the peas, and fresh and dried herbs and continue to sauté, stirring, for 5 minutes more. Season with salt and pepper and remove from the heat.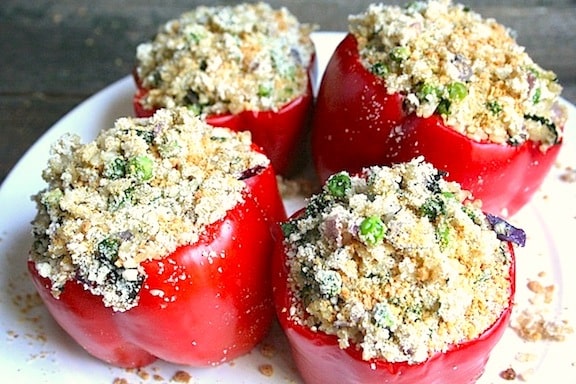 Preheat the oven to 350 degrees F.
Carefully cut a thin slice off of the top of each bell pepper to remove the stem. Cut a very thin slice off of the bottom of each pepper so that they will stand more steadily. Rinse the inside of each bell pepper to remove excess seeds.
Divide the orzo mixture among the peppers. Place them in a small baking dish in which they will stand securely. Sprinkle the remaining bread crumbs over the tops. Cover loosely with foil. Bake for 30 to 40 minutes, or until the peppers are just tender.
Note: To make fresh bread crumbs, simply place 2 slices or so soft whole grain bread in a food processor fitted with the steel blade. Process until the bread is reduced to fine crumbs.