Arrabiata is an Italian term for "mad" or "enraged." I imagine that the name of this pasta dish must have been inspired by its bold red sauce and seasoning. Pepperoncini (pickled Italian hot peppers, available in jars from most any supermarket) and red pepper flakes are its signature flavorings. Use the amounts given here as a guideline—for a spicier effect, taste the sauce, then slowly step up the quantity of these two key ingredients. Photos by Hannah Kaminsky of Bittersweet.
Serves: 6
10 to 12 ounces pasta, any variety (preferably
whole grain, or your favorite gluten-free pasta)
1 tablespoon extra-virgin olive oil
1 medium onion, finely chopped
2 to 3 cloves garlic, minced
1 medium red bell pepper, finely diced
4 to 6 pepperoncini, stemmed, seeded, and finely chopped, or more to taste
28-ounce can crushed or pureed tomatoes
4 medium ripe tomatoes, diced
¼ cup dry red wine
½ teaspoon dried hot red pepper flakes, plus more to taste at end
½ teaspoon dried oregano
½ cup finely chopped fresh parsley
¼ cup thinly sliced basil leaves
Salt and freshly ground pepper to taste
Cook the pasta in plenty of rapidly simmering water until al dente, then drain.
Meanwhile, heat the oil in a large saucepan. Add the onion and garlic and sauté over medium-low heat until the onion is translucent. Add the bell pepper and continue to sauté just until it has lost its raw quality and the onion is  golden.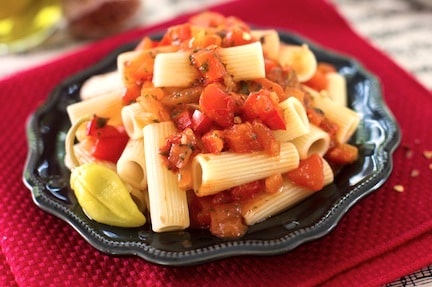 Add the pepperoncini, crushed tomatoes, fresh tomatoes, wine, red pepper flakes, and oregano to the saucepan, stir together, and bring to a simmer. Cover and simmer gently over medium-low heat for 15 minutes.
Combine the cooked pasta and sauce in a large serving bow. Toss with the parsley and basil. Season with salt and pepper, then add a bit more hot red pepper flakes if desired. Serve at once.
Nutritional Information:
Per Serving: 200.5 calories; 3.9g fat; 233.3mg sodium; 681.8mg potassium; 38.2g carbs; 7.5g fiber; 1.9g sugar; 7.1g protein