The ingredients of Salade Nicoise—green beans, white beans, ripe tomatoes, and cured olives— join forces with pasta to make a delectable cold dish. Baked marinated tofu stands in for tuna, another standard Nicoise ingredient. This makes a heaping helping even with only 8 ounces pasta, making it a nice summer potluck dish. 
Serves: 6 to 8
Dressing:
2 tablespoons extra-virgin olive oil

¼ cup red wine vinegar

2 teaspoons Dijon-style mustard

½ teaspoon dried basil




-
8 ounces pasta, any short shape (penne, rotini,




gemelli, farfalle), whole grain if you'd prefer

2 cups fresh green beans, trimmed and cut into 1-inch lengths,




(or use frozen cut organic green beans if fresh are out of season)

15- to 16-ounce can cannellini (large white beans), drained and rinsed

2 medium firm, ripe tomatoes, diced, or 1 pint grape or cherry tomatoes, halved

8-ounce package baked tofu, finely diced or cut into short strips

⅓ cup Niçoise olives, pitted and chopped (or to make it easier,




use pre-pitted kalamata or other brine-cured olives)

¼ cup chopped fresh parsley or thinly sliced basil (or use both)

Salt and freshly ground pepper to taste

Red onion rings for garnish, optional
Combine the dressing ingredients in a small bowl, and stir together until well blended. Set aside.
Cook the pasta in plenty of rapidly simmering water Just as it's nearly al dente, plunge the green beans into the water and cook until they're bright green, just another minute or two. Drain and rinse the pasta and green beans in a colander until just warm, then drain well again.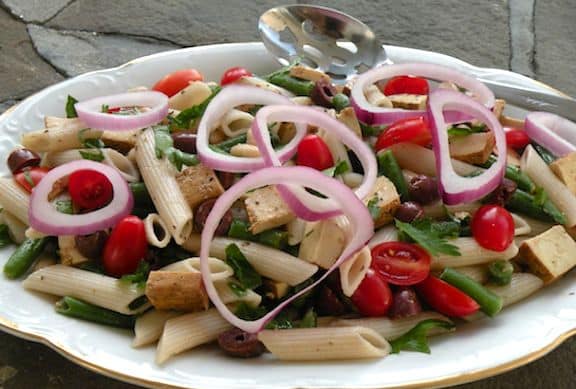 Meanwhile, combine the beans, tomatoes, baked tofu, olives, and parsley and/or basil in a large bowl.
Add the cooked and cooled pasta and green beans, along with the dressing, and toss together gently. Season with salt and pepper, and taste to see if you'd like to add more olive oil and vinegar. Serve at room temperature.
Nutrition Information:
Per serving: 340 calories; 12g fat; 545mg sodium; 44g carbs; 4.5g fiber; 15g protein