One evening a while back, I had about one hour to make dinner for the family—and eat—between getting home from one activity and going out to another. I improvised based on what was in the fridge rather than following a recipe. This was the result; everyone liked this simple dish so much that I set down a recipe for it, and have followed it many times since. Serve with a salad of fresh greens and tomatoes (toss in some beans and chickpeas for extra protein), fresh bread, and your favorite wine. Photos by Evan Atlas.
Serves: 6
10 to 12 ounces cavatappi, fusilli, or other twist pasta,
preferably whole grain

2 tablespoons extra virgin olive oil

2 to 4 cloves garlic, minced

1 small head or ½ medium head cauliflower, cut into bite-sized pieces

4 to 5 ounces fresh baby spinach, rinsed

¼ cup sliced sun-dried tomatoes (oil-cured or not, as preferred)


½ cup raisins

¼ cup minced fresh parsley, or more, to taste

Salt and freshly ground pepper to taste

Dried hot red pepper flakes to taste, optional
Cook the pasta in plenty of rapidly simmering water until al dente, then drain.
Meanwhile, heat half of the oil in a large skillet or stir-fry pan. Add the  garlic and sauté over low heat until golden.
Add the cauliflower and about ½ cup water. Cover and steam, stirring occasionally, until the cauliflower is tender but still firm, about 5 to 7 minutes.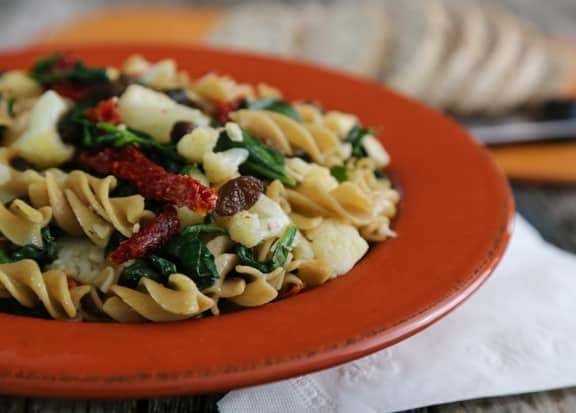 Layer the spinach over the cauliflower and cover. Cook for just a minute or two, until wilted, then stir together with the cauliflower.
Add in the dried tomatoes, raisins, parsley, cooked pasta, and the remaining olive oil.
Stir together gently. Season with salt and pepper, and optional red pepper flakes. If you used sun-dried tomatoes that aren't oil cured, you can also add an extra drizzle of olive oil if you'd like. Serve at once.
Nutrition Information: 
Per serving: 288 calories; 7g fat; 70mg sodium; 52g carbs; 7g fiber; 10g protein