Gremolata is a mess of chopped herbs, lemon zest, olive oil, breadcrumbs or nuts, with a nubbly texture somewhere between a relish and sauce. Here it's tossed with nutrient-rich kale, celery and whole wheat angel hair for a summer dish bright with flavor, color and crunch. Recipe and photo by Ellen Kanner.
Serves: 4
7 ounces whole wheat angel hair pasta
(approximately half of a 13.25-ounce package),
or other whole grain angel hair
3 tablespoons olive oil
1 pinch red pepper flakes (about 1/8th teaspoon)
3 cloves garlic, chopped
1/2 bunch flatleaf parsley, chopped (about 1 cup, loosely packed)
1/2 cup walnuts, chopped
Zest of 1 lemon, plus 1/4 cup fresh lemon juice
1-1/2 cups celery  (stalks and leaves), sliced thin
1 bunch kale, chopped into skinny ribbons
Sea salt and freshly ground pepper to taste
In a small bowl, mix together the chopped garlic, walnuts, grated lemon zest and chopped parsley.
Bring water to boil in a large pot. Add angel hair and cook according to package directions until just al dente, approximately 5 to 7 minutes. Reserve 1 cup of cooking water from the pasta — it gets starchy and silky and helps thicken the sauce. Drain the rest of the pasta.
In the same pot, heat olive oil over medium-high heat. Add red pepper flakes and the garlic-parsley-lemon zest-walnut mixture, stir until it sizzles and smells toasty and terrific, about 3 minutes. Add the pasta and chopped kale. Remove from heat and toss. The heat from the pasta and gremolata will make the kale tender without additional cooking.
Add the quarter cup of lemon juice, the cup of pasta water and celery. Toss again to combine. Season generously with sea salt and pepper.
Serve warm, room temperature or slightly chilled. Simple but sturdy enough for a pot luck.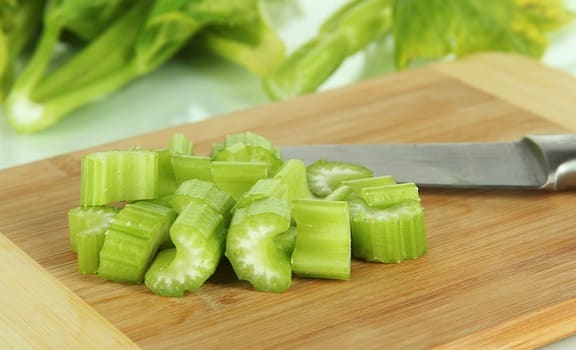 Ellen Kanner writes the Meatless Monday column for The Huffingon Post, is the Edgy Veggie, a syndicated columnist, and Dinner Guest blogger on Culinate. She is also a contributor to Bon Appetit, Relish, Eating Well, Vegetarian Times, More, the Miami Herald and regional publications across the country.