Pasta with pesto, potatoes, and green beans is a classic rustic Italian combination. It may seem odd to combine pasta and potatoes, but it does work well, and is extra hearty. It's carb heaven, maybe, but still healthy, especially if you use whole-grain pasta. Photos by Hannah Kaminsky.
Serves: 6
1 recipe Spinach-Basil Pesto
3 medium-large red-skinned potatoes, preferably organic
10 to 12 ounces medium shell or bowtie pasta, preferably whole grain
1 tablespoon extra-virgin olive oil
3 to 4 cloves garlic, minced
8 to 10 ounces fresh green beans, trimmed and cut
into 1-inch lengths (or substitute thawed frozen cut green beans)

Vegan Parmesan Cheese

 for topping, optional
Salt and freshly ground pepper to taste
Prepare the pesto as directed in the recipe and set aside until needed.
Scrub the potatoes well, and cook or microwave them until just done. When cool enough to handle, cut into large dice (don't peel) and set aside.
Cook the pasta in plenty of rapidly simmering water until al dente, then drain.
Meanwhile, heat the oil in a large skillet. Add the garlic and sauté over low heat until golden. Add about ½ cup of water followed by the green beans and steam, covered, until tender-crisp. Remove from the heat and let stand uncovered until needed.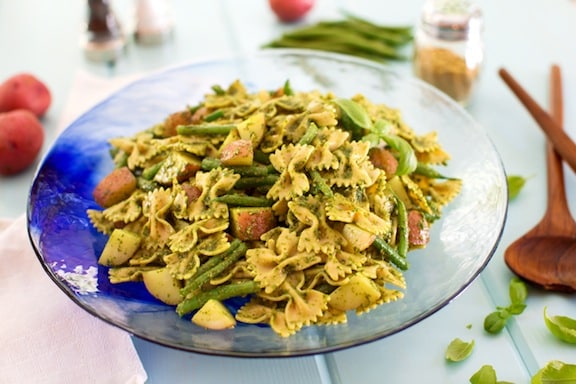 In a large serving bowl, combine the cooked pasta, potatoes, and green bean mixture (including any remaining liquid). Add the pesto and toss gently but thoroughly. Season with salt and pepper and toss again. Serve at once, passing around Vegan Parmesan Cheese for topping, if desired.