Holiday meals, whether at home or at my grandmother's, always concluded with a small bowl of stewed dried fruits perfectly sweetened and laced with cinnamon. Homemade chocolate wafers turn this delicious, unpretentious pear and cranberry compote into an elegant, alluring dessert perfect for holidays or company meals. Recipe contributed by Zel Allen, from Vegan for the Holidays.* Photos by Jennifer Strohmeyer of Virtually Vegan Mama.
Serves: 6
Wafers:
1 cup walnuts
1 cup pitted dates, snipped in half
¼ cup plus 1 tablespoon water
3 tablespoons golden raisins
3 tablespoons plus 1 teaspoon unsweetened cocoa powder
Compote:
2 fresh Anjou or Bosc pears, cored, cut into quarters, and sliced
1 cup fresh cranberries
½ cup plus 1 tablespoon light brown sugar, firmly packed
⅓ cup dark raisins
¼ cup plus 2 tablespoons freshly squeezed lemon juice
½ teaspoon ground cinnamon
½ teaspoon vanilla extract
¼ cup water
1 tablespoon cornstarch
3 tablespoons coarsely ground toasted walnuts, almonds, or hazelnuts, for garnish
To make the wafers, preheat the oven to 350 degrees F. Line an approximately 17 x 12-inch rimmed baking sheet with parchment paper.
Put all the wafer ingredients in a food processor. Process until all the ingredients are well incorporated, the nuts are broken down to a fine, but slightly textured meal, and the mixture reaches a very thick, finely mashed, firm consistency, stopping occasionally to scrape down the work bowl.
Spoon the wafer mixture onto the prepared baking sheet and use the back of the spoon to form it into a ¼-inch thick rectangle approximately 8 inches by 9 inches.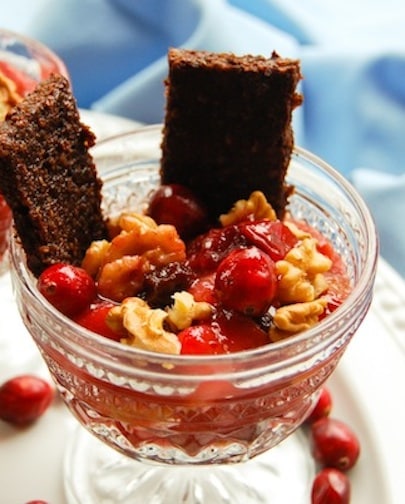 Bake for 15 to 20 minutes, or until the wafer is set and almost dry to the touch but still soft. Remove from the oven and let cool completely. It will firm as it cools. When cool, cut into 2- or 3-inch squares and set aside until ready to serve, or put the squares in a ziplock bag and refrigerate.
To make the compote, combine the pears, cranberries, brown, sugar, dark raisins, lemon juice, cinnamon, vanilla extract, and water in a 3- or 4-quart saucepan. Cover and bring to a boil over high heat. Immediately decrease the heat to low and simmer 10 minutes, or until the pears are softened.
To thicken the juice in the pan, combine the cornstarch and 1 tablespoon water in a small bowl or cup and stir until smooth. Stir the paste into the simmering compote a little at a time, stirring constantly, for about 1 minute, or until thickened to desired consistency.
To serve, spoon the compote into small dessert dishes and garnish each with the walnuts of desired. Tuck two wafers into the center or sides of the compote.
*This post contains affiliate links. If the product is purchased by linking through this review, VegKitchen receives a modest commission, which helps maintain our site and helps it to continue growing!