This pasta dish is filled with a variety of delicious flavors and textures — tomatoes walnuts, as well as along with healthful broccoli. Broccoli is loaded with calcium and vitamin C and nutrient-rich walnuts are a good source of alpha-linolenic acid, an essential omega-3 fatty acid. Recipe adapted from Vegan on the Cheap* by Robin Robertson © 2011, published by John Wiley & Sons. Photos by Evan Atlas.
Serves: 4 to 6
1 pound broccoli, cut into 1-inch pieces and florets
8 to 10 ounces penne pasta, preferably whole grain
2 tablespoons olive oil
4 garlic cloves, minced
⅓ cup toasted walnut pieces
⅓ cup raisins
¼ cup fresh minced parsley
¼ cup sliced fresh basil leaves, or 1 teaspoon dried
Salt and freshly ground black pepper
2 cups diced ripe tomatoes, or one 14-ounce can diced tomatoes, undrained
14-ounce can crushed tomatoes
¼ teaspoon natural granulated sugar
Steam or blanch the broccoli until just tender, 4 to 5 minutes. Drain, run under cold water to stop the cooking process, and set aside.
In a large pot of boiling salted water, cook the penne over medium-high heat, stirring occasionally, until al dente, about 10 minutes.
While the pasta is cooking, heat the oil in a large skillet or stir-fry pan over medium heat. Add the garlic and cook until softened and fragrant, about 1 minute.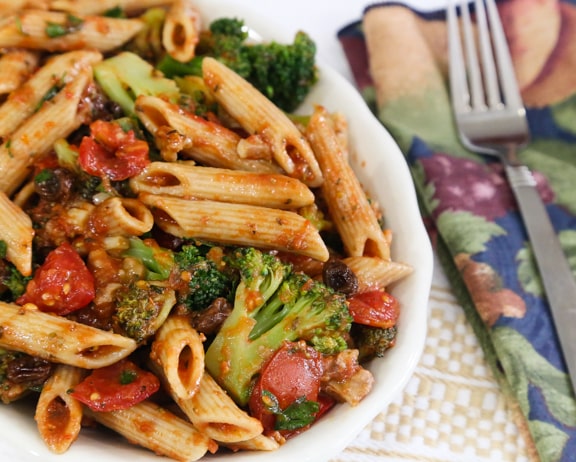 Add the walnuts, raisins, parsley, basil, and salt and pepper to taste. Stir in the diced tomatoes, crushed tomatoes, and sugar and simmer until the liquid reduces slightly. Add the reserved broccoli and toss to heat through.
When the pasta is cooked, drain it well and add to the broccoli mixture in the pan. Toss gently to combine; serve hot.
Variation: Substitute toasted pine nuts for the walnuts.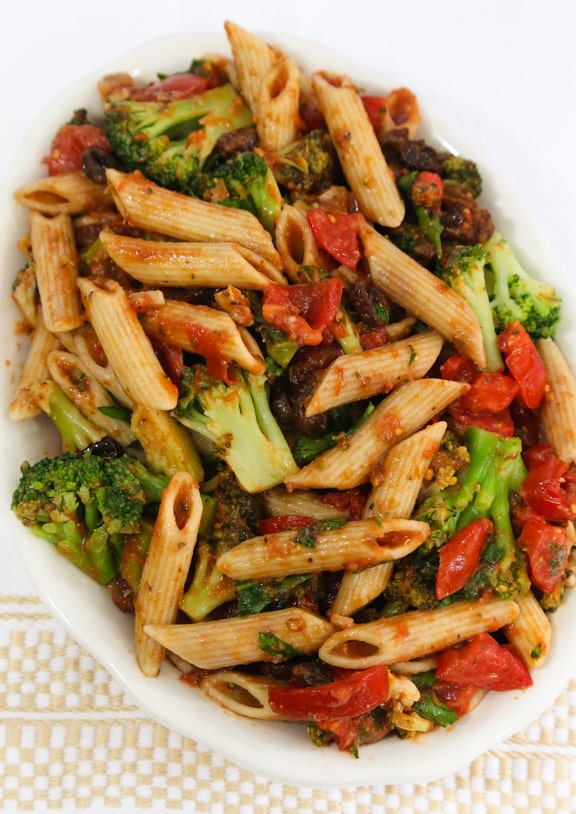 Robin Robertson is the author of numerous cookbooks, including  Fresh from the Vegetarian Slow Cooker* and many other titles.* Visit Robin at Global Vegan Kitchen.
*This post contains affiliate links. If the product is purchased by linking through this review, VegKitchen receives a modest commission, which helps maintain our site and helps it to continue growing!