An appetizing, mildly spiced mélange of nourishing beans, quinoa, and greens, this makes a stellar centerpiece for a soup-based meal, as it's done in 30 minutes or less. Quinoa is an excellent source of protein, making this practically a meal in a bowl. Adapted from Vegan Express. Photos by Rachael Braun.
Serves: 6 or more
1 tablespoon extra-virgin olive oil

1 medium onion, finely chopped

8 baby carrots, quartered lengthwise,




or ½ cup peeled and thinly sliced carrot

2 cloves garlic, minced

32-ounce carton low-sodium vegetable broth or 4 cups water




with 2 natural salt-free vegetable bouillon cubes

⅔ cup quinoa, rinsed

2 cups cooked or one 15-to 16-ounce can (drained and rinsed) pink beans

2 teaspoons salt-free all-purpose seasoning blend, like Frontier or Mrs. Dash

2 teaspoons good-quality curry powder

1 teaspoon sweet or smoked paprika, or more, to taste

2 cups diced ripe tomatoes or one 15-to 16-ounce can diced tomatoes




(try fire-roasted for extra flavor)

4 to 6 ounces baby spinach leaves, rinsed

¼ cup finely chopped fresh parley or dill

Salt and freshly ground pepper to taste

Dried hot red pepper flakes or sriracha sauce to taste, optional
Heat the oil in a large soup pot. Add the onion and sauté over medium-low heat until translucent. Add the carrots and garlic, and continue to sauté until all are golden, about 5 minutes.

Add the vegetable broth or  water with bouillon cubes, followed by the quinoa, beans, and spices. Bring to a slow boil, then turn down the heat, cover, and simmer gently for 15 to 20 minutes, or until the quinoa is tender.

Stir in the tomatoes and 2 cups additional water, more or less to give the soup a slightly dense consistency. If you like a thicker soup, add less; if you'd like it brothier, add more. Cook for 5 to 10 minutes longer, or until the tomatoes and other flavorings meld.

Add the spinach and dill or parsley. Cook for just a minute or two, until the spinach wilts, then stir it in. Adjust the consistency with yet a little more water if need be and season with salt and pepper. Adjust the other seasonings, and add a hot red pepper flakes or sriracha if you'd like a little heat. Serve at once.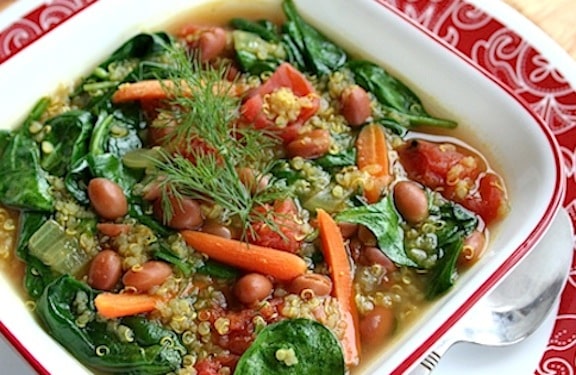 Nutritional Information:
Per serving (without hot red pepper flakes or sriracha sauce): 170.4 calories; 3.7g fat; 635.4mg sodium; 235mg potassium; 29.5g carbs; 7g fiber; 5.4g sugar; 6.3g protein