Classified as a berry, the pomegranate is native to Persia and is one of the oldest known fruits. used for food as well as medicinally for centuries. Its prime season in most parts of the world is September through January. This slightly tart yet sweet berry takes some effort to prepare and eat — as basically, it's a collection of lots of seeds, but with all of its health benefits, you may find it worth your while. Besides the whole, fresh fruit you can purchase pomegranate juice, and even pomegranate oil. 
One medium pomegranate contains around 130 to 150 calories, and is high in fiber. Most valuable is the antioxidant content, which rivals that of red wine, grapes, blueberries, cranberries, and green tea. They're high in vitamin C, and also supply good amounts of vitamins K potassium. Pomegranates are also contain considerable amounts of phosphorus, magnanese, magnesium, calcium, zinc and iron.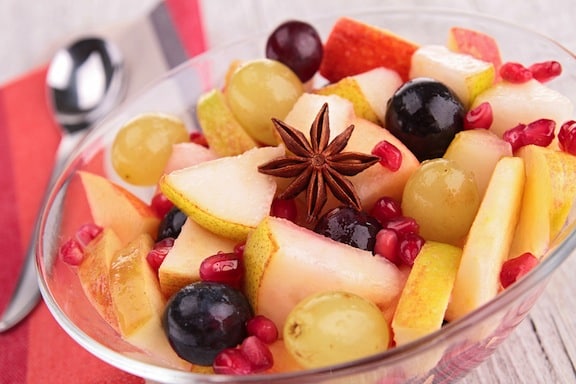 One note of caution: Pomegranates may react with certain medications. Make sure to talk to your doctor or pharmacist before incorporating them into your diet if you're on pharmaceutical meds.
Some of the common benefits attributed to pomegranate claim that they:
Aid digestion
Support a healthy immune system
Fight cell damage and free radicals
Provide energy and cleanse the digestive system
Help keep skin clear
Improve skin tone and elasticity (some cosmetic companies
use pomegranate extract in their products)
Protects skin from sun and helps with dry and/or oily skin
Help fight dental plaque
Are good for anemia because of their high iron level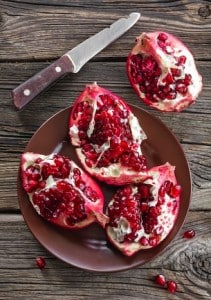 It's not always easy to prove benefits such as these, especially to a food that's not commonly consumed, but it's always a good idea to include high-antioxidant foods in the diet, especially if they add flavor and variety.
You don't particularly need a recipe for using pomegranate seeds. They're most useful as a colorful topping for all kinds of salads, sweet or savory — fruit salads, of course, but also mixed greens salads and even bean salads, and sandwiches (see Tofu Pomegranate Pockets).  Use pomegranate seeds to top nondairy ice cream and sorbets, and easiest of all, just snack on the seeds alone, which is the best way to appreciate their unique flavor and texture.