Grilled mushrooms make a great filling for any number of wraps or tacos, and they're so flavorful that you don't need a lot to accompany them. Recipe from Forks Over Knives—The Cookbook: Over 300 Recipes for Plant Based Eating All Through the Year *, copyright © Del Sroufe, 2012. Reprinted by permission of the publisher, The Experiment. Photos by Cara Howe. Serves: 4
12 corn tortillas

1 batch Grilled Portobello Mushrooms, cut into ¾-inch-wide strips (see below)

1 recipe Salsa Verde 

(or your favorite homemade or prepared salsa)

Diced red onion

Shredded romaine lettuce
Heat the tortillas one at a time on a dry, nonstick skillet over medium heat, turning frequently, until they are soft and pliable.
To serve, put a few of the mushroom strips in the center of a tortilla and top with some of the salsa verde. Garnish with the red onion and romaine lettuce.
Fold the tortilla in half over the filling. Repeat for the remaining tortillas.
GRILLED PORTOBELLO MUSHROOMS
3 tablespoons low-sodium soy sauce
3 tablespoons brown rice syrup
3 cloves garlic, peeled and minced
1 tablespoon minced fresh ginger
4 large portobello mushrooms
Combine the soy sauce, brown rice syrup, garlic, ginger, and pepper in a small bowl and mix well. Place the mushrooms stem side up in a baking dish.
Pour the marinade over the mushrooms and let marinate for 1 hour.
Prepare the grill.
Pour excess marinade off of the mushrooms, reserving the liquid, and place the mushrooms on the grill. Grill each side for 4 minutes, brushing with the marinade every few minutes.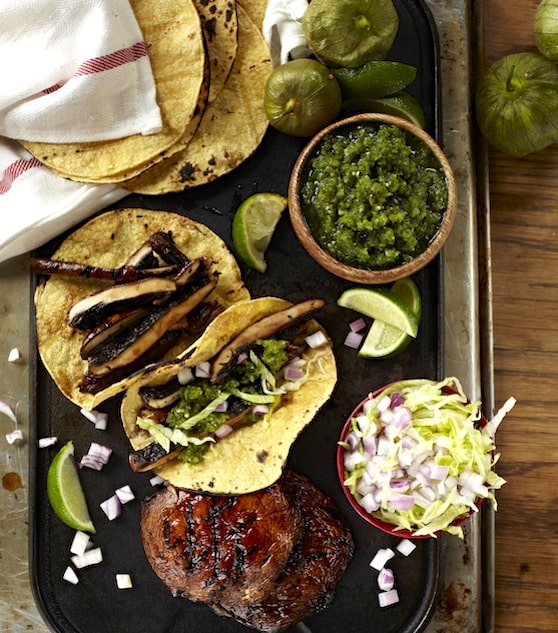 Nutritional Information: 276 calories; 2.4g fat; 774.3mg sodium; 257mg potassium; 57g carbs; 7g fiber; 11g sugar; 6g protein
*This post contains affiliate links. If the product is purchased by linking through this review, VegKitchen receives a modest commission, which helps maintain our site and helps it to continue growing!