Serve up this Vegan Lentil Meatloaf with Tomato Glaze for your main entree tonight. This meatloaf is made with plant-based protein, loaded with spices and seasonings, and tastes incredible.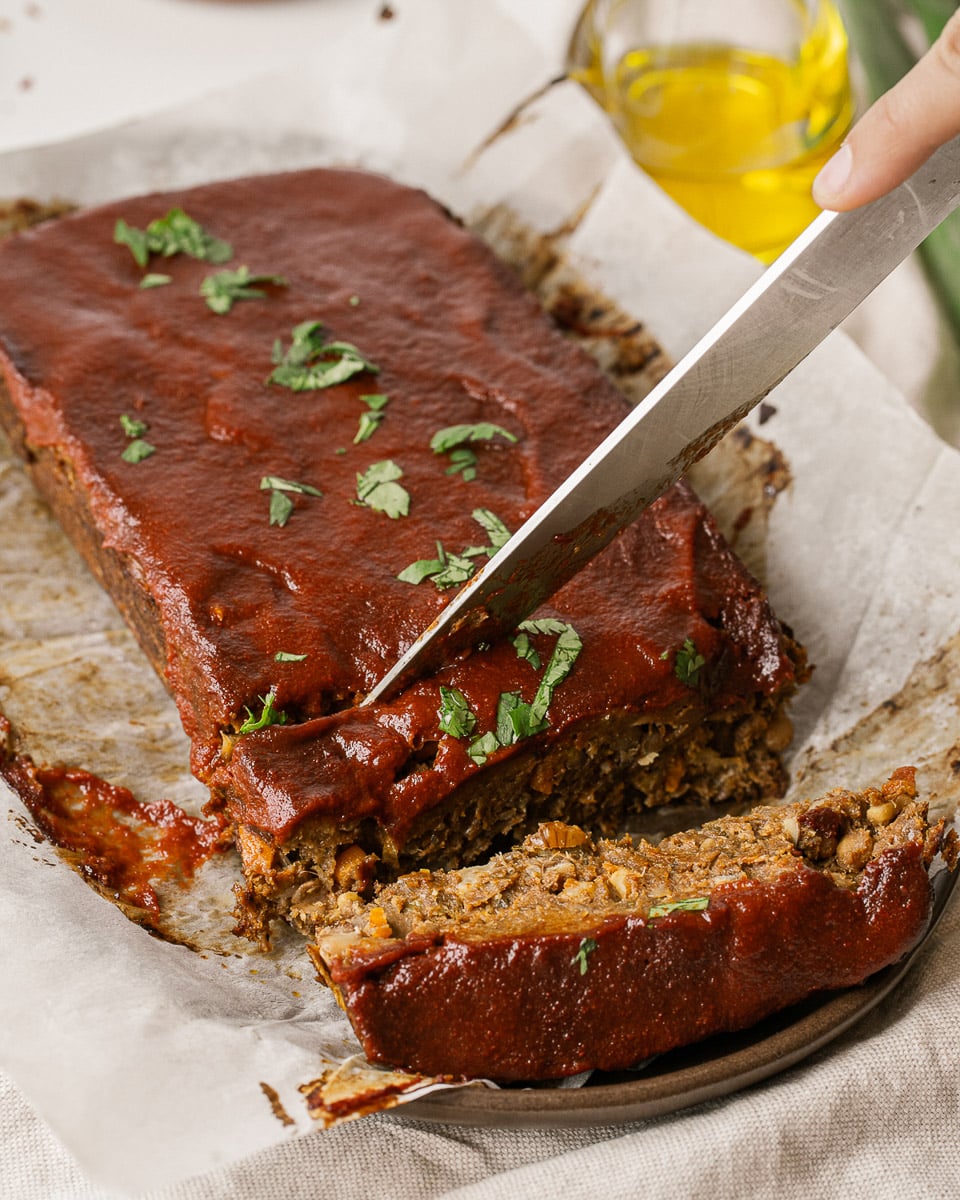 The homemade tomato glaze in this recipe is the perfect compliment to this lentil loaf dish. Pair this vegan meatloaf with your favorite sides and ring that dinner bell. 
This Vegan Lentil Meatloaf is...
Vegan 
Vegetarian 
Easy to make 
Loaded with flavor 
Great for weeknight dinner 
Great for leftovers
How to Make Lentil Meatloaf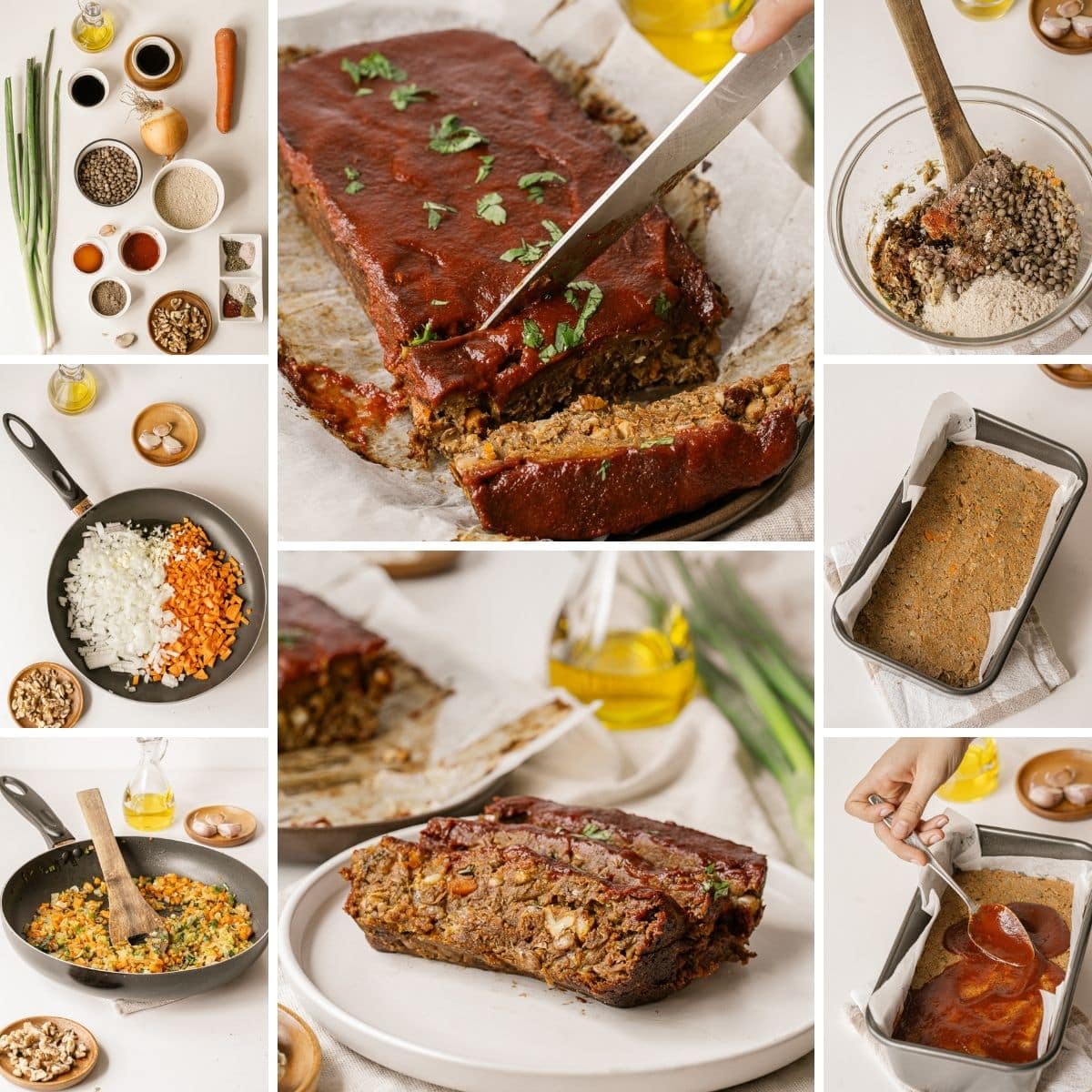 Line your loaf pan with parchment or baking paper and set it aside. 
Cut the onions, carrots, and garlic into small pieces. 
In a pan on the stove, add oil and garlic; cook until fragrant. Then add in the onions and carrots, and cook until onions are translucent. 
Toss in shallots and cook a couple more minutes. 
In a bowl, add lentils and veggies, and blend it up for a paste. Add in walnuts and mix again. 
Toss in spices, breadcrumbs, rest of lentils, etc. Stir to mix. 
Press mixture into the loaf pan, and mix up the glaze and pour over the lentil meatloaf. 
Bake as directed. 
Full directions for the recipe, along with measurements, are in the printable recipe card below. 
Tips and Tricks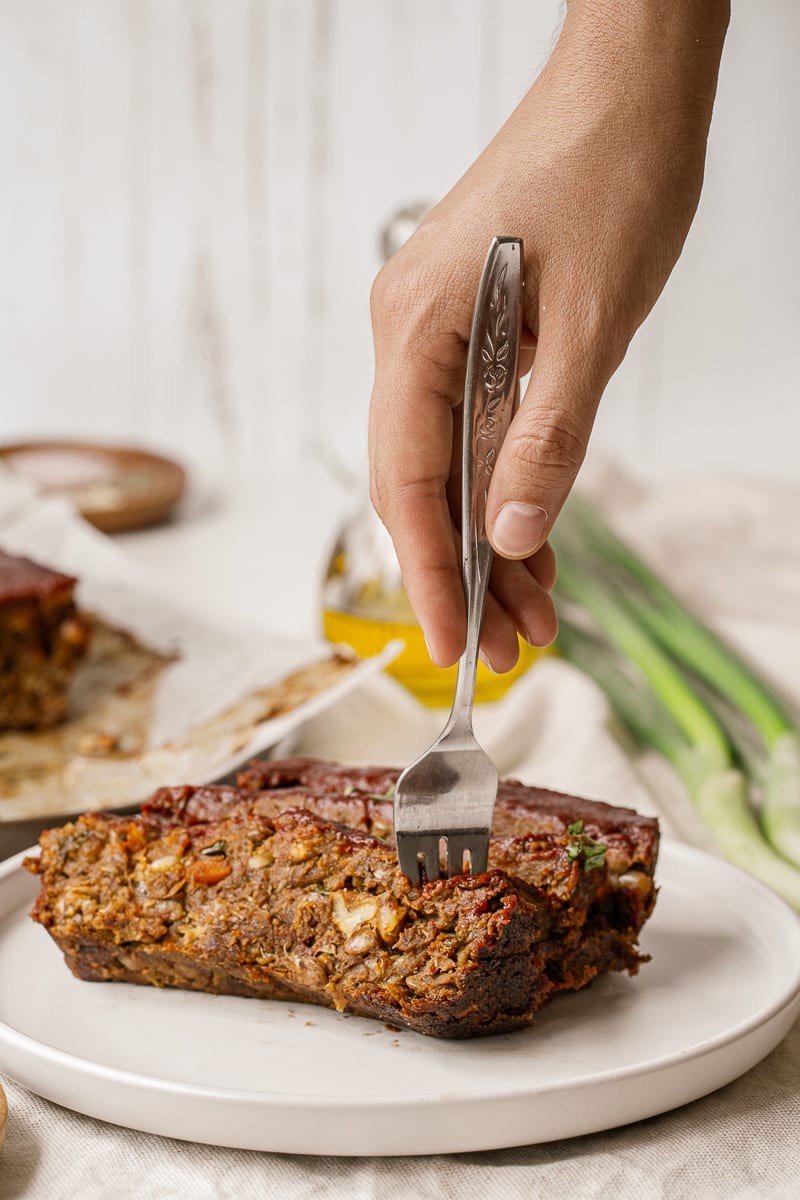 Food Processor vs Immersion blender 
You can use either a food processor or immersion blender to blend the lentils into a paste. You will mix in the remaining ingredients at the end to create texture. 
Cooking Time For Lentils
Cook your lentils to start, and then work on chopping and cooking up the vegetables. This will help maximize your time and ensure you don't waste time waiting for the lentils. 
You can also use leftover lentils you have on hand. 
Make Ahead
Want to make this vegan meatloaf a day in advance? Go ahead and prep the meatloaf mixture, then just cover it and put it in the fridge. The day you are serving the loaf, bake as directed. I would bake it covered for the first 30 minutes, then uncovered for the rest of the baking time. 
The meatloaf will take a bit more time to cook since it is being cooked in a chilled pan. 
Variations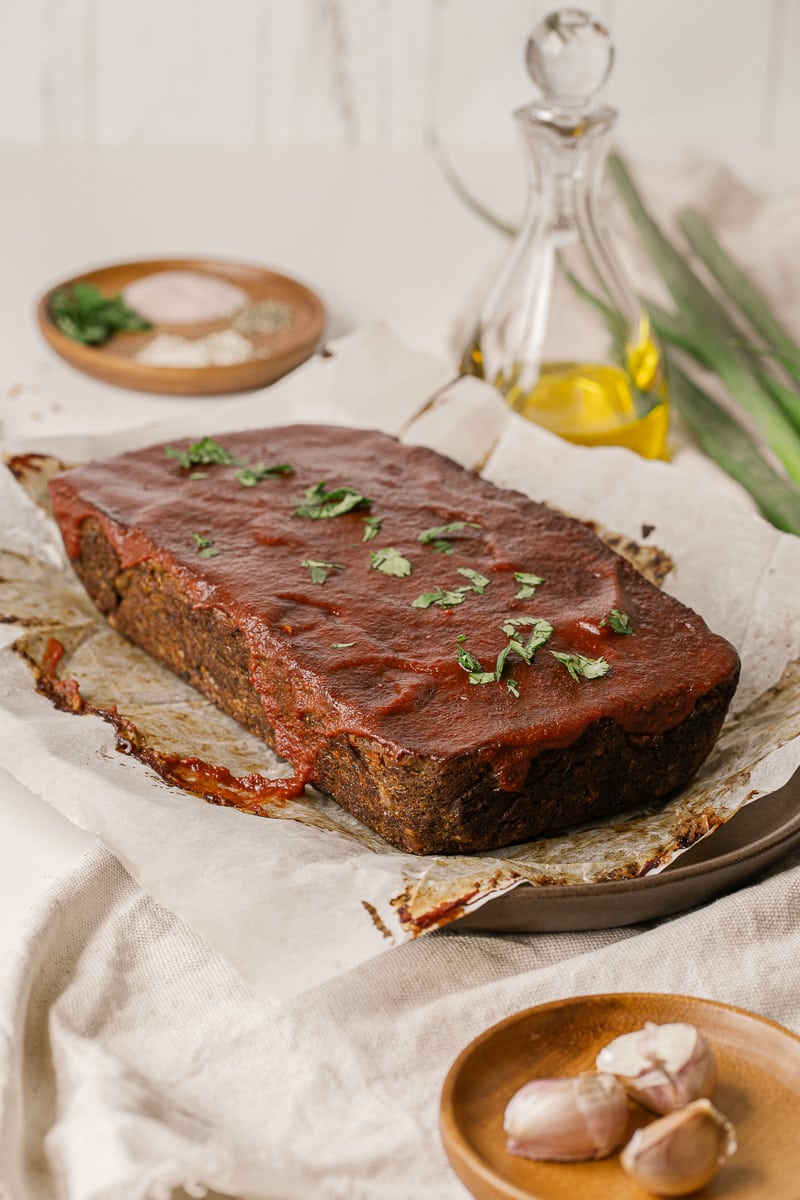 Brown Lentils
Brown lentils tend to be the best, as they give the best texture to the meatloaf. But if you have another variety of lentils on hand, go right ahead and use them. 
Spices and Herbs
Want to change up the flavor components? Feel free to change up the spices and herbs used. You will find that all types of spices can provide a different flavor. Get creative and have fun. 
Double the Glaze
Want more glaze to pour on top? If you prefer a heavy sauce, then go ahead and double the glaze recipe. It only takes a few minutes to make double and it will bake up just as good. 
Recipe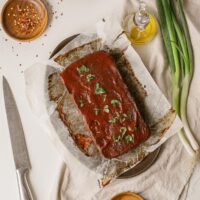 Vegan Lentil Meatloaf with Tomato Glaze
This vegan lentil meatloaf is loaded with spices and seasonings and topped with a homemade tomato glaze. It makes a perfect plant-based protein main entrée.
Print
Pin
Rate
Email
Instructions
Line a loaf pan with baking paper and set aside.

Chop garlic cloves, onion, and carrot in very small pieces.

Sauté garlic in a heated pan with olive oil until fragrant. Then add onion and carrot, and sauté for 4–5 minutes or until onion is translucent.

Chop shallots and add it to the other vegetables. Cook for two more minutes.

Place the cooked vegetables in a big bowl and add 2 cups of lentils (leaving ½ apart).

Using a hand blender, process the vegetables into a smooth paste. Then add walnuts and blend again; this can be done with a food processor as well.

Add all the spices, the rest of the lentils, breadcrumbs, flaxseed egg, olive oil, balsamic vinegar, soy sauce, and salt. Stir to combine.

Transfer the mixture to the prepared loaf pan, pressing with a spoon to get a compact loaf.

For the glaze, whisk all the ingredients and spread it with a spoon over the top of the loaf.

Bake for 40 minutes at 350°F, or until golden brown on the edges.
Nutrition
Calories:
498
kcal
|
Carbohydrates:
72
g
|
Protein:
26
g
|
Fat:
13
g
|
Saturated Fat:
2
g
|
Sodium:
805
mg
|
Potassium:
1065
mg
|
Fiber:
27
g
|
Sugar:
11
g
|
Vitamin A:
2115
IU
|
Vitamin C:
8
mg
|
Calcium:
116
mg
|
Iron:
8
mg
Vegan-ize any recipe!
Grab our free vegan cheat sheet, packed with my favorite easy substitutions to make any recipe vegan.