The combination of greens and potatoes makes a comforting soup that's perfect for a chilly day. No escarole? Substitute an equal amount of chard, kale, or mustard greens. Adapted from Wild About Greens. Photo by Susan Voisin of FatFree Vegan Kitchen.
Serves: 6
2 tablespoons extra virgin olive oil
1 medium onion, quartered and thinly sliced
2 to 3 cloves garlic, minced
6 medium or 4 large potatoes, preferably golden, peeled and diced
2 to 3 medium carrots, thinly sliced
32-ounce carton low-sodium vegetable broth
1 teaspoon dried basil
½ teaspoon dried thyme
Two cups cooked or one 15- to 16-ounce can cannellini (large white beans)
or chickpeas, drained and rinsed
1 medium head (6 to 8 ounces) escarole, coarsely chopped and rinsed
(or see variations in headnote)
½ cup chopped fresh parsley
Salt and freshly ground pepper to taste
Heat the oil in a soup pot. Add the onion and sauté over medium heat until translucent. Add the garlic and continue to sauté until both are golden, stirring frequently.
Add the potatoes, carrots, broth, basil, thyme, and 2 cups water. Bring to a gentle boil, then cover and simmer gently for 20 minutes, or until the potatoes and carrots are tender.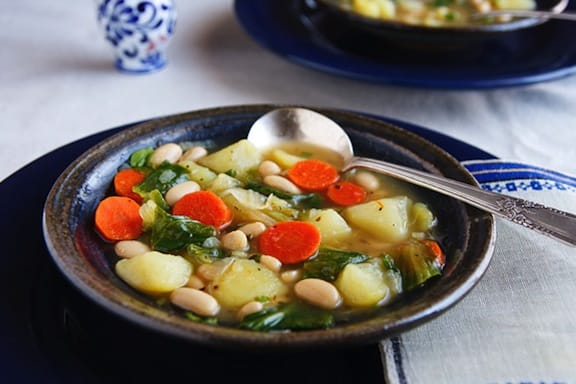 Stir in the beans, escarole, and half of the parsley. Simmer gently for 8 to 10 minutes, or until the escarole is tender.
With the back of a wooden spoon or a potato masher, mash some of the potatoes in the soup to give it a nice base. Stir in water as needed (up to 2 cups). The soup should be thick, but not overly so. Return to a simmer. Stir in the remaining parsley, season with salt and pepper, then serve.
If time allows let the soup stand off the heat for an hour or more before serving, then heat through as needed.