Samosas are a traditional savory Indian pastry, usually stuffed with spiced potatoes and other vegetables. These cakes are basically samosa filling without the pastry. The tart and sassy tamarind sauce makes the perfect accompaniment. The patties would be well received as finger food or as a side, but you could also pile four or five (or nine) on your plate for an unforgettable main course. Recipe from But I Could Never Go Vegan!: 125 Recipes That Prove You Can Live Without Cheese, It's Not All Rabbit Food, and Your Friends Will Still Come Over Dinner,* copyright © Kristy Turner, 2014. Reprinted by permission of the publisher, The Experiment.
Makes 15 Cakes    
Tamarind sauce
3 tablespoons tamarind paste (from a jar, not a block)

⅓ cup water

¼ cup agave syrup

1 tablespoon tamari (or soy sauce or liquid aminos)

1 tablespoon grated fresh ginger

Salt to taste
Samosa cakes
½ cup vegetable broth, plus additional if needed

2 teaspoons curry powder

1 teaspoon cumin

1 teaspoon ground ginger

½ teaspoon paprika

½ teaspoon ground cardamom

¼ to ½ teaspoon cayenne pepper

2 teaspoons extra virgin olive oil

1 teaspoon mustard seeds

½ medium red onion, chopped small

2 garlic cloves, minced

1 pound small golden potatoes, chopped small

½ red bell pepper, chopped small

1 carrot, chopped small

Salt and black pepper to taste

½ cup chickpea flour

½ cup green peas (fresh or defrosted if frozen)

Olive oil spray

 
Combine the tamarind sauce ingredients in a small bowl and whisk together. Chill until ready to use.
Mix the broth, curry powder, cumin, ginger, paprika, cardamom, and cayenne in a small bowl. Set aside.
Combine the oil and mustard seeds in a large shallow saucepan and heat over medium heat until the seeds begin to pop. Add the onion and garlic and sauté until the onion is almost translucent. Add the potatoes, bell pepper, carrot, and broth mixture; sauté until the potatoes and carrots are soft. If the liquid absorbs too quickly or the potatoes begin to stick, add a bit more broth to deglaze the pan and lower the heat.
When the vegetables are fork-tender, remove from the heat. Use a potato masher to very lightly mash the potatoes and vegetables (leaving big chunks). Add salt and pepper. Let cool for 5 to 10 minutes.
Preheat the oven to 375°F. Line a baking sheet with parchment paper or a silicone baking mat.
When the vegetables have cooled enough to touch, mix in the chickpea flour and fold in the peas. Spray a 2½-inch round biscuit cutter with olive oil and place on the prepared baking sheet. Scoop 2 heaping tablespoons of the mixture into the biscuit cutter and use your fingers to press it into a flat patty. Carefully lift the biscuit cutter, leaving the cake on the sheet. Repeat with the rest of the samosa mixture.
Bake for 20 minutes, or until the cakes are firm and golden brown. Remove from the oven and cool for about 5 minutes on the sheet. Serve with the tamarind sauce.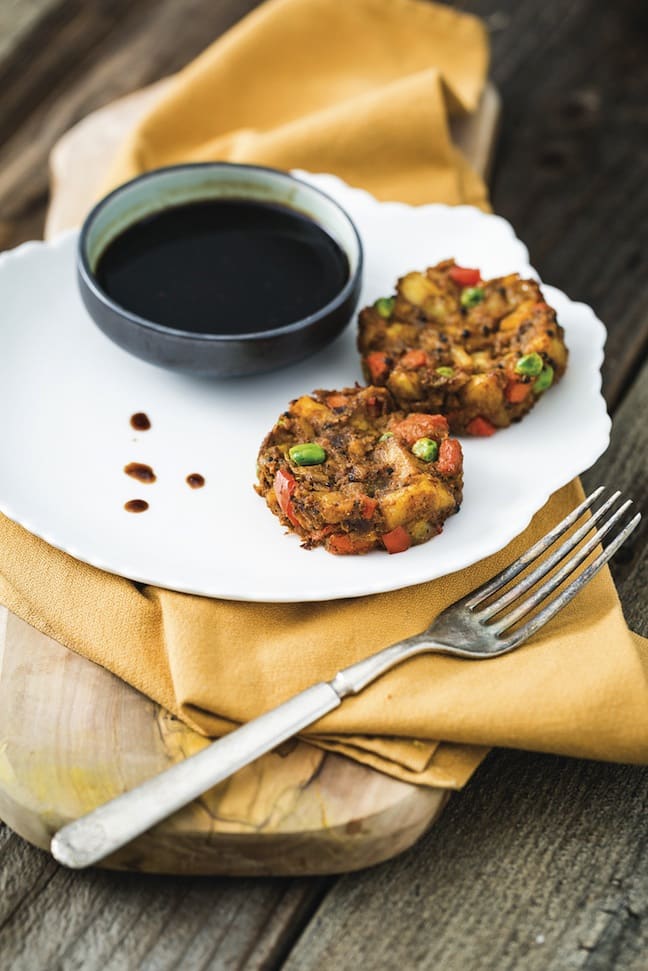 *This post contains affiliate links. If the product is purchased by linking through this review, VegKitchen receives a modest commission, which helps maintain our site and helps it to continue growing!