When gardens and markets are bursting with veggies, it's fun to make these quick pickled vegetables. With a mild sweet and savory brine, this addictive veggie snack just might tempt kids and picky eaters. Since this isn't a vacuum-sealed canning project, you don't need any special equipment. These pickles keep well for a week or more in the refrigerator.
Makes: 2 quarts
Marinade:
½ cup apple cider vinegar

1 cup apple cider or apple juice

2 teaspoons salt

2 tablespoons natural granulated sugar

1 to 2 cloves garlic, minced (or use dehydrated garlic flakes)

1 tablespoon peppercorns, optional

1 tablespoon or so minced fresh dill (or 1 teaspoon dill seed, dried dill)
Choose any from among the following — combine 3 or 4 different vegetables for a total of 7 to 8 cups. And feel free to try other veggies aside from those listed here:
Baby carrots

Broccoli florets (small bite-sized pieces)

Cauliflower florets (small bite-sized pieces)

Green beans, trimmed and cut in half

Zucchini, cut into spears or chunks

Cucumber, cut into spears or rounds

Turnips, cut into short sticks

Celery, cut into short sticks

Red bell peppers, cut into thick strips

Combine the marinade ingredients with 1 cup water in a saucepan. Heat, stirring occasionally, until the salt and sugar are dissolved.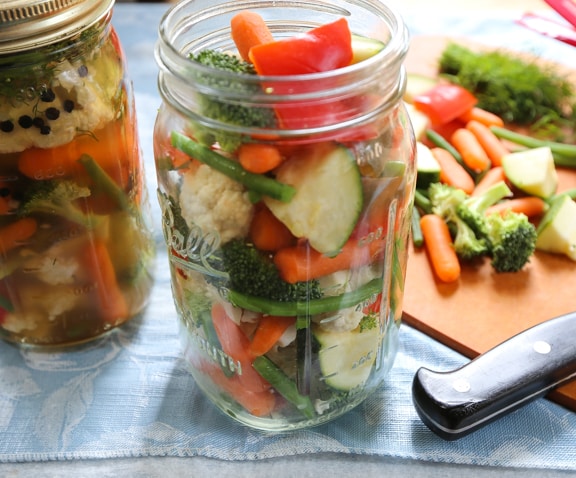 Combine the vegetables you choose in a mixing bowl and stir together (or for another look, you can just layer them in the jars). Divide them between two 1-quart jars. The vegetables should fill the two jars comfortably, so prep more if need be, or if you've prepped too much, save for another use.
Divid the marinade evenly between the two jars. If need be, fill with a little more water so that all the vegetables are immersed in liquid.
Cover tightly with the lids and refrigerate the quick pickled vegetables for at least 24 hours before serving.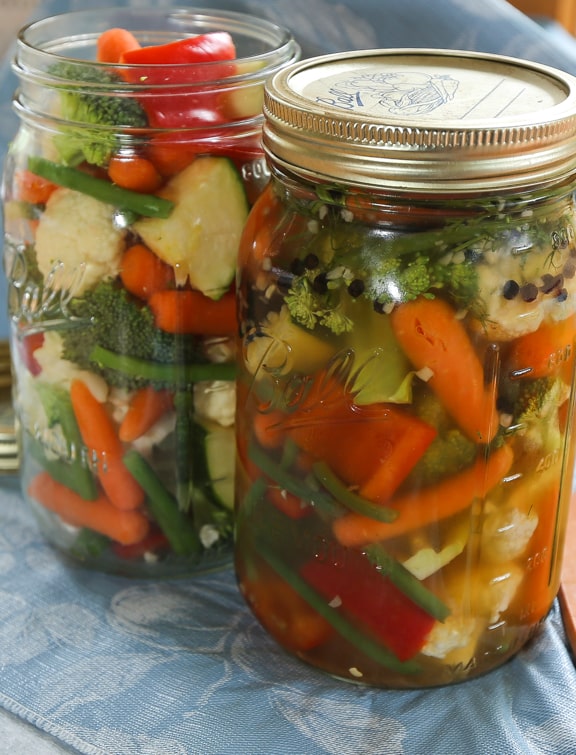 Photos: Evan Atlas