Quinoa, black beans, and corn add up to a hearty filling for vegan stuffed peppers. Since you've got the oven going at 400º F, you may as well roast your favorite combination of veggies at the same time. Broccoli, cauliflower, eggplant, portobello mushrooms, hard or tender squashes, and fennel are all good choices. A simple coleslaw or other slaw-style salad goes well with these, whether or not you serve with roasted vegetables. Photos by Evan Atlas.
Serves: 6
6 medium bell peppers (any color, or a combination)

3  to 3 ½ cups cooked quinoa 

15- to 16-ounce can black beans, drained and rinsed (or 1 ½ cups cooked)

2 cups cooked fresh or thawed frozen corn kernels

3 scallions, thinly sliced, white and green parts

¼ to ½ cup fresh parsley or cilantro

1 tablespoon olive oil, optional

2 teaspoons cumin

2 teaspoons salt-free seasoning blend (like Frontier or Mrs. Dash)

½ teaspoon dried oregano

1 teaspoon smoked paprika or mesquite seasoning, or to taste

Salt and freshly ground pepper to taste
Preheat the oven to 400º F.
Cut a sliver off the tops of the bell peppers. Cut out the stem and reserve the remainders, which will be like little ridged circles. Or, you can just cut the peppers in half lengthwise, making "boats." Either way, remove the seeds and membranes.
If leaving the peppers whole, arrange in a baking dish that will hold them snugly upright. You can also cut a sliver off the bottoms so they'll stand more securely. If you've cut them into halves, arrange them, open side up, in a casserole dish.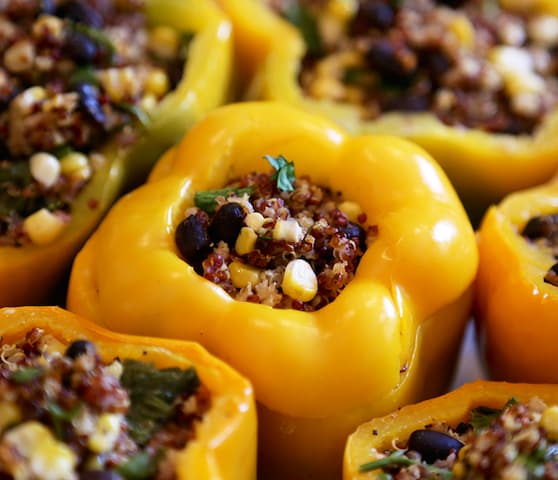 In a mixing bowl, combine the remaining ingredients and stir together. Stuff the peppers generously with this quinoa, corn, and black bean mixture. Don't worry if there's too much; better too much than too little, and this makes a tasty side dish on its own, warmed up.
If you've left the peppers whole, top with the slivered-off slices. Either way, cover with foil and and bake for 20 minutes; then uncover and bake for 10 to 15 minutes longer, or until the peppers are tender but not collapsed. Serve at once.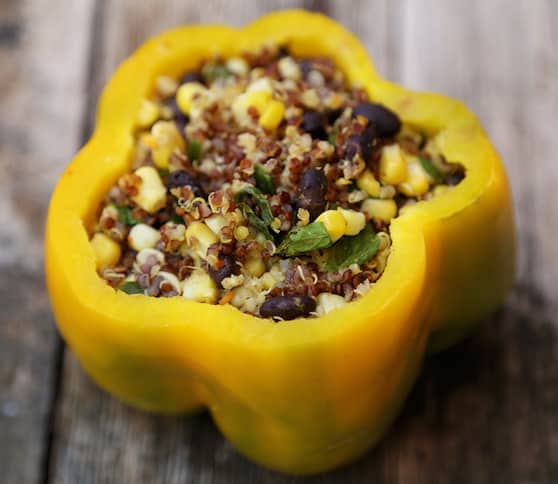 Nutrition Information: 
Per serving: 292.3 calories; 3.3g fat; 528mg sodium; 280mg potassium; 59.9g carbs; 11.5g fiber; 7.2g sugars; 11.5g protein