Quinoa and corn, embellished with lots of scallion, makes a simple and tasty side dish for everyday meals. What's not to love about quinoa? It's a powerhouse of nutrients, it cooks in 15 minutes, and its pleasantly offbeat flavor is most appealing. I try to use it often, and this quick preparation is the one I turn to often. It goes with just about anything and is also a nice stuffing for small pre-baked squashes like golden acorn. Photos by Hannah Kaminsky.
Serves: 6
1 ¼ cups quinoa, rinsed in a fine sieve

2 ½ cups vegetable broth or water with 1 natural salt-free vegetable bouillon cube

2 cups fresh or thawed frozen corn kernels

3 to 4 scallions, white and green parts, thinly sliced

1 teaspoon ground cumin

¼ cup minced fresh herb of your choice




(cilantro, parsley, or dill, or a combination), or more, to taste

1 tablespoon extra-virgin olive oil or infused garlic oil, optional

Salt and freshly ground pepper to taste

Roasted pumpkin seeds (pepitas) for garnish, optional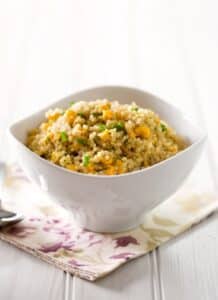 Combine the quinoa with broth in a medium skillet. Bring to a slow boil, then lower the heat, cover, and simmer gently for 10 minutes.
Stir in the corn, scallions, and cumin, and continue to cook until the water is absorbed and the quinoa is fluffy, about 5 minutes longer. Add just a bit more broth or water if needed.
Remove from the heat and stir in the fresh herb and optional oil. Season with salt and pepper. Garnish with pumpkin seeds if desired, and serve straight from the skillet.
Nutrition Information: 
Per serving (without optional ingredients): 227 calories; 7.5g fat; 35mg sodium; 36g carbs; 4g fiber; 7g protein