Tiny orange sections provide a surprising burst of sweetness in this high-protein grain dish. It's flexible, too—use a different grain if you'd like (this is adapted from a rice dish in Vegan Express); use a different green other than bok choy (kale would work); and if you can't find edamame or prefer not to use these tasty green soybeans, substitute green peas. It's a great everyday kind of dish, and is festive enough to serve at special occasions. Photos by Hannah Kaminsky.


Serves: 4 to 6
1 ½ cups raw quinoa, rinsed
1 tablespoon olive oil
1 cup frozen edamame (fresh green soybeans), completely thawed
1 medium red or orange bell pepper, cut into short, narrow strips
6 stalks boy choy, fairly thinly sliced on the diagonal
3 to 4 scallions, white and green parts, sliced
1 teaspoon dark sesame oil
2 to 4 tablespoons natural reduced-sodium soy sauce, to taste
1 to 2 teaspoons grated fresh or jarred ginger, to taste
Freshly ground pepper to taste
2 small oranges, such as clementines or mandarins, peeled and sectioned
½ cup toasted cashew pieces or other nuts of your choice
Combine the quinoa with 3 cups water in a medium saucepan. Bring to a boil, then lower the heat. Cover and simmer gently until the water is absorbed, about 20 minutes.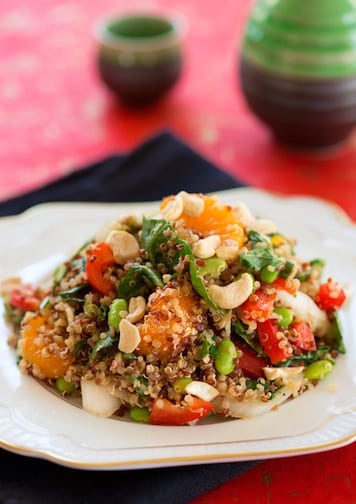 Meanwhile, heat the oil in a stir-fry pan. Add the edamame and bell pepper and stir-fry over medium-high heat for 2 to 3 minutes. Add the bok choy, and scallions, and continue to stir-fry for 1 to 2 minutes, just until wilted.
Stir in the cooked quinoa and sesame oil, and stir well. Season to taste with teriyaki sauce, ginger, and pepper. Stir in the orange sections and optional cashew pieces and serve at once.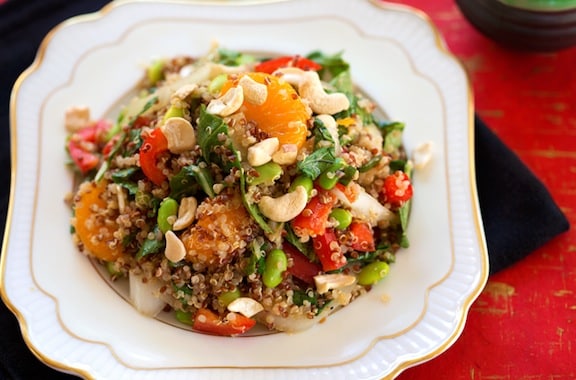 Nutritional Information:
Per serving: 333.6 calories; 12g fat; 443.1mg sodium; 362.4mg potassium; 46g carbs; 5.8g fiber; 6.6g sugar; 14.3g protein