Sweet potato sauce for pasta? Try it and see! Serve with colorful sautéed bell peppers and zucchini for a more colorful, veggie-packed meal. This is a nice company dish, so if you'd like more servings, simply double the recipe. Photos by Hannah Kaminsky.
Serves: 3 to 4
Sweet potato sauce:
1 tablespoon olive oil
1 medium onion, chopped
2 cloves garlic, minced
1 medium-large sweet potato, peeled and diced
½ cup unsweetened nondairy milk or lite coconut milk
½ teaspoon salt
Freshly ground pepper to tate
-
Two 10- to 12- ounces tofu- or vegetable-filled ravioli
Minced fresh parsley for garnish
Dried hot red pepper flakes for garnish, optional
Vegetable garnish  (optional)
1 or 2 medium bell peppers, any color, cut into strips
1 medium zucchini, halved lengthwise and sliced
1 tablespoon olive oil or a small amount of water
Heat the oil in a medium saucepan. Add the onion and garlic and sauté over medium-low heat until golden. Add the diced sweet potato and just enough water to cover. Bring to a simmer, then cover and simmer gently until the sweet potatoes are tender, about 15 minutes.
Transfer the mixture from the saucepan, along with the nondairy or coconut milk and salt, to a food processor. Process until smoothly pureed. Transfer back to the saucepan, add a few grindings of pepper, and set aside, covered, off the heat.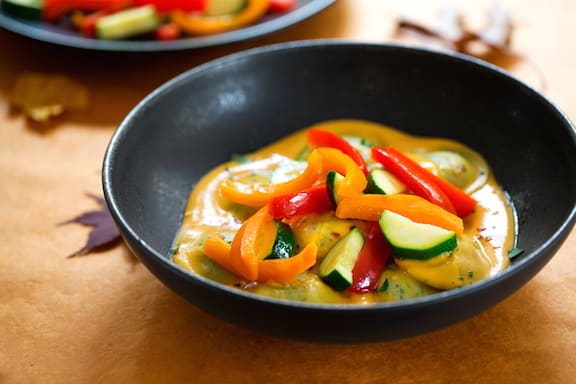 Cook the ravioli in plenty of rapidly simmering water until al dente. Drain, then stir them into the sweet potato sauce. Heat gently and briefly, just until well heated through.
If you'd like to use the vegetable garnish, sauté the peppers and zucchini in olive oil or steam with just a little water until tender-crisp.
Transfer the ravioil to a serving container or serve straight from the pan. Garnishing each serving with some parsley and optional red pepper flakes. Serve the optional vegetable garnish atop or alongside the ravioli.