Don't get me wrong —there's nothing wrong with making tabbouli (the Middle Eastern classic grain-and-parsley salad) with bulgur, or even the modern rendition, with quinoa. Especially the latter, yum! But in the summer I just love to eat really light, and discovered the trick of making a grain-like salad backdrop from raw cauliflower. Try this salad simply as is or with the optional variations listed below. Serve with hummus (ready-made or homemade), fresh pita, and stuffed grape leaves for an easy meal.
Serves: 6
½ small head cauliflower, coarsely chopped
1 small bunch fresh parsley
(mostly leaves; some stem is fine to include)
3 medium firm, ripe tomatoes, diced
2 to 3 scallions, finely chopped
Several fresh mint leaves, to taste, thinly sliced
2 tablespoons extra-virgin olive oil
Juice of 1 large lemon, or more, to taste
Salt and freshly ground pepper to taste
Combine the cauliflower and parsley in the workbowl of a food processor. Pulse on and off until the cauliflower is finely chopped. Stop and scrape down the sides; pulse on and off again until the cauliflower is reduced to grain-like crumbs.
Combine with the remaining ingredients in a serving container and stir together. Cover and let stand for an hour or so before serving if time allows.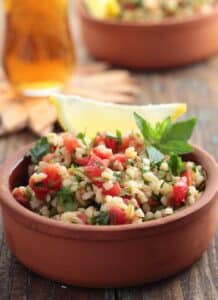 Variations: Here are some nontraditional additions to add to this already nontraditional version of tabbouli (include any or all):
15- to 16-ounce can chickpeas, drained and rinsed
⅓ cup sliced pitted black olives (preferably cured,
such as Kalamata)
Finely diced cucumber (½ cup or so)
Fresh dill (just a little)
Explore more of VegKitchen's super savory salads.
Here are more recipes for cauliflower and broccoli.