Making raw spaghetti-like "noodles" with a spiral slicer (I got the one made by World Cuisine* and enjoy it quite a bit) is all the rage among those who have adopted raw food diets. It's also a boon to those who've gone gluten-free, as well as gardeners who have more squash than they know what to do with. For anyone else who just wants to eat lighter and fresher during the summer, it's just plain fun.
Granted, summer squashes aren't exactly powerhouse vegetables, but with a fresh tomato sauce and a tasty faux "Parmesan" made of all manner of good things, this is a nourishing dish. If you want to make this, but don't have spiral slicer, use a vegetable peeler to create long ribbons from the zucchini or summer squash, which will be more like fettuccine.
Serves: 3 to 4
4 to 5 medium ripe, juicy tomatoes
1 tablespoon extra-virgin olive oil
¼ to ½ cup fresh basil leaves, to taste
⅓ cup moist sun-dried tomatoes
(oil-cured or not—reconstitute if need be)
1 to 2 scallions, coarsely chopped
1 clove garlic, optional (if you like raw garlic)
A squeeze or two of lemon juice
Salt and freshly ground pepper to taste
2 medium zucchini or yellow summer squashes, or
1 of each, about 10 to 12 ounces total (see note)

Raw Cashew "Parmesan"-Style Cheez

, as needed
Cut the tomatoes into quarters, or if very large, into smaller sections. Place in a food processor and pulse on and off until coarsely chopped.
Add the oil, basil, dried tomatoes, scallions, optional garlic, lemon juice, and salt and pepper to the food processor and pulse on and off until everything is finely and evenly chopped, but don't puree.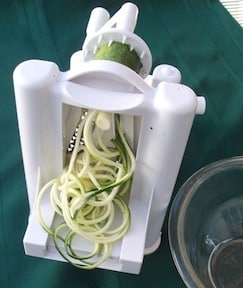 Cut the stem ends off the squashes. Cut them in half crosswise. Run the squashes through the spiral slicer with the fine blade to create long noodle (each spiral slicer will come with its own set of instructions for accomplishing this easy task).
Transfer the strands of squash to a serving bowl. Top with some of the sauce, leaving some of the "noodles" showing, and sprinkle on some of the Cheez.
Bring to the table, let everyone admire the dish, then toss the squash with the sauce until evenly coated. Pass around additional sauce and cheez for topping individual portions.
Note: Yellow summer squash works well so long as it's not filled with large seeds.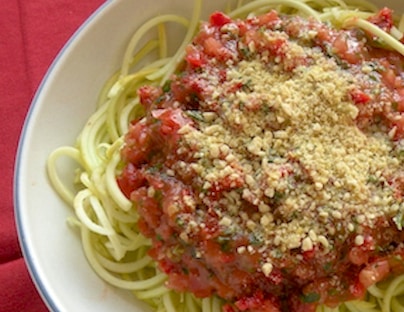 *This post contains affiliate links. If the product is purchased by linking through this review, VegKitchen receives a modest commission, which helps maintain our site and helps it to continue growing!