Mushrooms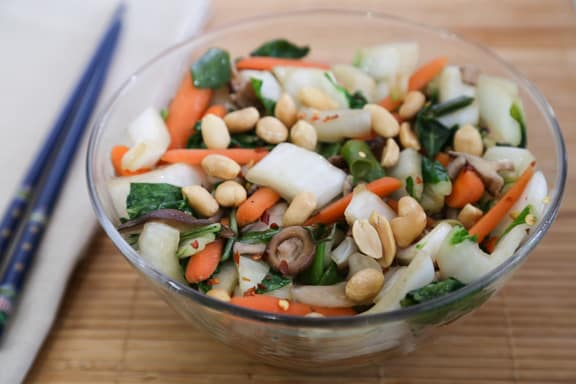 Here's a quick stir-fry using nutritious, crunchy bok choy. Shiitake mushrooms make a perfect partner for it. Serve this on its own or over rice; it's good hot or at room temperature. Use either large white bok choy or baby bok choy. Photos by Evan Atlas. more→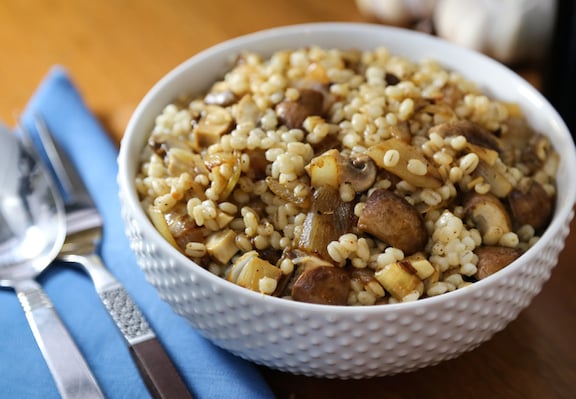 Mushrooms and barley are a match made in culinary heaven. Best known for their pairing in comforting soups, they make an equally good duo in this hearty side dish, embellished with lots of onion and fresh dill. Brown mushrooms yield a richer flavor than white, so give them a try. Photos by Evan Atlas. more→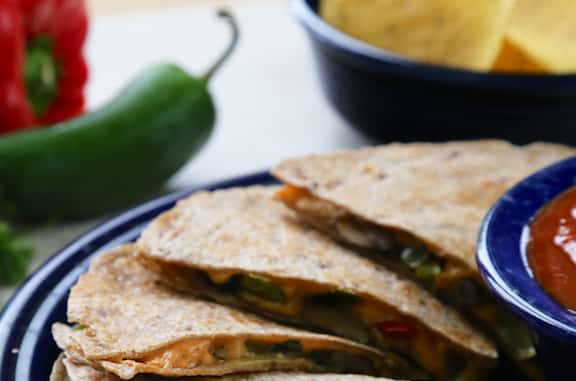 These simple, light vegan mushroom and bell pepper quesadillas are good served with a hearty grain pilaf or a bean dish. They also make a nice accompaniment to a well-seasoned chili. Photos by Evan Atlas.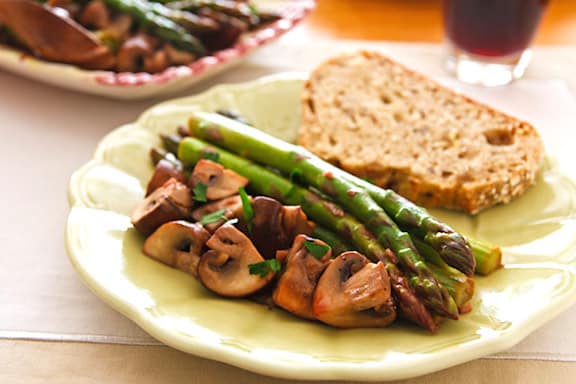 This tasty veggie appetizer is inspired by the garlicky Spanish tapas dish, champiñones al ajillo, which relies on mushrooms alone. Asparagus makes it a more substantial dish, and benefits nicely from the dry red wine and other seasonings. This is traditionally served with slices of warm, fresh bread. And since you've already opened a bottle of red wine, serve it with this appetizer as well. Recipe adapted from Vegan Holiday Kitchen. Photos by Susan Voisin.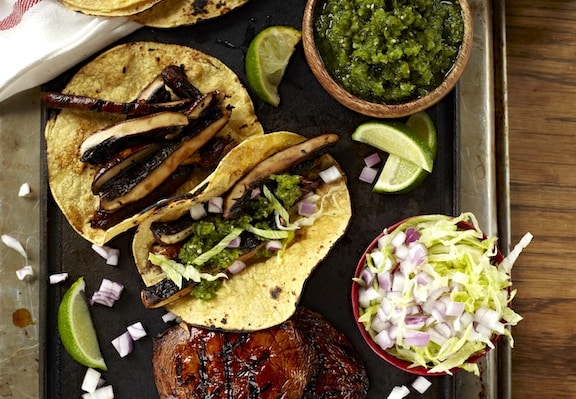 Grilled mushrooms make a great filling for any number of wraps or tacos, and they're so flavorful that you don't need a lot to accompany them. Recipe from Forks Over Knives—The Cookbook: Over 300 Recipes for Plant Based Eating All Through the Year *, copyright © Del Sroufe, 2012. Reprinted by permission of the publisher, The Experiment. Photos by Cara Howe. more→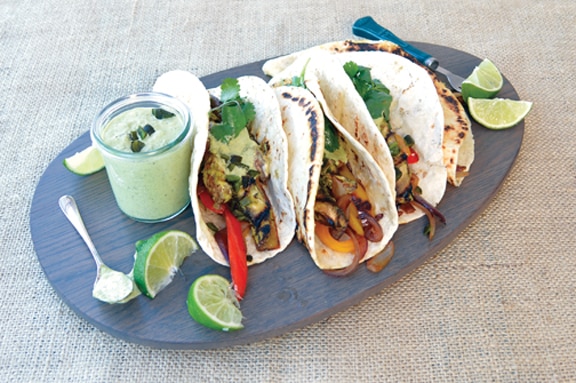 The grilled, marinated Portobellos make a delicious fajita filling, and the creamy sauce makes any cheese or sour cream superfluous. If you don't have a grill pan, use your broiler, an electric grill pan, or even a skillet. This recipe is from Everyday Vegan Eats* by Zsu Dever © 2014, Vegan Heritage Press. more→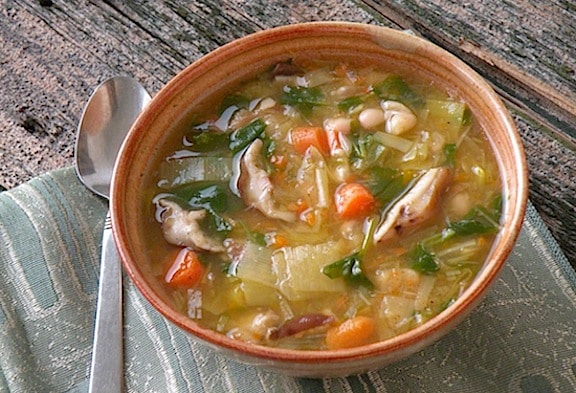 Leeks, mushrooms, beans, garlic, and watercress are super-nourishing ingredients that add up to a soup that's delicious, too. The watercress gives this soup a springtime flavor, but it can be enjoyed any time of year. Recipe from Super Immunity: The Essential Nutrition Guide for Boosting Your Body's Defenses to Live Longer, Stronger, and Disease Free* by Joel Fuhrman. ©2012, HarperOne, reprinted by permission. more→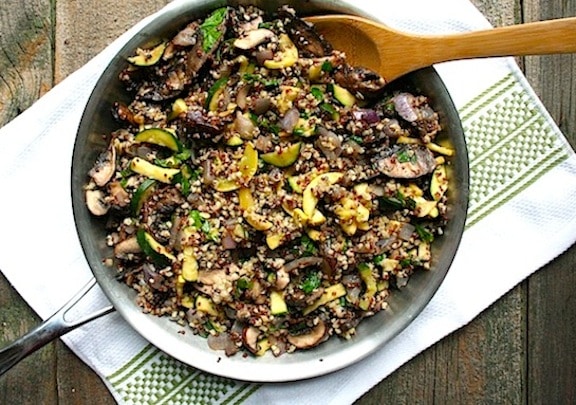 Earthy and hearty, this combination of quinoa, tender squashed and mushrooms can be served any time of year. Serve with Avocado and Pinto Bean Salad or a big colorful salad to which you add your favorite beans. and some stone-ground tortilla chips. Photos by Rachael Braun.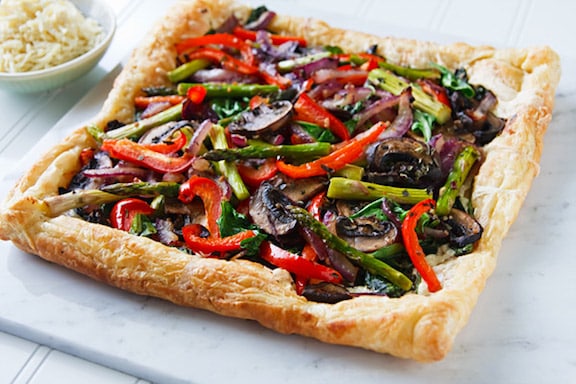 This spring vegetable tart looks like a work of art, but it's so easy to accomplish. Puff pastry isn't the healthiest item in the world, but for special occasions, it transforms simple ingredients into something fun and festive. Use a name brand (these are most often vegan, though it doesn't hurt to check the ingredients), and make sure to give it a good 45 minutes to an hour to thaw out—not less, and ideally, not much more. This makes two rectangular tarts that are easy on the cook and gorgeous to behold. Recipe adapted from Vegan Holiday Kitchen. Photos by Susan Voisin.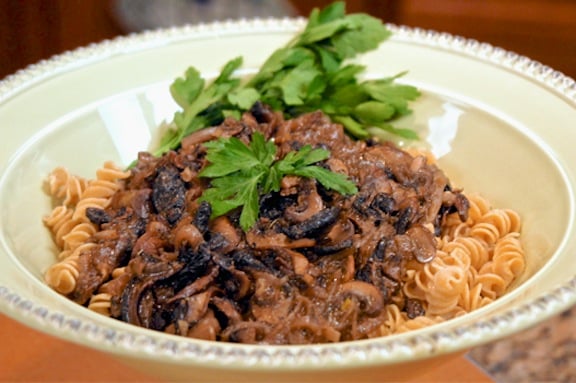 Yum, yum. Thanks to meaty-tasting portobello mushrooms, this satisfying stroganoff has the rich flavor of the traditional version without all of the extra fat and calories. Recipe contributed by Laura Theodore, from Jazzy Vegetarian Classics: Vegan Twists on American Family Favorites* © 2013 BenBella Books, reprinted by permission. more→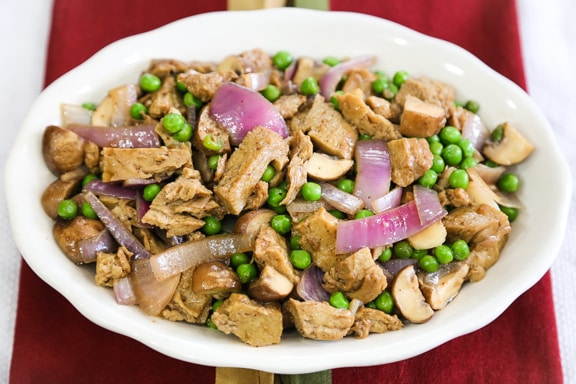 This simple seitan stir-fry is great choice for hearty appetites, and a warming dish for nippy evenings. Lots of red onion adds great flavor, and the mushrooms bolster the "meaty" quality of the seitan. Photos by Evan Atlas. more→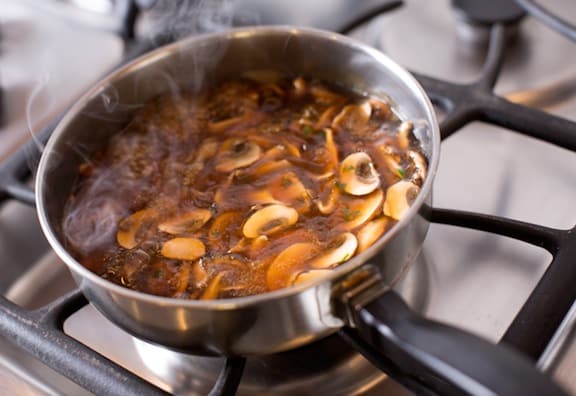 If you like mushrooms, you'll enjoy this simple vegan gravy, which is great over seitan, tofu, brown rice or other cooked grains, veggie burgers, and best of all, mashed or smashed potatoes. In other words, this makes comfort dishes even more comforting. This recipe makes about 2 cups. Photos by Hannah Kaminsky.