Zucchini & other summer squashes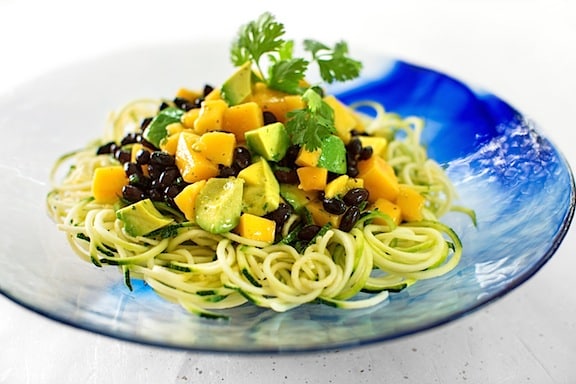 Zucchini is available and economical all year round, though it's midsummer to early fall when it's most abundant in gardens and at farm markets. So for your enjoyment, here are VegKitchen's 12 best healthy zucchini recipes, from "zoodles" to sweet muffins and everything in between — plus some alternates that are also among our best.
1  Zucchini "noodles"
Everyone needs a good zucchini "noodles" (or as some call them, "zoodles") recipe or two in their repertoire, and Gena Hamshaw's Zucchini Pasta with Mango, Avocado, and Black Bean Salsa (at top) is easy and impressive.  more→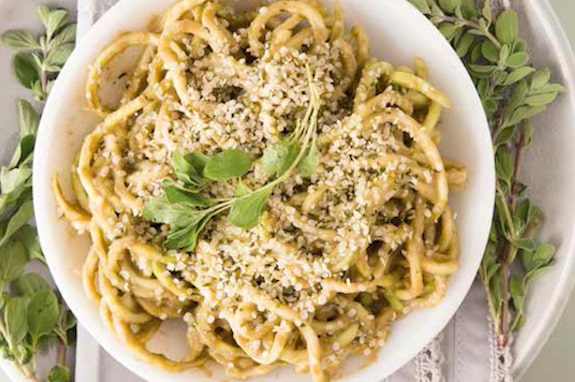 This creamy pesto zucchini noodles recipe is truly noteworthy. The combination of avocado, broccoli, and mushrooms gives the sauce a fluffy yet rich texture that's beautiful to look at. Not a broccoli fan? Opt for a more traditional pesto flavor and use fresh chopped basil instead of the broccoli. For added flavor and texture, garnish with hemp seeds, as seen here.
Excerpted from Cook Lively! 100 Quick and Easy Plant-Based Recipes for High Energy, Glowing Skin, and Vibrant Living—Using 10 Ingredients or Less. Recipes and photos by Laura-Jane Koers. Copyright © 2017. Available from Da Capo Lifelong Books, an imprint of Perseus Books, LLC, a subsidiary of Hachette Book Group, Inc. more→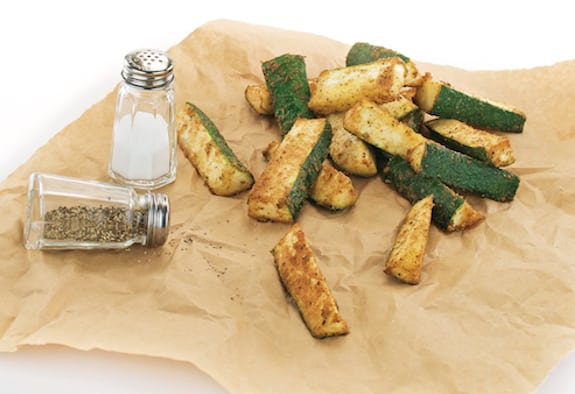 Once you've had your fill of zucchini noodles, make a few batches of these zucchini fries for a nice change of pace. They're easy to whip up, and the Indian spices will add some zing to your next dinner party. This is a great appetizer as well as a side dish. Look for garam masala near the curry spices at your local market. Recipe and photo reprinted with permission from The Easy Vegan Cookbook by Kathy Hester ©2015, published by Page Street Publishing. more→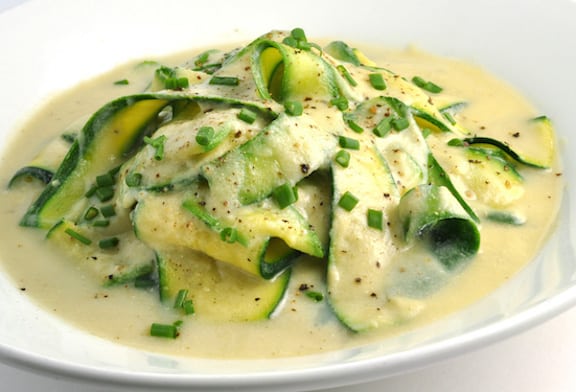 Pappardelle are flat noodles about one inch wide that are usually served with rich creamy sauces and gravies. In this dish, thinly sliced zucchini stand in for the pasta. Look for young zucchini for the best results. Recipe and photo from The Almond Milk Cookbook* by Alan Roettinger, @2015 The Book Publishing Company. Reprinted by permission.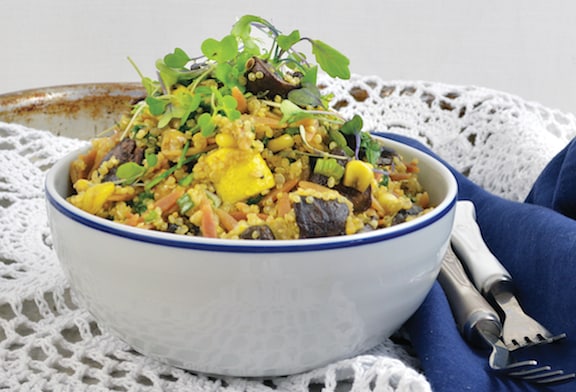 It is no surprise that I love to roast vegetables; it always seems to bring out the best in produce. In this vegan bowl recipe, zucchini and mushrooms are roasted to perfection and stirred into a quinoa pilaf that is accented with scallions and arugula. Recipe and photos from Vegan Bowls: Perfect Harmony in Cozy One-Bowl Meals* © 2015 by Zsu Dever. Used by permission from Vegan Heritage Press, LLC.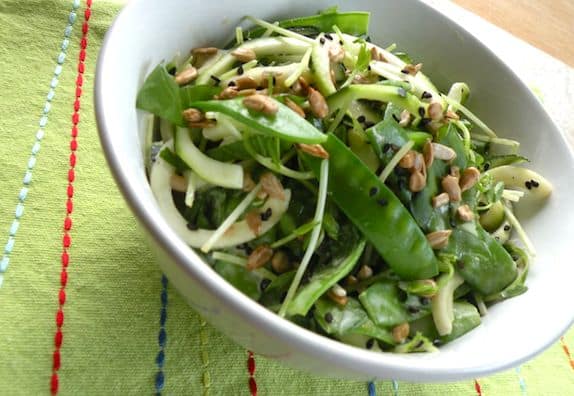 This very green salad has a contrast of flavors and textures, from the crunch from the snow peas to the tender raw zucchini "noodles." Though nice and light, the sesame dressing and two kinds of seeds — sesame and sunflower — give it substance.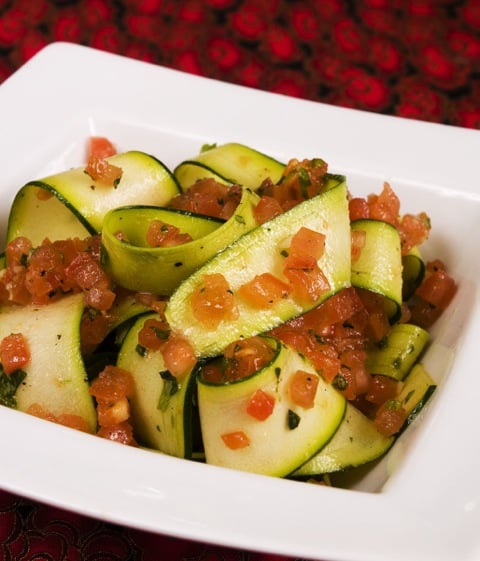 This raw zucchini noodle side dish is low in calories, a breeze to prepare, and fabulous fare on a hot summer night. The zucchini strips really do look and taste a lot like fresh pasta. Recipe contributed by Laura Theodore, from Jazzy Vegetarian, Lively Vegan Cuisine That's Easy and Delicious  (Book Publishing Company), reprinted by permission. Photo by Warren Jefferson. more→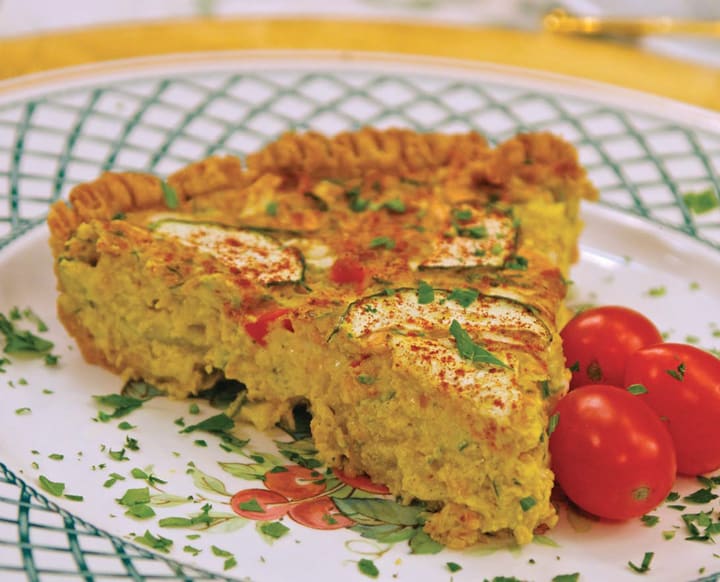 A warm-weather brunch calls for vegan quiche, and this one pleasingly fit the bill. Featuring shredded zucchini and a flaky, gluten-free crust, this quiche will be declared a winner when served at any midday meal. Recipe from Jazzy Vegetarian Classics: Vegan Twists on American Family Favorites* by Laura Theodore (BenBella Books 2013), reprinted by permission.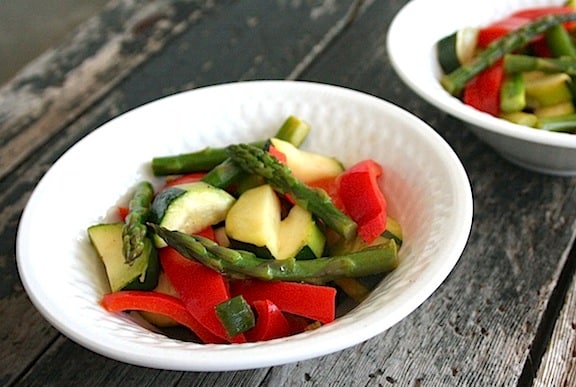 An appealing vegetable trio — asparagus, zucchini or summer squash, and red bell peppers — is enlivened by a wine-scented sauté. This colorful veggie side dish is perfect for embellishing everyday meals as well as spring holiday dinners. Photos by Rachael Braun.
more→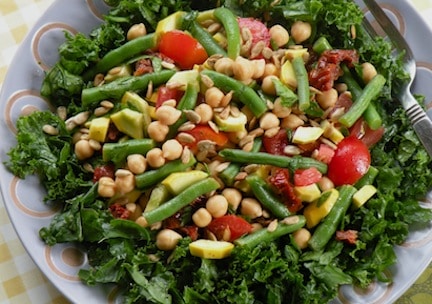 This appealing mix of yellow summer squash, green beans and chickpeas is especially welcome when slender fresh green beans are abundant. It makes a great summer salad that can be a main dish, served with crusty bread and fresh corn, or as a side dish for vegan quesadillas or grain dishes.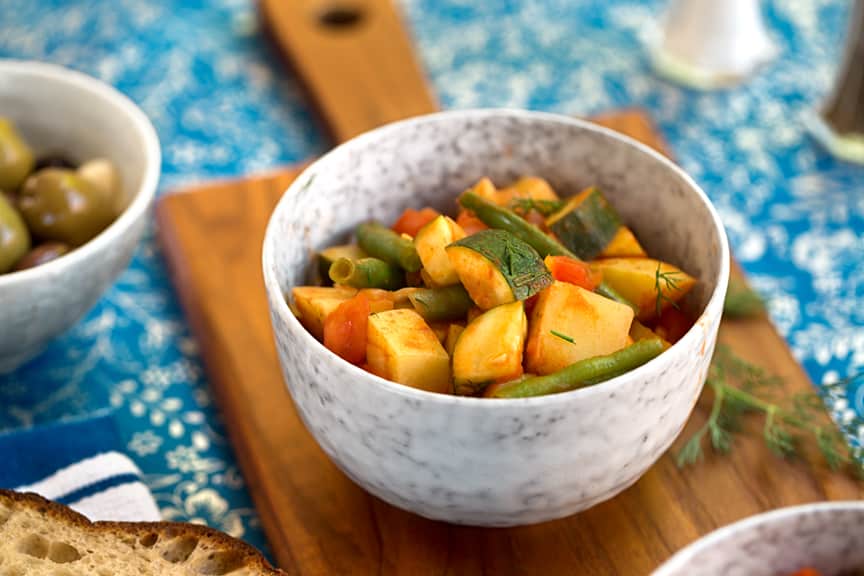 Here's a simple Greek potato stew bursting with summery flavors — green beans and zucchini in a mellow tomato base. A fresh, crusty bread rounds out the meal along with a big green salad with some chickpeas tossed in. For a company meal, add Olive Bar Medley with Tofu "Feta" as an appetizer, and a good wine.  more→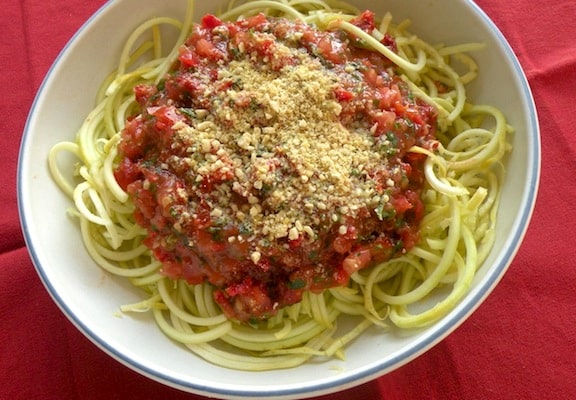 Making raw spaghetti-like "noodles" with a spiral slicer (I got the one made by World Cuisine* and enjoy it quite a bit) is all the rage among those who have adopted raw food diets. It's also a boon to those who've gone gluten-free, as well as gardeners who have more squash than they know what to do with. For anyone else who just wants to eat lighter and fresher during the summer, it's just plain fun. more→