Here's a simple soup of quick-cooking red lentils, embellished with tender greens. It's a warming homemade soup you can have on the table in less than 45 minutes. Once you've done the onion-garlic sauté, there's very little additional work to do! Serve with fresh pita, croutons, or crispy pita chips that you can crumble right into the soup. The recipe yields a flavorful but mild soup; see notes on seasonings following the recipe if you'd like to kick it up a few notches.
Serves: 6
1 tablespoon olive oil
1 large onion, chopped
4 cloves garlic, minced
2 cups red lentils, rinsed
2 salt-free vegetable bouillon cubes
2 teaspoons salt-free seasoning mix (like Spike or Mrs. Dash)
1 to 2 teaspoons good-quality curry powder, to taste
½ teaspoon turmeric (see Note on additional seasoning following recipe)
4 to 6 ounces baby spinach or arugula, or a combination
¼ cup minced fresh parsley or cilantro
½ to 1 cup coconut milk (from canned) or 1 cup unsweetened
coconut milk beverage, optional
Salt and freshly ground pepper to taste
Heat the oil in a soup pot. Add the onions and sauté over medium heat until translucent. Add the garlic and continue to sauté until both are golden.
Add 6 cups water, followed by the lentils, natural, salt-free bouillon cubes, and seasoning. Bring to a slow boil, then lower the heat, cover, and simmer gently until the lentils are mushy, about 20 minutes.
Remove from the heat and insert an immersion blender. Process until the soup is smoothly pureed. Or, puree in batches in a food processor. If you have no machines, no worries. Just leave it chunky.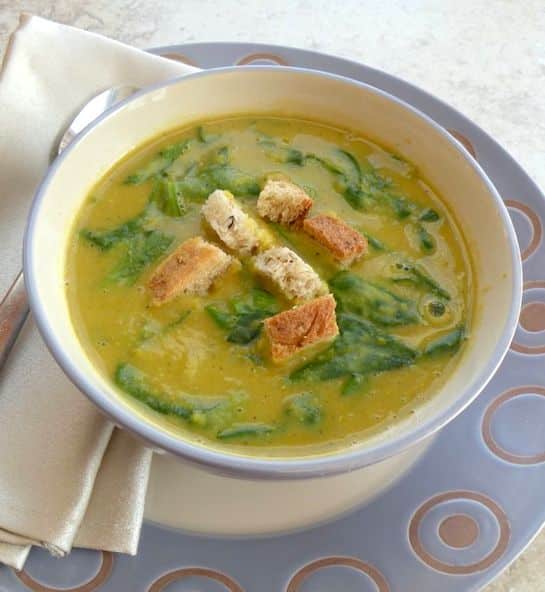 Once the lentils are done, the soup will be rather thick. Thin it out with a little coconut milk or coconut beverage to give it a little richer flavor, though adding a little more water if you prefer is also fine. Either way, don't add too much, as you want the soup to stay nice and thick.
Return to a simmer and stir in the spinach or arugula in batches, stirring until they wilt down. Add the herbs and cook just until piping hot. Season with salt and pepper, then serve.
Note on seasoning: You can push the curry flavor of this soup further by adding more curry powder, plus ground cumin and fresh ginger. Add dried hot red pepper flakes or Sriracha sauce if you'd like a spicier soup.
Variation:
Add a cooked (peeled and diced), medium sweet potato at the end, when adding the greens, for an extra yum factor!