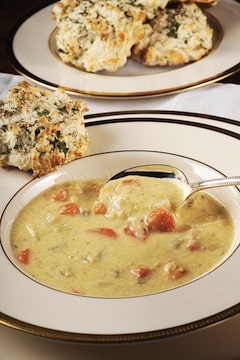 Nuts and lentils make this a protein and vitamin-packed soup. It's simple, creamy, and comforting. Recipe and photograph from Virgin Vegan The Meatless Guide to Pleasing Your Palate** by Linda Long, reprinted by permission of Gibbs Smith Publisher, © 2013.
Serves: 6
1 ⁄ 2 cup raw cashews
8 cups water
3 cubes vegetable bouillon (such as Rapunzel
with Herbs and Sea Salt)
1 cup red lentils
1 or 2 bay leaves
4 medium carrots, peeled and sliced
4 stalks celery, cut in half lengthwise and sliced
1 large, medium onion, diced
2 cups potatoes, white or sweet, 1 ⁄ 2-inch cubes*
1 cup corn, fresh or frozen, optional
Add cashews to a blender, cover with hot tap water to about a 1 ⁄ 2 inch above the nuts and allow to soak while making the soup. Do not blend yet.
In a large saucepan, add water and bouillon cubes and bring to a boil. Place lentils in a sieve and run cool water to rinse and then add to pot. Allow water to boil again, stirring lentils briefly. Add the bay leaf, carrots, celery, onion, potatoes, and corn, if using. Turn heat to soft boil, uncovered, and cook until tender, about 20 minutes. Remove bay leaf.
Turn blender on high and blend cashews long enough to be completely creamy and super smooth. If too thick, add a bit more water. Add to soup as a last step, creating a hearty base. If not using nuts for some reason, blend 2 ladles of soup instead to create a more sturdy broth to finish.
Note: All measures can be loosely followed, use more or less to taste.
*When using sweet potatoes, it is best to use raw peanuts instead of cashews. They just go together better and is more like a soup you might have in Africa.
**This post contains affiliate links. If the product is purchased by linking through this review, VegKitchen receives a modest commission, which helps maintain our site and helps it to continue growing!