Combining pasta with a grain is fairly common in Eastern European cuisines, as well as Middle Eastern. Here's one such pilaf, combining rice and slender noodles, which makes for a simple and tasty side dish. Serve with plenty of green veggies, and a salad to which you add chickpeas or other beans, for a simple dinner menu.
Serves: 6 to 8 as a side dish
2 ½ cups vegetable broth or water with 1 vegetable bouillon cube
1 cup long-grain brown rice (try aromatic Basmati or an exotic rice blend)
4 ounces thin spaghetti or angel hair, preferably whole grain,
broken in half, then in half again
2 tablespoons olive oil
1 large onion, quartered and thinly sliced
4 finely chopped scallions, white and green parts
½ cup chopped fresh parsley
½ teaspoon paprika, plus more for garnish
Salt and freshly ground pepper to taste
Bring the broth to a simmer in a medium saucepan. Stir in the rice, then cover and simmer gently until the liquid is absorbed. This will take from 20 to 35 minutes, depending on the variety of rice used. If it gets to the point when the water is absorbed, but you'd like a more tender grain, add ½ cup more broth or water and continue to cook until absorbed.
This step can be done ahead of time. Transfer the rice to a bowl and wipe out the saucepan. Bring about 6 cups of water to a boil, then add the spaghetti or angel hair. Cook at a steady simmer until al dente, then drain.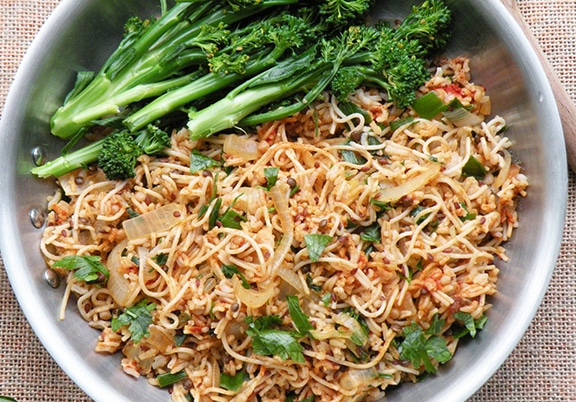 Meanwhile, heat the oil in a steep-sided stir-fry pan or large skillet. Add the onion and sauté over medium heat until nearly browned.
Stir in the scallions, half of the chopped parsley, and the cooked rice and noodles.
Stir in the paprika and season with salt and pepper. Sprinkle the top with the remaining parsley and a little additional paprika, and serve.