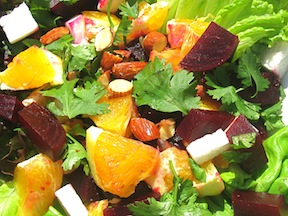 I harvested/sacrified a good bit of my cilantro for this summer salad. It's sturdy and pretty enough for a summer potluck and get a spark from chili-lime vinaigrette. Recipe and photo contributed by Ellen Kanner.
2 medium beets
½ jicama (also known as Mexican turnip),
peeled and diced or 1 young white turnip,
peeled and diced
1 orange, peeled, seeded and cut into bite-sized pieces
1 mango, if available, chopped
2 to 3 cups fresh spring greens, such as arugula,
butter lettuce, watercress or spinach
1 bunch fresh cilantro, chopped
⅓ cup almonds or pecans, toasted and coarsely chopped
3 tablespoons fresh lime juice
1 tablespoon balsamic or apple cider vinegar
2 teaspoons agave nectar
3 tablespoons olive oil
1 teasoon prepared Dijon mustard
1 teaspoon cumin
½ teaspoon chili powder
Wash beets, wrap them tightly in aluminum foil and roast at 400º F. for 1 hour. Remove from the oven and allow them to cool. The skins will slip off and the beets will be sweet and tender. Beets may be roasted a day ahead and kept wrapped and chilled in the refrigerator.
Mix vinaigrette. In a small bowl, combine lime juice, balsamic or cider vinegar, agave, olive oil, mustard, cumin and chili powder. Whisk until well combined. Makes about ⅓ cup of dressing, ample for salad plus leftovers.
For salad, arrange greens on a platter or on individual plates. Top greens with diced beets, jicama or turnip, chopped mango, chopped nuts and a generous blizzard of cilantro. Drizzle dressing on top and serve.
Ellen Kanner is the Huffington Post's Meatless Monday blogger,the syndicated columnist The Edgy Veggie, and contributor  to publications including Culinate, Bon Appetit, and Every Day With Rachael Ray as  well as her own blog.