Seriously—who needs fake meat when you can make hearty, beautifully textured dishes using grains and beans? This serves up deliciously on rolls, but if you're not a bread person, you can serve the mixture in a lettuce-leaf cup or atop a corn tortilla. Serve with baked potatoes or sweet potatoes and any slaw-style salad. Fresh corn on the cob when in season is a great addition as well. Recipe from Plant Power: Transform Your Kitchen, Plate, and Life with More Than 150 Fresh and Flavorful Vegan Recipes by Nava Atlas. ©2014, published by HarperOne, reprinted by permission. Photos by Hannah Kaminsky.  
Serves: 4 to 6
½ cup uncooked quinoa, rinsed in a fine sieve
1 tbsp extra-virgin olive oil or 3 tablespoons broth or water
1 medium onion, finely chopped
½ medium green bell pepper, finely diced
1 (15–16 oz) can pinto or red beans (or 1 ½ cups cooked), drained, rinsed, and coarsely mashed
1 (15–16 oz) can tomato sauce or crushed tomatoes
1 medium tomato, finely diced
1 tbsp reduced-sodium natural soy sauce or tamari, to taste
1 tsp agave nectar or maple syrup, to taste
2 tsp good-quality chili powder, or more, to taste
1 tsp paprika
½ tsp dried oregano
6 whole grain rolls, English muffins, or mini-pitas
Combine the quinoa with 1 cup water in a small saucepan. Bring to a slow boil, then lower the heat, cover, and simmer until the water is absorbed, about 15 minutes.
Meanwhile, heat the oil, broth, or water in a medium skillet. Add the onion and sauté until translucent. Add the bell pepper and sauté until both are golden.
Add the remaining ingredients except the bread of choice, and bring to a gentle simmer. Cook over medium-low heat, loosely covered, for 5 to 7 minutes, stirring occasionally. Let the skillet stand off the heat for 5 minutes to allow the flavors to mingle further and for the quinoa to absorb the tomato flavors.
Evenly spoon the filling over the bottoms of whole-grain rolls, cover with the tops, or serve open-faced.
Nutrition Information:
Per serving: 252 calories with oil, 223 without oil; 5g fat with oil, 2 g fat without oil; 400 mg sodium; 44g carbs; 9g fiber; 4.2g sugar; 11g protein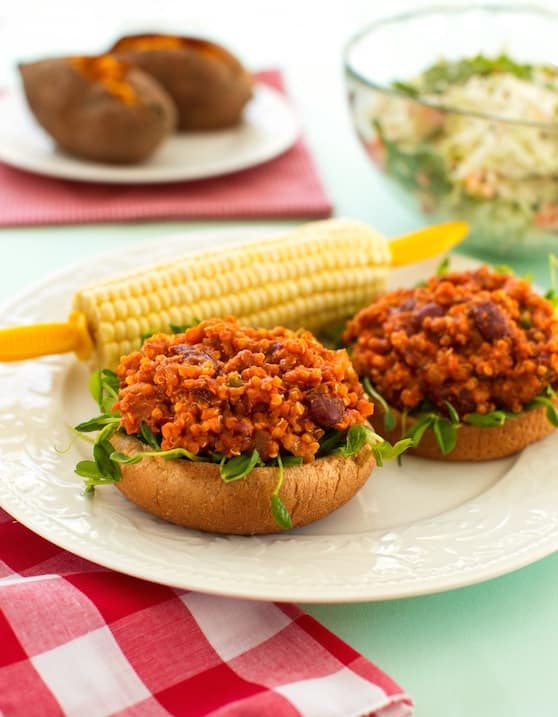 Here are more: